Obama ally Caroline Kennedy honors Iowa judges ousted after gay marriage decision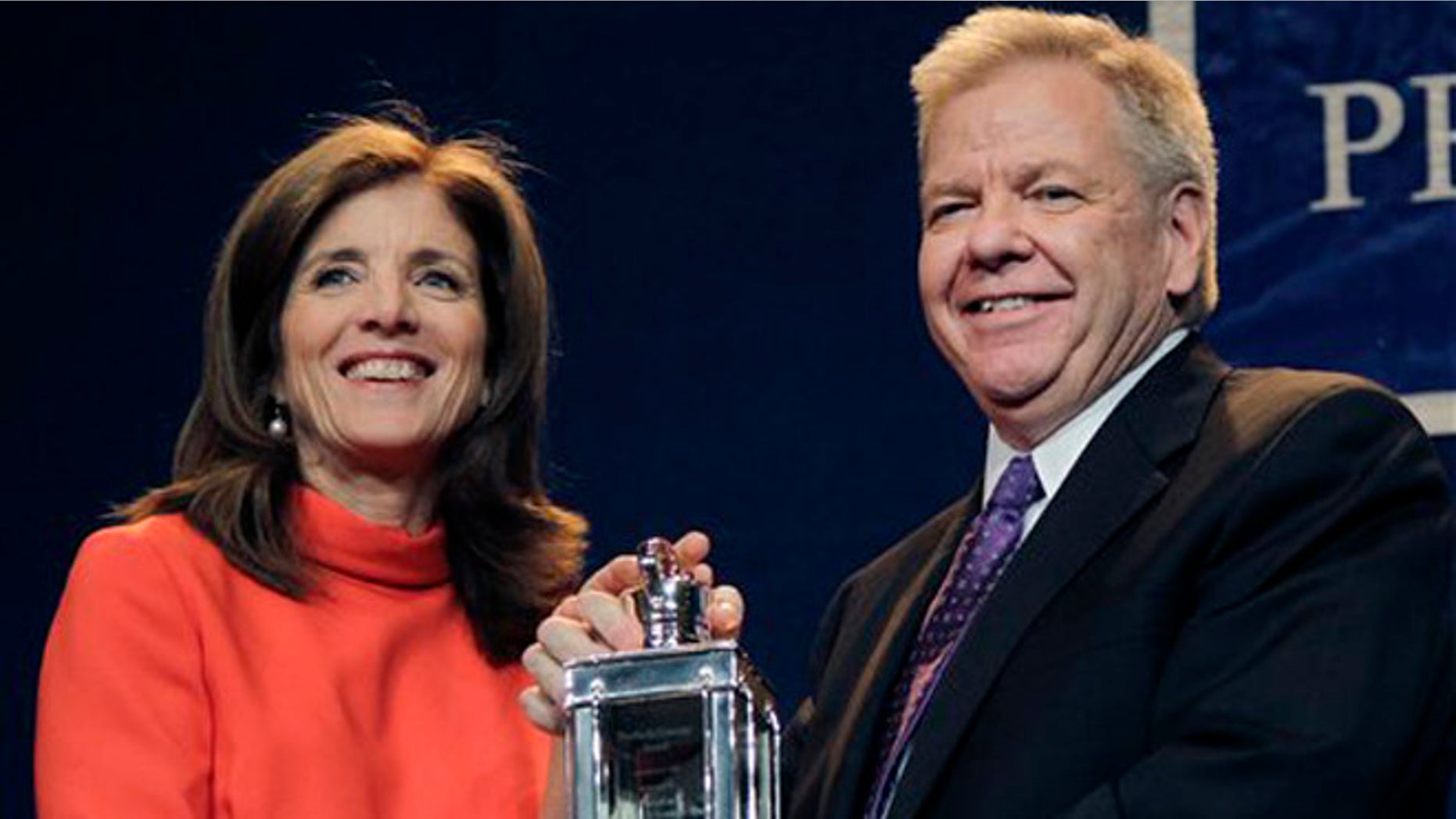 Another ally of President Obama is taking a stand on gay marriage, as the president comes under increasing pressure to make his position more clear.
Caroline Kennedy, John F. Kennedy's only surviving child, on Monday presented "Profile in Courage" awards to the three ex-Iowa judges who were voted out of office in 2010 following their decision to legalize same-sex marriage. The awards came from the John F. Kennedy Library Foundation, which she heads.
The decision to honor the former justices drew the ire of the conservative activist who helped lead the charge in voting them out. Bob Vander Plaats said in a statement that the justices' decision "was neither courageous nor constitutional." He called the "elitist award" a "direct insult to over one-half million informed and constitutionally astute Iowans who voted to remove three activist judges."
[pullquote]
Kennedy was already publicly in favor of gay marriage, but the ceremony Monday drew added attention to the issue as the gay marriage debate percolates on several fronts. North Carolina is voting Tuesday on a proposed constitutional amendment defining marriage as between a man and a woman. And two top Obama administration officials have spoken out in favor of gay marriage in the past few days, though Obama himself has not endorsed those unions -- having said only that his views on the issue are "evolving."
Vice President Biden said in an interview aired Sunday that he's "absolutely comfortable" with gay marriage rights. Though perhaps not an explicit endorsement, the statement was followed by Education Secretary Arne Duncan saying bluntly on Monday that he does support gay marriage.
White House Press Secretary Jay Carney was peppered with questions at Monday's press briefing about the comments, and about Obama's "evolving" position.
"His record on the LGBT rights is simply unparalleled, and he will continue to fight for those rights going forward," Carney said, while declining to go beyond that in explaining where the president stands.
Obama officials have also claimed Biden's statement was in line with the president's position.
Monday's ceremony for the John F. Kennedy Library Foundation awards was not tied to the White House.
Kennedy, though, is an old Obama ally who endorsed him in the 2008 race, spoke at the 2008 Democratic convention and helped lead Obama's vice presidential search.
The awards Monday went to former Iowa Chief Justice Marsha Ternus, and former justices David Baker and Michael Streit. U.S. Ambassador to Syria Robert Ford also was honored.
In a statement, Kennedy said all the recipients "have put their lives and careers on the line to protect the fundamental civil rights of Americans who wish to marry the person they love, and to help bring the freedoms we enjoy to oppressed Syrians fighting for a better future. They are an example and an inspiration to us all."