Obama Adviser Praises American-Muslim Anti-Terror Cooperation as Protesters Denounce King Hearings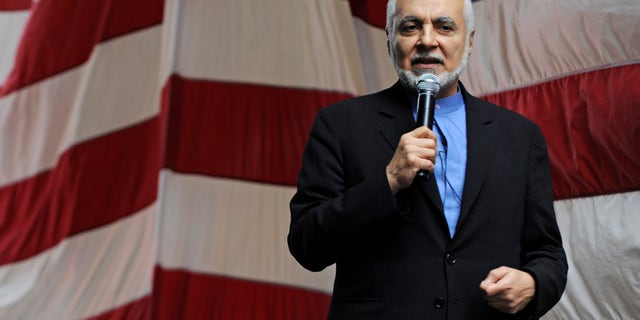 NEWYou can now listen to Fox News articles!
Practicing one's faith does not make him or her an extremist, a top aide to President Obama said Sunday in a speech to Muslims scheduled partly in response to coming congressional hearings on Islamic radicalization.
Speaking at a Muslim community center in Virginia known for its cooperation with the FBI in ferreting out and preventing extremism, Deputy National Security Adviser Denis McDonough said the United States does not practice guilt by association.
"We have a choice. We can choose to send a message to certain Americans that they are somehow 'less American' because of their faith or how they look; that we see their entire community as a potential threat ... Or, we can make another choice. We can send the message that we're all Americans," he said in remarks to the ADAMS Center.
Crediting the Muslim-American community with helping to foil terror plots, McDonough said the U.S. government is making efforts to prevent the process of radicalization, in part by countering terrorist groups that seek to prey on disaffected individuals.
As one of President Obama's top security advisers prepared to speak about cooperation of Muslim Americans with the U.S. government, about 300 people gathered in New York's Times Square Sunday to decry Republican Rep. Peter King's scheduled congressional hearings on the radicalization of Muslims in the United States.
Signs that read "Today I am a Muslim, Too" peppered the crowd, which stood in pouring rain to hear Imam Feisal Abdul Rauf, the cleric defending construction of a mosque near Ground Zero.
Rauf said the real enemy isn't Muslims or Islam, it's extremism, a message not so distinct from King's, who said Sunday that he is holding hearings because radical Islam not only poses a threat to the United States as a whole, but is particularly dangerous to American Muslims who are targeted by terror groups.
King, chairman of the House Homeland Security Committee, said he's dismayed that American-Muslims are not more enthusiastic about the series of hearings, which begin Thursday, since they are the ones most victimized when radical elements infiltrate their communities.
"I've said time and again the overwhelming (majority) of Muslims are good Americans, but the threat is coming from their community and we have to find out why, how it is being done and how to stop it," he told Fox News. "We have an absolute obligation to investigate that."
Rep. Keith Ellison, D-Minn., the first Muslim elected to the House, said that while it's proper to investigate radicalization, he thinks it is wrong to single out a religious minority.
"If we're going to talk about gang violence, I don't think it's right to talk about, you know, only the Irish community and the Westies. I think we talk about gang violence. I think, if we're going to talk about organized crime, it's not right to just talk about the Russian community," Ellison said during a Sunday appearance with King on CNN's "State of the Union."
However, Ellison, who will be participating in the hearings, added that it makes sense to talk to the Muslim community about how to "meet the challenge of public security" to prevent people like Anwar al-Awlaki, the American cleric who fled to Yemen, from reaching his tentacles into American-Muslim communities.
"I think it makes sense to talk about the Internet, confronting ideology of people like Anwar al-Awlaki. I think where he's trying to exploit and misuse Islam, we should counter him with what Islam really does say. And so I do think that there is a place for that. I just think it doesn't make sense to narrow in on a discreet, insular group that has already been the target of a certain amount of discrimination," Ellison said.
In his remarks Sunday, McDonough said that while it is wrong to single out Muslim Americans for scrutiny, he acknowledged that "entire analytic units" at the Homeland Security Department and National Counterterrorism Center are dedicated to studying how terror groups like Al Qaeda twist Islam to radicalize disillusioned individuals.
Local officials are also working with Muslim American communities to develop and expand better communications in light of ongoing threats from predators who seek to exploit disaffected American Muslims.
At the same time, however, McDonough said U.S. efforts extend beyond security matters.
"This engagement can't simply be about terrorism. We refuse to 'securitize' the relationship between the government and millions of law-abiding, patriotic Muslim Americans and other citizens. We refuse to limit our engagement to what we're against, because we need to forge partnerships that advance what we're for, which is opportunity and equal treatment for all," he said.
King said that among the witnesses testifying at his hearing are family members of two men who were radicalized -- one was murdered and one committed an act of violence. He said they will discuss how the imams at the mosques they attended were involved and will offer "telltale indicators" so people can be aware of radicalization efforts within their surroundings.
"Also, we'll see from witnesses how often they are told not to cooperate with the FBI, not to cooperate with the police, and, somehow, a wall of silence builds up and that is part of why I'm holding the hearings," King said.