Obama Administration Seeks to Suspend Ruling Against 'Don't Ask, Don't Tell'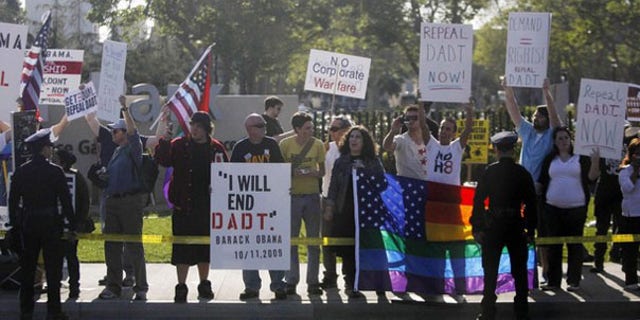 The Obama administration asked a federal appeals court Wednesday to freeze a judge's ruling overturning the military's "don't ask, don't tell" policy barring gays from serving openly in the military.
Though President Obama opposes the military policy, his administration is fighting to keep the court system from interfering with a congressional effort to overturn it. In its filing, the Justice Department argued Wednesday that the court decision by Judge Virginia Phillips could disrupt efforts to carry out a repeal of the policy in an "orderly fashion."
The administration says it wants the U.S. Court of Appeals for the 9th Circuit in San Francisco to take action on Wednesday. The White House has argued that a vote in Congress is the best way to permanently end the policy.
"As explained in more detail in our stay motion and the attached declaration, if not stayed immediately, the district court's order precludes the administration of an act of Congress and risks causing significant immediate harm to the military and its efforts to be prepared to implement an orderly repeal of the statute," the administration's request said.
"The administration does not support (DADT) as a matter of policy and strongly believes that Congress should repeal it. The Department of Justice in this case has followed its longstanding practice of defending the constitutionality of federal statutes as long as reasonable arguments can be made in support of their constitutionality," the filing said.
The federal government is preparing arguments for the appeals court on why the ruling on "don't ask, don't tell" should not be left in place.
In its court filing Wednesday, the government said allowing Phillips' decision now "would create tremendous uncertainty about the status of service members who may reveal their sexual orientation in reliance on the district court's decision and injunction."
The Associated Press contributed to this report.