Obama accuses Romney, GOP of offering only outdated ideas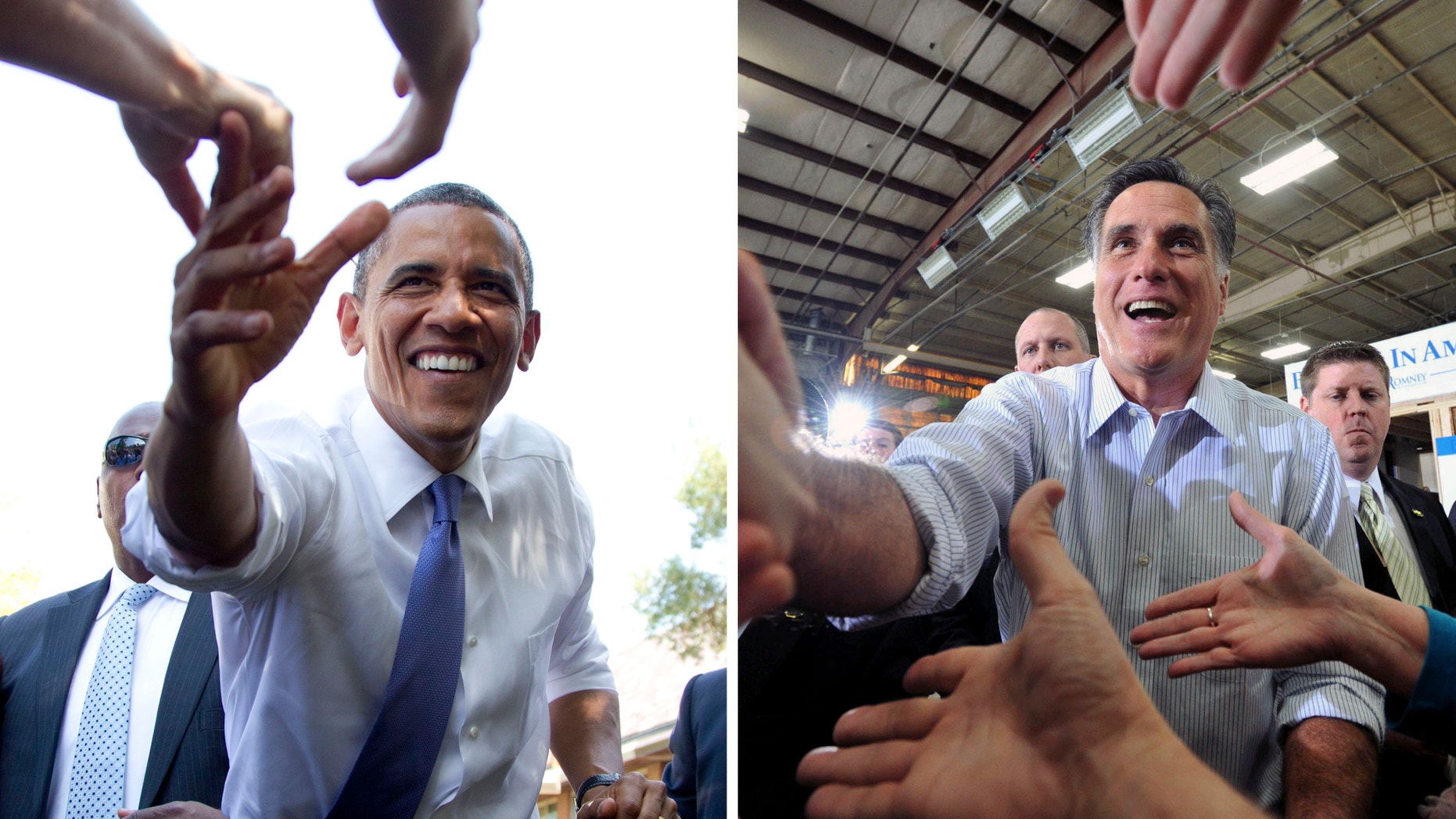 President Obama opened up a new line of attack Saturday against Mitt Romney, accusing his Republican presidential rival of retreating to policies from the "last century" and "sticking it" to the middle class.
Romney, working hard to make sure the president doesn't hog the spotlight going into his party's convention week, meanwhile used a campaign stop in the critical swing state of Ohio to hammer home the GOP convention message that Obama has failed to live up to the hope of his 2008 campaign -- especially on the job front. Obama, the GOP candidate said, has fallen back on a campaign of "divisiveness and bitterness."
The dueling messages were trumpeted in two vital battleground states, during the brief gap between the Republican and Democratic conventions.
Obama addressed roughly 10,000 people at a campaign event Saturday afternoon in Iowa, a swing state that effectively launched his successful presidential bid four years ago.
"Despite all the challenges that we face in this new century, what they offered over those three days was, more often than not, an agenda that was better suited for the last century," Obama said of Romney and the Republican convention during a rally in Urbandale, Iowa, a suburb of Des Moines.
"It was a rerun. We'd seen it before. You might as well have watched it on a black-and-white TV," Obama said. "There was a lot of talk about hard truths and bold choices, but nobody ever actually bothered to tell you what they were ... And when Gov. Romney had his chance to let you in on his secret, he did not offer a single new idea, just retreads of the same old policies that have been sticking it to the middle class for years."
The president, who was speaking for the first time since Romney received his party's nomination at the Republican convention last week, also hit Romney for "having nothing to say" on Afghanistan.
Obama's appearance in Iowa is part of a four-day march through key swing states in the lead-up to his re-nomination at the Democratic Convention next week in Charlotte, N.C. He is expected to speak at Morningside College in Sioux City later Saturday, before traveling to Denver, Co., where he will hold a campaign event at the University of Colorado in Boulder on Sunday.
Romney, meanwhile, appeared Saturday morning in the critical battleground state of Ohio, where he continued to make its case that the Obama administration has fallen short of its calling to restore a broken economy.
"One of the promises that he made was that he was going to create more jobs and today 23 million people are out of work or stopped working for look or under employed," Romney told a cheering crowd in Cincinnati.
"Let me tell you, if you have a coach that is zero, and 23 million, you say it's time to get a new coach," he said. "It's time for America to see a winning season again and we're going to bring it to them."
Flanked by House Speaker John Boehner and leading Ohio Republicans, Romney vowed to cut the deficit and work toward balancing the budget, open new markets for American products and crack down on unfair trade practices by competitors, issues closely watched by voters dependent on Ohio's manufacturing base.
Both Obama and Romney were campaigning across the country as the race entered September, each day adding to the sense of urgency in a presidential contest that has remained tight since Romney sewed up the nomination in April. They recognize that undecided voters, including those in about eight key states, will begin to fully assess their options through the conventions and the upcoming debates in the weeks ahead.
Before the Democratic National Convention moves into full swing, though, both sides continue to deal with the aftermath of Hurricane Isaac.
Romney scrapped an appearance in Virginia on Friday to visit Louisiana instead, scheduling a last-minute visit Friday to Lafitte, La., to tour damage with Louisiana Gov. Bobby Jindal. Concerns about Isaac canceled the first day of Romney's Republican convention, and campaign officials had been considering the visit for several days.
Obama was following with his own visit to Louisiana on Monday, the White House announced.

The Associated Press contributed to this report.