NY Times' Paul Krugman says US part of 'new axis of evil' with Russia, Saudi Arabia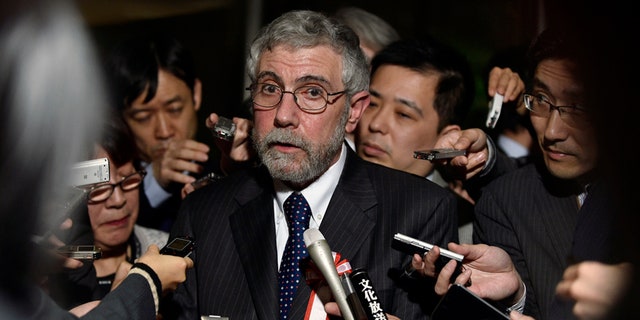 Nobel Prize-winning economist and New York Times opinion contributor Paul Krugman tweeted Monday that the United States had joined Russia and Saudi Arabia in a "new axis of evil," after those three countries and Kuwait objected to the United Nations' endorsement of a landmark study on global warming.
The phrase "axis of evil" was first used by former President George W. Bush in his 2002 State of the Union address. Bush used the phrase to refer to the governments of Iran, Iraq and North Korea, which he said were "arming to threaten the peace of the world" with weapons of mass destruction and sponsoring international terror groups.
This week's dispute stemmed from whether diplomats attending this year's U.N. climate summit in Poland would "welcome" the Intergovernmental Panel on Climate Change's report projecting what would happen if average global temperatures rise by 2.7 degrees Fahrenheit and offering prescriptions to ensure they don't rise higher. An agreement to "welcome" the report would have made it the benchmark for future policies.
The U.S., Russia, Saudi Arabia and Kuwait objected, calling for the study to be "noted" but not "welcomed."
"The United States was willing to note the report and express appreciation to the scientists who developed it, but not to welcome it, as that would denote endorsement of the report," the U.S. State Department said in a statement. "As we have made clear in the IPCC and other bodies, the United States has not endorsed the findings of the report."
PAUL KRUGMAN TWEETS TRUMP 'OBVIOUSLY MENTALLY ILL'
Krugman previously has used provocative language to criticize Republican officials and conservative economic policies. In January 2017, he tweeted that President Trump was "obviously mentally ill." Later Monday, he called outgoing House Speaker Paul Ryan as a "phony" who was "neither serious nor honest."
The Associated Press contributed to this report.