NY guv looks to clarify gun law after concern about exemption for police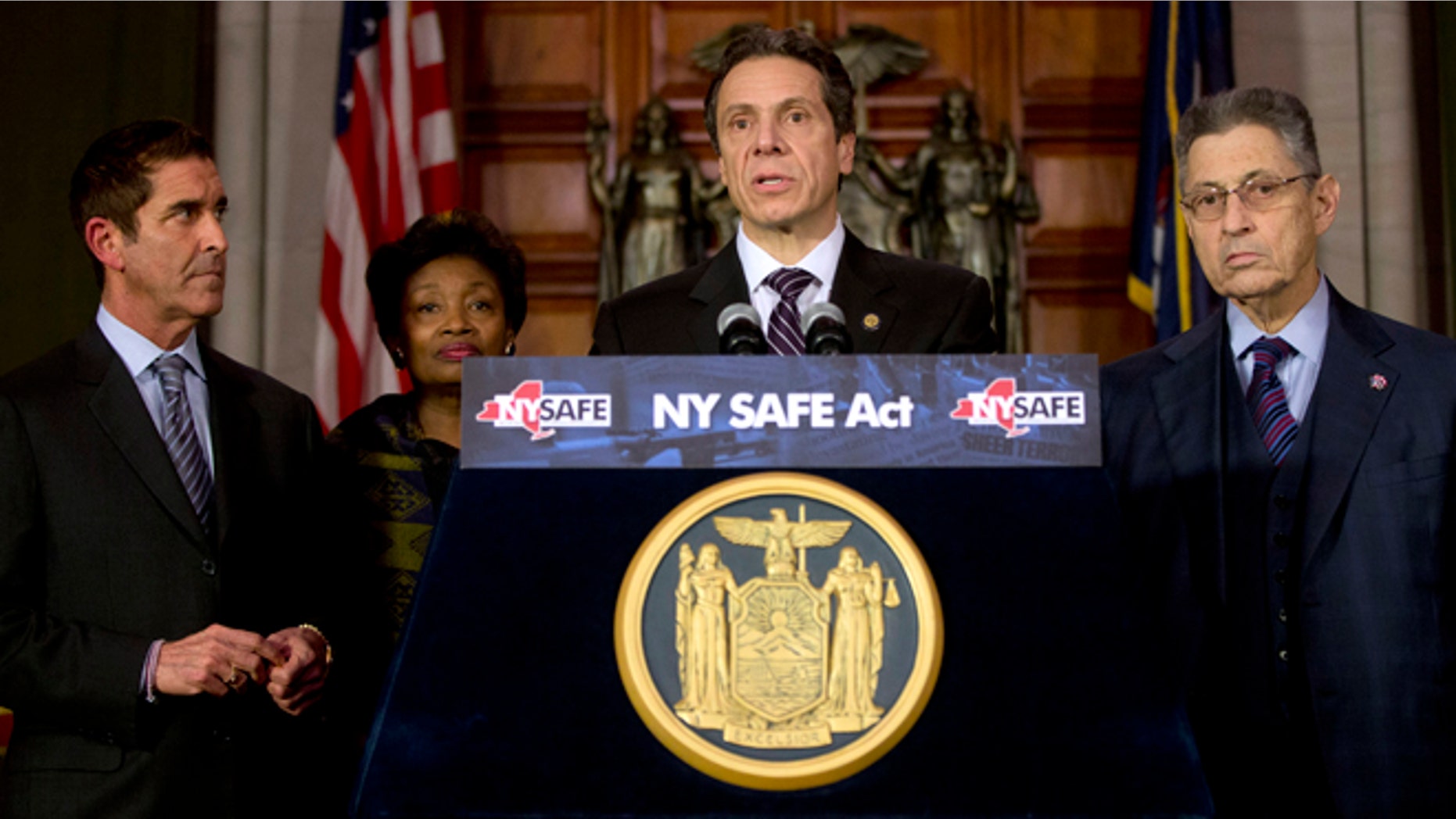 New York Gov. Andrew Cuomo's office is working on amendments to clarify the newly passed gun-control law, following complaints that it did not explicitly exempt police officers from a ban on high-capacity magazines.
The state law bans magazines over seven rounds -- police officers typically use magazines that hold twice as many bullets. Critics of the law claimed the alleged oversight was a product of the haste with which the package was passed through the legislature.
"This could have been avoided," Republican Assemblyman Al Graf told FoxNews.com.
However, Cuomo's office insists police officers are still exempt.
"Police officers possessing ammunition clip with more than seven bullets are not in violation of this law and they never will be, period," Cuomo spokesman Matthew Wing said.
While the new law did not include an explicit exemption for police, the old law which capped the number of rounds in a magazine at 10 bullets did. Technically, the new law likely would not override that exemption.
But some lawmakers were concerned there could be confusion. Graf said if the governor's office does not craft an amendment explicitly exempting officers, he will.
"If (Cuomo) didn't do this the way he did, he wouldn't be so embarrassed today," said Graf, complaining that lawmakers had very little time to read and digest the bill before it was muscled through the legislature and signed into law.
Graf also said he wants to write an amendment explicitly exempting retired officers -- further, he claimed there is confusion about whether on- and off-duty officers can have a gun on school grounds.
The law, though, does not actually create a new rule against having a firearm on school grounds. Rather, it upgrades the offense from a misdemeanor to a felony.
The New York package was the first signed into law since the mass shooting in Newtown, Conn. - which has galvanized the gun-control movement to push for new laws at the state and federal level.
On Wednesday, President Obama called for a new and stronger assault-weapons ban and a 10-round cap on magazines.
The New York law strengthened the state's assault-weapons ban, while imposing stricter registration and reporting requirements on gun dealers. The law also banned direct sales of ammunition on the Internet, and enacted universal background checks.
Further, the law imposed a requirement on mental health professionals to report if a patient appears likely to commit a violent act. More than two-dozen states already have such a requirement on the books.
Still, the move by New York to impose one stirred criticism that it could discourage patients from seeking help - the law says local law enforcement can seize the guns of any patient deemed a threat.
"The people who arguably most need to be in treatment and most need to feel free to talk about these disturbing impulses, may be the ones we make least likely to do so," Dr. Paul Appelbaum at Columbia University told The Associated Press.