Nunes 'grappled' over inviting Chief Justice John Roberts to 'testify'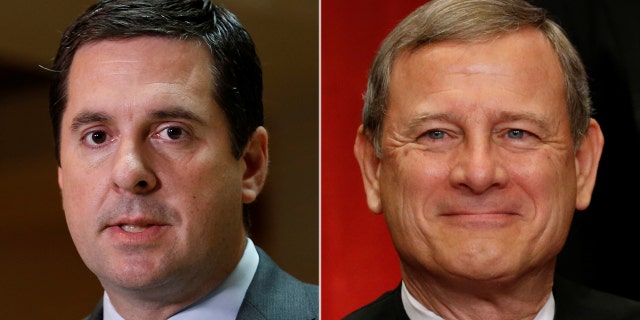 House Intelligence Committee Chairman Devin Nunes, R-Calif., said Wednesday the panel has mulled over the idea of inviting Chief Justice John Roberts to testify before Congress as a part of his committee's investigation into the FISA courts.
In an interview with radio host Hugh Hewitt, Nunes was asked if he spoke with Roberts over his findings of intelligence abuse by the Justice Department and FBI during the 2016 Trump campaign, The Hill reported.
"This is something that we grappled with," said Nunes, speaking of his fellow committee members.
As chief justice, Roberts appoints FISA court judges.
"We decided that we wanted to complete the FISA abuse portion before we approached the courts. Our next step with the courts is to make them aware, if they're not aware already that this happened by watching the news. So we will be sending a letter to the court."
Nunes added that the committee struggles with its next step because of the "separation of powers issue."
"There is a, there's a debate now into whether just send it to the Supreme Court or to send it to the FISA Court," he said, referring to the letter.
"If, somehow, this case ends up at the Supreme Court, somehow, some way, by sending a letter to Roberts, do you conflict the court?"
NUNES TELLS FOX NEWS MEMO WAS RELEASED OUT OF PUBLIC OBLIGATION
Just last week the House Intelligence Committee released a four-page memo, written by Nunes, alleging intelligence abuse by the DOJ and FBI during the 2016 Trump campaign, citing a high-ranking government official who said both agencies never would have sought surveillance warrants in the absence of a disputed anti-Trump dossier funded by Democrats.
When speaking about the likelihood that Roberts would talk to the committee, Nunes said that he was "not aware of any time where a judge has, for lack of a better term, testified before the Congress."