#NotMiAbuela: Clinton compares herself to Latina grandmas, Twitter responds with outrage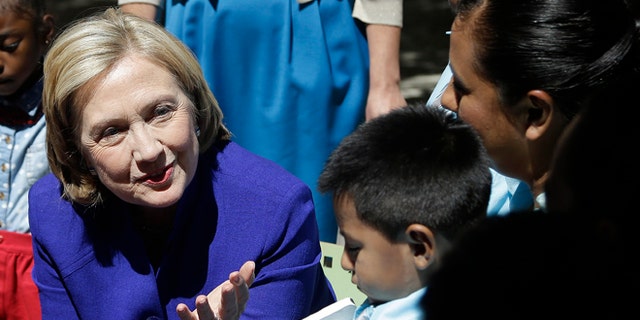 NEWYou can now listen to Fox News articles!
A GIF-filled campaign post aimed at winning over Latino voters has backfired and instead is drawing the ire of many social media users for purportedly playing up ethnic stereotypes.
The campaign's "7 ways Hillary Clinton is just like your abuela" (the Spanish word for grandmother), which came on the same day Clinton's daughter Chelsea announced she is pregnant with what will be Clinton's second grandchild, was quickly derided by many online users as using vague stereotypes, basic Spanish vocabulary and even a photo of the candidate with singer Marc Anthony to show she is in touch with a younger generation.
"It's no secret that Hillary is loving her role as grandma," the campaign post says. "And she was thrilled to learn that next summer, her granddaughter Charlotte will have a sibling to play with."
The post then goes on to make numerous uses of the word respeto (Spanish for respect) paired with numerous GIFs, including one where she goes after Republican presidential candidate Donald Trump by saying she had one word for him: "Basta! Enough!" The post ends with "Everybody loves abuela—even this guy," which shows a picture of Clinton alongside Anthony.
The post was quickly met with derision. Twitter users expressed their outrage using the hashtag #NotMiAbuela or #NotMyAbuela.
Activist Marisol Ramos tweeted: "Hilary is #NotMiAbuela #NotMyAbuela because I was separated by mine by many miles, and a militarized border."
Another Twitter user, Laura Cristal Magaña, wrote: "Abuela couldn't visit me in USA because she didn't have 'papers;' #NotMyAbuela #notmiabuela."
Back in October, Clinton also played up her "abuela" status – and used the same photo of her and Anthony – in another post called "6 cosas que no sabías sobre Hillary Clinton" — or, "6 things you didn't know about Hillary Clinton."
Despite the post, Hillary Clinton is still popular among Hispanics. A recent poll shows 62 percent of Latino voters view her favorably, according to a impreMedia and Latino Decisions poll. Republican Jeb Bush pulled in 42 percent, and Republican frontrunner Donald Trump garnered 15 percent.
Like us on Facebook
Follow us on Twitter & Instagram