No wonder they won't release the numbers!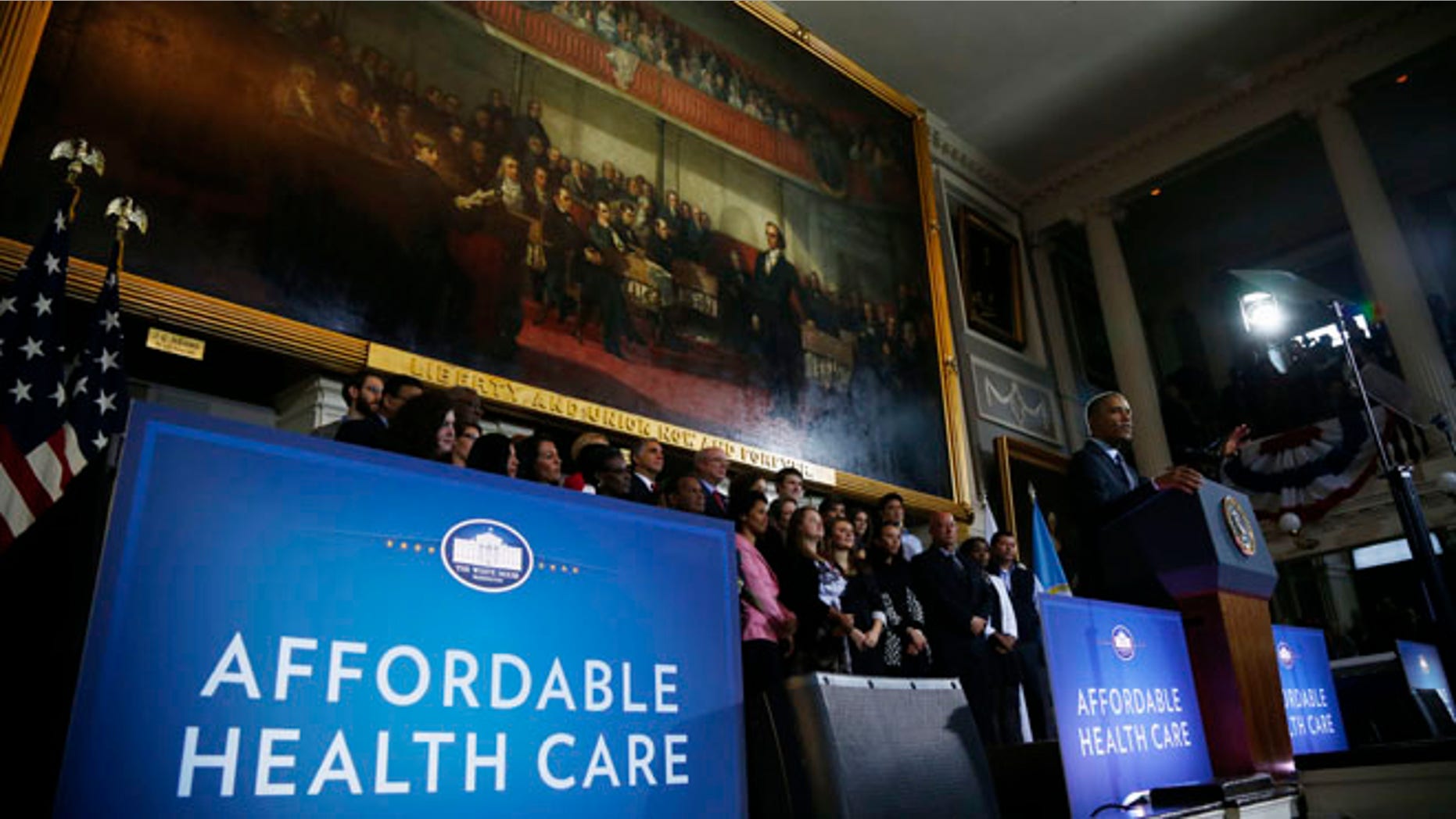 **Want FOX News First in your inbox every day? Sign up here.**
Buzz Cut:
• No wonder they won't release the numbers!
• ObamaCare for Christmas
• Paul: NSA probably spies on Obama
• Daley: Campaign considered desperation dump of Biden
• Tell Cooter to sober up, bless his heart
NO WONDER THEY WON'T RELEASE THE NUMBERS! - The first look at administration efforts to track signups for ObamaCare shows just how bad the Oct. 1 crash of the new entitlement program was. Memos obtained by the House Oversight Committee are not official enrollment numbers, but say that as of the morning of Oct. 2, "six enrollments [had] occurred so far." After two days, only 248 enrollments were on the books out of an estimated population of uninsured Americans in the tens of millions. More from Fox News.
[Watch Fox: Health Oversight and Government Reform Committee Head, Rep. Darell Issa, R-Calif., discusses new ObamaCare subpoenas in the 11 a.m. ET hour]
Dire digits - President Obama and Health Secretary Kathleen Sebelius have refused to share enrollment numbers, but this snapshot shows the extent of the failure as ObamaCare opened for business. That's significant as bipartisan demands for delaying penalties for the uninsured continue to grow. Team Obama is trying to hold the line, but with a steady stream of stories showing the plight of families losing coverage because of ObamaCare regulations, the failure to launch becomes increasingly dire. The scope of the debacle also ups the chances that Sebelius will have to be cashiered as part of a re-launch in the months to come.
Frustration flares as WH briefs Senate Dems - White House Chief of Staff Denis McDonough and other senior administration officials got an earful when they briefed Senate Democrats Thursday on the problem-plagued ObamaCare rollout. Multiple reports of the meeting describe several senators as "agitated."
"I don't think there's confidence by anyone in the room. This is more of a show-me moment," – Sen. Jeff Merkley, D-Ore., describing the ObamaCare briefing to reporters.
Welfare dominates - ObamaCare's architects envisioned a nearly even split between enrollees in private-sector policies and the government program for low-income Americans, Medicaid. But as WaPo points out, the first month of the program shows a massive skew toward the welfare program. Maryland, for example, has seen 96 percent of its ObamaCare enrollments going into Medicaid. Federal tax dollars pay for the first three years of the expanded Medicaid offerings under the law, but then, taxpayers in those states that opted to join the program are on the hook.
[On Fox News Opinion – Rep. John Barrasso, R-Wy., marks today's conspicuous date with "One month of HealthCare.gov horrors -- time for Obama to apologize, meet with Republicans"]
New York policies crumble - NY Post: An estimated 100,000 New York state residents are slated to lose their individual policies as a result of ObamaCare, with a still-unknown number of small-business plans headed for the scrapheap. Breitbart reports a survey from the state medical society says 44 percent of doctors won't accept ObamaCare plans.
Oregon's crash continues - Oregon officials are moving to process paper applications for ObamaCare after news that its online portal may not be fully functional for another two months. A report suggests 150,000 state residents are slated to lose their current health coverage because of the law. Daily Caller has more.
Dr. K's reveals all ­- Charles Krauthammer cuts to the bone in ObamaCare laid bare: "…when you find your policy canceled, your premium raised and your deductible outrageously increased, you've learned the real meaning of 'free' in the liberal lexicon: something paid for by your neighbor -- best, by subterfuge."
OBAMACARE FOR CHRISTMAS - President Obama's permanent campaign apparatus, Organizing for America, is urging his supporters to give the gift of ObamaCare this holiday season. The political group has launched a new effort "Health Care for the Holidays" that includes tips on how to get family members to sign up for the new entitlement and to develop strategies for introducing ObamaCare into the holiday conversation. "Be persistent, but keep it positive…" the site encourages.
Naughty, naughty -The OFA site also features a video of a young man confronted by his parent over his lack of insurance at the family table.
LOIS LERNER'S IMPROPER EMAILS REVEALED - We knew that IRS division chief Lois Lerner had likely shared confidential tax information about conservatives with the Federal Elections Commission. Now it's official after the elections agency was forced to release emails confirming Lerner's work to help target conservatives. Congressional investigators caught an improper February 2009 back-channel request for information in a document dragnet of IRS emails, but the agency managed to avoid revealing Lerner's response. A FOIA field by Judicial Watch shows she responded just 10 minutes later, and showed no hesitation: "I have sent your email out to some of my staff. Will get back to you as soon as I have heard from them." Read the rest at Washington Examiner.
PAUL: NSA PROBABLY SPIES ON OBAMA - Sen. Rand Paul, R-Ky., told National Review Online that the National Security Agency, "could well be spying on the president, for all I know...He has a cell phone, and, in fact, my guess is that they have collected data on the president's phone." Paul has introduced a Senate resolution calling on President Obama to address a recent report the NSA spied on Catholic cardinals during their selection of Pope Francis. Meanwhile, the White House has announced an end to NSA spying on officials at the International Monetary Fund and the World Bank, Reuters has more.
[Watch Fox: Sen. Rand Paul, R-Ky,, discusses the NSA in the 1p.m. ET hour]  
FOOD STAMP FIGHT AS STIMULUS EXPIRES - A boost to food stamp benefits enacted as part of the 2009 Obama stimulus and extended during various fiscal cliffs expires today. Democrats want to keep the boost, worth about $38 a month for a family of four. Republicans say the more than tripling in the overall cost of the program in the past 13 years is cause for concern. Both House Republicans and Senate Democrats are both proposing new, higher baselines for the program as part of budget negotiations. Fox News
SECURITY WORKERS' BIG TAX DEBT - Washington Free Beacon: "More than 8,000 federal workers and contractors with security clearances owe $85 million in unpaid taxes to the IRS, according to the Government Accountability Office."
[Employees at the Department of Homeland Security have abused overtime pay to the tune of $8.7 million a year, according to a report.]
WITH YOUR SECOND CUP OF COFFEE...Kimberly Strassel wants to know what's Driving Dick Durbin: "You don't come to be the No. 2 Senate Democrat without proving you can help your friends along the way. That's why the motivation behind Dick Durbin's ongoing campaign against a prominent free-market[The American Legislative Exchange Council]  group deserves attention… Mr. Durbin knows that every company that can be harassed out of donating to ALEC means a bit less firepower for tort reform…Government unions are relying on Mr. Durbin to put ALEC out of business."
Got a TIP from the RIGHT or LEFT? Email FoxNewsFirst@FOXNEWS.COM
POLL CHECK - Real Clear Politics Averages
Obama Job Approval: Approve – 43.9 percent//Disapprove – 51.5 percent
Direction of Country: Right Direction – 22.1 percent//Wrong Track – 70.9 percent
CLOSING ARGUMENTS IN VIRGINIA - Both campaigns are blitzing the airwaves in the lead up to Tuesday's Virginia gubernatorial election. The latest ad from Democrat Terry McAuliffe casts him as a consensus builder and a friend of business. Republican Ken Cuccinelli counters by slamming McAuliffe's support of ObamaCare and claims McAuliffe's agenda would cost Virginians an average $1,700 per family.
TEAM OBAMA CONSIDERED DUMPING BIDEN - A new book claims President Obama considered dumping Vice President Joe Biden in favor of then-Secretary of State Hillary Clinton to improve the president's re-election prospects. The book, "Double Down" by Mark Halperin and John Heilemann, says Team Obama scrapped the plan after focus groups showed the switch wouldn't improve the president's prospects. Former Obama aide David Plouffe is refuting the claim on Twitter. But former White House Chief of Staff William Daley told the NYT that the move was considered as part of "due diligence" to help the then-struggling campaign. "You have to remember, at that point the president was in awful shape, so we were like, 'Holy Christ, what do we do?'"
[Former Secretary of State Hillary Clinton will be the keynote speaker as the Philadelphia Conference for Women marks its 10th anniversary this afternoon.]
Hill Hints in the Highlands - Hillary may have tipped her hand during a recent reception in Scotland. NY Post reports Clinton told guests at a private reception "I'm minded to do it," when pressed about a potential 2016 run.
TOP TWEETS
@laurenashburn's top tweet pick for this morning: CNN's@JohnBerman: "Back last term, with polls a slidin', did POTUS want to dump Joe Biden?" BOOM! Beat that newsy #MorningRhyme #EarlyStart."
[Lauren Ashburn of "#MEDIABUZZ" tracks the Twitterverse every day in Top Twitter Talk.]
GOP GETS TOP-TIER DRAW FOR MONTANA SENATE RACE - Rep. Steve Daines, R-Mont., is expected to announce his bid to fill the Senate seat of retiring Sen. Max Baucus, D-Mont., next week, The Hill reports.  Daines is likely to face Democratic Lt. Gov. John Walsh in the general election
SORRY, CHARLIE - Gov. Rick Scott, R-Fla., will greet Monday's expected announcement from Republican-turned-independent-turned-Democrat Charlie Crist with a half-million-dollar ad blitz. Crist, who left the GOP after losing a 2010 Senate primary to Sen. Marco Rubio, is seeking to return to his old job as governor. The ad's title: "Opportunist."
WIN FOR TEXAS PRO-LIFERS - A federal appeals court has reinstated part of Texas' law requiring abortion providers to have admitting privileges at nearby hospitals. Planned Parenthood had won a lower court battle to strike down part of the law. The decision marks a victory for Attorney General Greg Abbott, who is also the Republican frontrunner for next year's gubernatorial election. Democratic contender state Sen. Wendy Davis predicated her candidacy on her opposition to the regulations, including the ban on late-term abortions. Fox News has more.
Pressure grows for federal ban on late-term abortions - Washington Examiner reports Sen. Lindsey Graham, R-S.C., has sponsored a bill that would bar abortions after five months of pregnancy. The House has already passed a similar measure.
[Watch Fox: Sen. Lindsey Graham, R-S.C., appears in the 1 p.m. ET hour]
#MEDIABUZZ  - Washington Examiner's Tim Carney and Juan Williams will join host Howard Kurtz to examine how the media is now portraying Barack Obama as a disengaged president after his "in-the-dark" defense on NSA spying, health care rollout, IRS, journalist surveillance and other issues. What explains the dramatic change in tone? Plus, a very special surprise guest. Tune in this Sunday at 11 a.m. ET.
SEMPER FI - Marine Sgt. Joshua Moore will receive the Navy Cross for heroism in the Afghan war by "grabbing a live enemy grenade and throwing it away" to save the members of his sniper team while they were pinned down by intense fire inside a building. Marine Times has more.
TELL COOTER TO SOBER UP - How much money does it take to burn a wet mule? How fine is a frog hair? Who is Cooter Brown and why is he so drunk? Why would a dead pig be happy? Business Insider offers the culturally disadvantaged a translation of Southern sayings. Remember, "Bless your heart," isn't a compliment.
[Ed. Note: Those sayings are just ridiculous. Everyone knows that a rich person has enough money to burn a wet elephant. Who would want to burn a wet mule? Absurd.]
AND NOW A WORD FROM CHARLES…"As long as the exchanges are down, all you're getting are stories of people losing insurance and practically no one gaining insurance. This is a program that's doing the opposite of what it was intended... the insurers are going to have to increase their premiums [which] reduces further the incentive and you get a system that cannot sustain itself economically. And it collapses." --Charles Krauthammer on "Special Report with Bret Baier" 
Chris Stirewalt is digital politics editor for Fox News. Want FOX News First in your inbox every day? Sign up here. To catch Chris live online daily at 11:30 a.m. ET, click here.