No soda limit at Bloomberg's company, despite proposed NYC super-size ban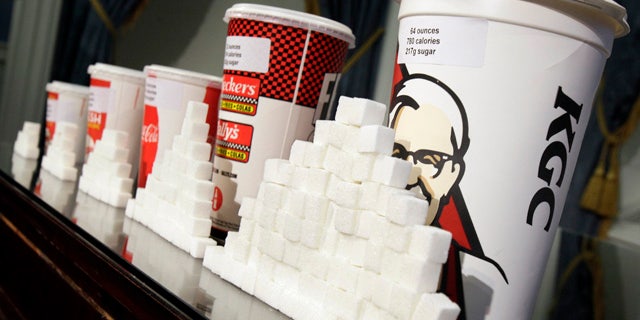 New York City Mayor Michael Bloomberg doesn't want New Yorkers super-sizing sugary drinks, but employees at the media and financial information company he founded can guzzle all the free soda they want while they work.
Employees at Manhattan's 55-story Bloomberg Tower -- which houses Bloomberg L.P., retail shops, restaurants and condominiums -- enjoy unfettered access to pantries stocked with juices, soft drinks, coffee and tea, as well as health-conscious snacks such as fruits, trans fat-free bites, nuts and vegetables. Although no one counts how many trips workers make to the freebie shelves, drink portions are 12 ounces or less, smaller than the giant gut-busters Bloomberg wants to ban at city restaurants, delis, sports arenas and movie theaters.
"The serving sizes in question are well below the serving sizes in the proposal," Bloomberg's spokesman Stu Loeser wrote FoxNews.com in an email. "Nothing we're proposing will stop New Yorkers from drinking more than 16 ounces of sugary drinks, just not in one container."
A spokesman at Bloomberg L.P. declined comment when reached Tuesday by FoxNews.com.
In late 2010, when Bloomberg sought to ban poor New Yorkers from buying sugary drinks with food stamps, an unidentified Bloomberg employee told The New York Times that the company pantries overflowed with snacks and drinks.
"We have all the junk in the world up there," the unidentified employee told the newspaper. "I mean, you can gain 15 pounds in a hurry."
Under the unprecedented proposal, which is Bloomberg's latest effort to fight obesity in the Big Apple, drinks would be capped at 16 ounces, except for diet soda, beverages that are least 70 percent juice or those comprised of 50 percent or more of milk or milk substitute. Drinks sold at many supermarkets or convenience stores would also not be covered by the proposal, which is expected to be approved by the Bloomberg-appointed Board of Health and could take effect as early as March.
Popular drinks like Starbucks Frappuccinos, however, will likely be exempt due to their dairy content, city officials have said, and ubiquitous summer treats like 7-Eleven's Slurpees won't be included in the proposed ban since convenience stores are regulated by the state as grocery stores.
A recent poll found 53 percent of New Yorkers consider the said proposed ban a big-government overreach, while 42 percent said it would be good health policy, according to a poll released last week.
The NY1-Marist poll also found that 45 percent of respondents said they think the ban would help people lose weight, while 52 percent said it wouldn't make a difference. More than half, meanwhile, said they never order a sugary drink large enough to be banned.
As expected, the proposal has been panned by the soft-drink industry and critics who claim individuals should be allowed to make their own choices, despite recent research that links sugary drinks to rising rates of obesity, diabetes and heart disease.
Bloomberg, for his part, has stressed that soda-lovers angered by calls of a "nanny state" are free to purchase more than one sugary beverage.
"You tend to eat all of the food in the container," the three-term mayor told reporters last month. "If it's bigger, you eat more. If somebody put a smaller glass or plate or bowl in front of you, you would eat less."
The Associated Press contributed to this report.