No deal? House eyes stopgap to buy time as DHS funding deadline nears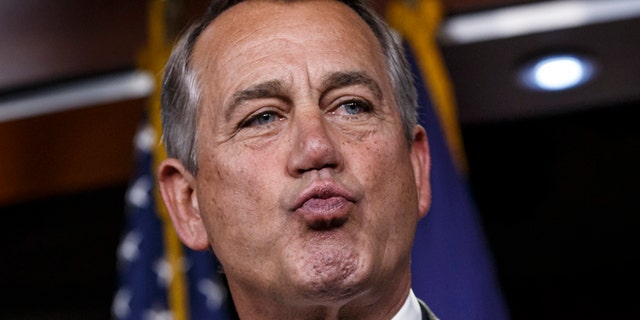 NEWYou can now listen to Fox News articles!
House Republican leaders are looking at passing a stopgap funding bill to prevent an imminent partial shutdown of the Homeland Security Department, Fox News is told, as lawmakers struggle to reach a long-term deal.
The House is now weighing a roughly three-week funding bill, to buy time ahead of a Friday midnight deadline. This comes as the Senate prepares to move a longer-term bill -- after GOP Leader Mitch McConnell met Democrats' demands to remove provisions blocking President Obama's immigration actions -- but Fox News is told House Republicans plan to reject that.
Instead, they want to try and hammer out a new measure with the Senate in a so-called conference committee -- something Senate Democrats call a "non-starter."
The last-minute maneuvers continue to raise doubts about any long-term funding plan.
Earlier in the day, House Speaker John Boehner was coy about disclosing his chamber's next move and even blew kisses to reporters at one point.
"We're waiting to see what the Senate can or can't do, and then we'll make decisions about how we're going to proceed," he said.
But alternative options appeared to be emerging. A stopgap is something Congress often does when stuck in tough negotiations.
House Appropriations Committee Chairman Hal Rogers, R-Ky., said such a measure would likely last three weeks. He said an interim bill would be "ready to go."
Still, there's concern Democrats could balk at another stopgap solution.
Lawmakers might have a little more time, though. While the funding deadline technically is Friday at midnight, lawmakers might -- practically speaking -- have until Monday morning, allowing them to work through the weekend to reach a funding deal. The idea is that if it looks like Congress is working toward an agreement, they wouldn't have to formally notify the federal government's equivalent of an HR office that DHS workers were losing funding -- at least until Monday.
For now, on the Senate side, things were going more smoothly.
McConnell had struck a deal with Democrats on Wednesday. He agreed to drop a GOP demand that Obama's immigration actions be reversed as a condition for funding DHS. The problem, though, is dozens of Republicans want Boehner to keep fighting on the House side even if that means risking a funding lapse.
McConnell on Wednesday earned support from senior members of his caucus, with fellow GOP leaders making clear that the approach may be the only way to fund DHS past the deadline.
"This is crunch-time," DHS Secretary Jeh Johnson said Wednesday. "The clock is ticking. We're running out of money."
Fox News' Chad Pergram and The Associated Press contributed to this report.