Newly unearthed letter shows Trump grandfather fought to stay in Germany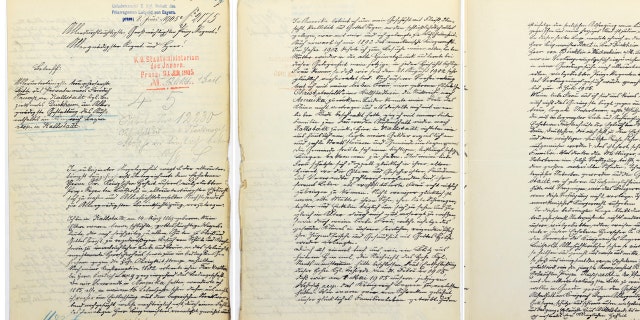 An impassioned 111-year-old letter written by Donald Trump's grandfather appealing his expulsion from his German homeland has turned up in regional German archives.
In the letter signed by Friedrich Trump, then a newly minted U.S. citizen, he urged the "well-loved, noble, wise and just" Prince Regent Luitpold of Bavaria to grant his "most subservient request" to remain in the Kingdom of Bavaria with his wife.
The letter, a copy of which was obtained by The Wall Street Journal, was unearthed in the state archives of Rhineland-Palatinate by a local historian. The mass-market Bild tabloid first printed excerpts from the letter on Monday.
While it was well-known that Mr. Trump's grandfather had sought to turn his back on the U.S. almost 20 years after he arrived, this is the first time his actual appeal to permanently return to Germany has emerged.
Had that appeal succeeded, Friedrich's time in the U.S. might have remained a footnote in his biography. Instead, the banished patriarch made his way back to America, entered the real-estate business, and put in motion the chain of events that made possible his grandson's election as the 45th U.S. president.
His appeal to remain in Germany might not have fallen on deaf ears had Friedrich not set off for the U.S. in 1885 at the age of 16 without leaving behind a security deposit with the government to ensure he would return for compulsory military service, according to the historian Roland Paul. When he later returned to Germany to live with his wife, he was discovered to be a scofflaw by local authorities and ordered out.
Click for more from The Wall Street Journal.