New York's Cuomo raises eyebrows with Jewish 'rhythm' comment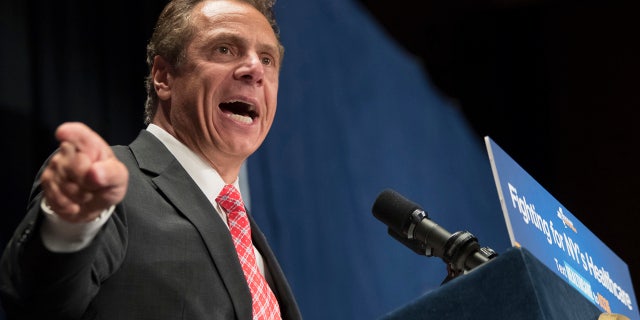 Gov. Cuomo on Sunday made fun of the "rhythm" of "our Jewish brothers and sisters" during a speech at a predominantly black church in Harlem.
Cuomo strayed onto the risky terrain of religious humor and stereotypes while thanking the congregation at Mount Neboh Baptist Church for the invitation to speak.
"I want you to know as a matter of full disclosure, I am a Catholic. Catholics basically believe the same teachings that Baptists believe," he said. "We just do it without the rhythm. But we try. We are not as without rhythm as some of our Jewish brothers and sisters."
Cuomo even singled out the off-beat swaying of Democratic consultant Hank Sheinkopf, a former campaign adviser who is Jewish, who was sitting in the front row wearing a yarmulke.
"I was watching Mr. Sheinkopf here in the front row moving to the music," Cuomo said of the politico, who was ordained as an Orthodox rabbi in 2011.
"It was ugly, I'll tell you the truth," the governor added.
Sheinkopf — who said he was at the church because he works for its pastor, the Rev. Johnnie Green, and his Mobilizing Preachers and Communities advocacy group — thought Cuomo's joke fell flat.
"There weren't many people laughing, but I didn't feel humiliated," he told The Post.
Sheinkopf also noted sarcastically: "He's the governor. He's now in charge of American dancing."
Click for more from The New York Post