New website ReaganBook wants a friend request from conservatives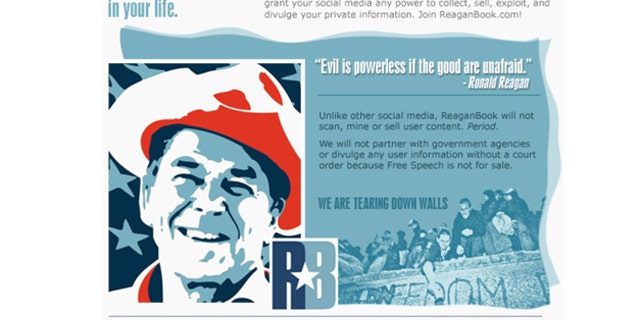 NEWYou can now listen to Fox News articles!
Are you a conservative feeling censored on Facebook?
The makers of a new social network called "ReaganBook" want you to know it's okay to un-friend the website -- and turn to what they call their "platform for all freedom-loving Americans."
ReaganBook is the brainchild of conservative activist Janet Porter, who said she decided to start a new network after seeing several pro-life, pro-Israel and anti-gay marriage posts blocked by Facebook. She is promoting the site as the conservative social media alternative.
"ReaganBook's purpose is to be what Facebook could've been but chose not to be," Porter told FoxNews.com.
ReaganBook will have many of the same features as Facebook including a newsfeed, groups and pages, according to Porter. She said ReaganBook's users will be able to create a profile similar to what they have on Facebook, and share links and photos.
But the network has had a rocky launch, as ReaganBook's free speech policy immediately backfired. Porter was forced to put the site into offline mode a few days after it began the initial testing phase on July 26, because it was overrun by Internet trolls.
As of Thursday, the site was still in offline mode.
According to the Verge, when the website launched, it required no proof of identity to create an account and let anyone say anything. This being the Internet, it soon became flooded with porn and users with names such as "Margaret Thatcher" or "Lord God."
At one point, according to the account, when Porter posted from her account that she was working on fixing the problem, "Lord God" responded: "JANET MY DAUGHTER, YOUR PRAYERS ARE GOING STRAIGHT INTO MY SPAM FILTER. PLEASE TEXT ME FOR QUICKER RESPONSE."
Porter said the haters actually prove the website is necessary and will serve its purpose -- once it gets better security in place.
"I think there are some people that are threatened by freedom of speech," she said. "People are used to the silencing of all dissent. That's not what this country is founded on."
Porter cited many examples of conservatives who have been censored on Facebook in an informational packet about ReaganBook provided to FoxNews.com. One example, according to Porter, is former child star Kirk Cameron, who claimed last year Facebook blocked him from promoting his film "Unstoppable" because it was "spammy."
Porter also cited an example from LifeNews.com, which reported in 2012 that Facebook had removed a photo a pro-life activist posted of an abortion, but apologized for censoring a photo a pro-choice activist had posted.
A spokesman for Facebook declined to comment.
Porter said she hopes ReaganBook will "tear down walls of tyranny" she claims are preventing conservative views from being shared and create a community that will follow in President Reagan's footsteps in fighting injustice.
"ReaganBook is putting freedom on the offensive," she said.
ReaganBook is not affiliated with the Reagan family or the Reagan presidential library. Michael Reagan, the son of the 40th president, told FoxNews.com in an email he has "no idea" who is launching ReaganBook.