New Pentagon plan would cut ground forces by 100,000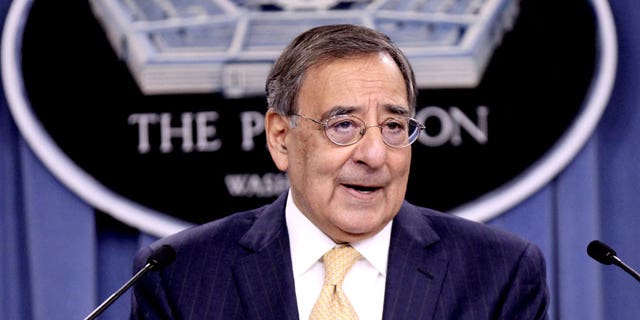 WASHINGTON – Defense Secretary Leon Panetta unveiled a plan Thursday that would cut nearly a half-trillion dollars from the defense budget over the next decade by retiring older planes and ships, delaying some projects and shrinking U.S. ground forces by about 100,000.
The plan would reduce the size of the Army by 80,000 soldiers by 2017, bringing the force size to a level slightly larger than it was on 9/11. Amid concerns from some lawmakers that the cuts would endanger security, Panetta cast the proposal as a response to changing times.
"We are at a strategic turning point after a decade of war and after a very substantial growth in the defense budget," Panetta said Thursday.
Panetta said the plan shifts the Pentagon's focus from the wars in Iraq and Afghanistan to future challenges in Asia, the Mideast and in cyberspace. More special operations forces like the Navy SEALs who killed Usama bin Laden will be available around the world, he said.
At the same time, the Pentagon would shrink the size of the overall military while pushing off certain projects.
Some lawmakers immediately aired concerns with the plan.
"Taking us back to a pre-9/11 military force structure places our country in grave danger," said Sen. John Cornyn, R-Texas, a member of the Senate Armed Services Committee that will hold hearings on the Pentagon budget plan.
Panetta announced that the administration will request a 2013 budget of $525 billion, plus another $88 billion for operations in Afghanistan. Combined, those totals are about $33 billion less than the Pentagon is spending this year. Panetta said, however, that the Pentagon's base budget will grow to $567 billion in 2017. At that point, the cumulative budgets over five years would be $259 billion less than had been planned before the administration struck a deficit-cutting deal with Congress last summer that requires projected defense spending to be reduced by $487 billion by 2022.
Among the details Panetta disclosed:
The Army would shrink by 80,000 soldiers, from 570,000 today to 490,000 by 2017. That is slightly larger than the Army on 9/11.
The Marine Corps would drop from today's 202,000 to 182,000 -- also above the level on 9/11.
The Air Force would retire some older planes including about two dozen C-5A cargo aircraft and 65 of its oldest C-130 cargo planes.
The Navy would keep a fleet of 11 aircraft carriers but retire seven cruisers earlier than planned. Panetta described those cruisers as "lower priority," and said they either have not been upgraded with "ballistic missile defense capability" or require significant maintenance. The plan would delay purchase of some other ships, including a new Virginia-class submarine.
Purchase of F-35 stealth fighter jets, to be fielded by the Air Force, Navy and Marine Corps, would be slowed.
Current plans for building a new generation of submarines that carry long-range nuclear missiles would be delayed by two years. The current fleet of nuclear-capable bombers and land-based nuclear missiles would be left unchanged. Panetta said the move would not harm the country's nuclear deterrence.
Military pay raises will remain on track until 2015, when the pace of increase will be slowed by an undetermined amount. However, the Pentagon recommended an increase in health care fees, co-pays and deductibles for retired military members.
President Obama will ask Congress to approve a new round of domestic base closures, although the timing of this was left vague and there is little chance that lawmakers would agree to this in a presidential election year.
The defense spending plan is scheduled to be submitted to Congress as part of the administration's full 2013 budget on Feb. 13.
Prominent in the Obama plan is a renewed focus on Asia, where China's rapid military modernization has raised worry in Washington and rattled U.S. allies.
The Pentagon has embraced a proposal by special operations chief Adm. Bill McRaven to send more manpower and equipment to worldwide "Theater Special Operations Commands" to strike back wherever threats arise, according to a senior defense official who spoke to The Associated Press, and other current and former U.S. officials briefed on the program. The stepped-up network would put top special operations personnel closer to the problems they face, better able to launch unilateral raids like this week's Somalia mission.
Panetta also has made clear the administration will resist any effort to shrink the Navy's fleet of aircraft carriers. He said last weekend while on board the fleet's oldest carrier, the USS Enterprise, that keeping 11 of the warships is a "long-term commitment" that Obama believes is important to keeping the peace.
Obama has said he hopes to further reduce the size of the U.S. nuclear arsenal, but Panetta said the basic structure -- a "triad" of land, sea and air nuclear forces -- will be maintained. The Pentagon said it will study the potential to shrink that force later.
The defense budget is being reshaped in the midst of a presidential contest in which Obama seeks to portray himself as a forward-looking commander in chief focusing on new security threats. Republicans want to cast him as weak on defense.
Obama has highlighted his national security successes -- the killing of Usama bin Laden, the death of senior Al Qaeda leaders and the demise of Libya's Muammar Qaddafi -- to counter Republican criticism. He also has emphasized the completion of the U.S. troop withdrawal from Iraq and the start of a drawdown in Afghanistan as turning points that offer new opportunities to scale back defense spending.
But several congressional Republicans see a political opening in challenging the reductions in projected military spending that the GOP and Obama agreed to last summer as part of a deal to raise the nation's borrowing authority. They've echoed Obama's potential presidential rivals Mitt Romney, Newt Gingrich and Rick Santorum, who plead for fiscal austerity but contend that sizable cuts would gut the military.
The Associated Press contributed to this report.