New Homeland Security Chief: Legalizing Undocumented Immigrants Is A Matter Of National Security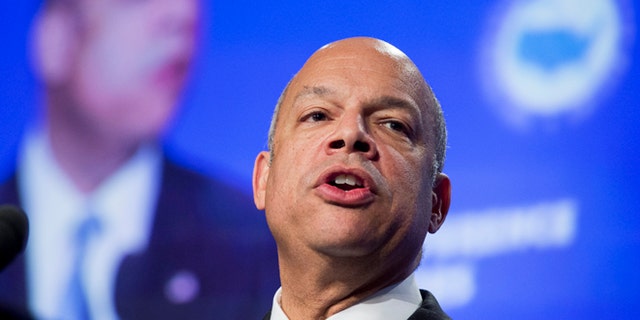 WASHINGTON (AP) – The new Homeland Security secretary says an earned path to citizenship for the roughly 11 million immigrants living in the United States illegally is a matter of national security.
It was the first time Jeh Johnson, who had little experience with immigration policy before he was appointed, had outlined his approach on the subject.
The Defense Department's former top lawyer, who worked on U.S. drone policies and helped end the Pentagon's ban on gays in the military, said offering a path to citizenship would encourage such immigrants "to come out of the shadow, to be accountable, to participate in the American experience."
In his speech last week at the U.S. Conference of Mayors, Johnson said the vast majority of immigrants here illegally have been in the country for more than 10 years and offering a path to citizenship is "a matter (of) who we are as Americans."
Johnson was sworn in as the fourth Homeland Security secretary late last year. While he has been making visits to the Mexican border and meeting with immigration enforcement officials, he had yet to give specifics on his immigration views until this speech.
Johnson was considered well-versed in matters of security, but many questioned his credentials on immigration.
During his Senate confirmation hearing last year, Johnson listed "common-sense immigration reform" among the top priorities of the department but did not provide any details.
Johnson's brief remarks on immigration mirror those of his predecessor and President Barack Obama.
Obama and congressional Democrats have long pushed for a sweeping immigration bill that would, among other things, create a path to citizenship for immigrants living in the country illegally who don't pose a threat to national security or public safety. Last year, the Democratic-controlled Senate passed a bill that also included a provision to nearly double the size of the Border Patrol.
Republicans have objected to allowing immigrants to gain citizenship before the border is secured.
Johnson did not address how he planned to direct immigration enforcement efforts.
In the absence of viable immigration legislation in Congress, Obama has approved a series of policy directives that largely have shielded various groups of immigrants from deportation. The Deferred Action for Childhood Arrivals program, announced shortly before the 2012 presidential election, is the most significant and allows many young immigrants who arrived in the United States as children to apply for a work permit and a two-year reprieve from deportation.
Republican lawmakers have decried the programs as back-door amnesty and have asked Johnson to commit to enforcing immigration laws as they exist, including deporting immigrants in the country illegally.
Follow us on twitter.com/foxnewslatino
Like us at facebook.com/foxnewslatino