New evidence: ICE agent who survived 2011 ambush calls for congressional action
A retired Immigration and Customs Enforcement (ICE) agent who survived a 2011 Mexico ambush, that killed his partner, is urging two congressional committees with oversight to investigate after new evidence has come to light, according to an exclusive interview with Fox News.
"I'd like the Homeland Security Committee and the senate Homeland Security Committee to hopefully hold congressional hearings on this matter, to have the individuals surrounding this whole assignment be brought in and questioned as to what happened and why they made these decisions," said Victor Avila.
Speaking in his first American TV interview, Avila, a retired Immigration and Customs Enforcement agent, shared new details about the February 2011 ambush on Mexico's highway 57 by the Zetas cartel that killed his partner that day, ICE agent Jaime Zapata, and nearly cost Avila his own life.
"No one has been suspended, demoted, no one has been, as far as I know, admonished," he said.
Avila says he is deeply grateful to the U.S. Attorney, FBI and ATF whose work led to the extradition and prosecution of cartel members. This week, Avila testified in a D.C. federal court against two cartel members charged with the murder of Zapata, and Avila's attempted murder.
With his testimony complete, Avila said he is now able to speak publicly about the attack. He claims his supervisors ignored a State Department security warning that prohibited travel by U.S. personnel on highway 57. But he and Zapata, who had only arrived days earlier in Mexico, were sent anyway.
"The security notice was issued by the U.S. embassy, by the ambassador to all U.S. personnel at the U..S embassy in Mexico City prohibiting anyone to travel on highway 57 whether for personal reasons or business reasons," he said.
Avila said it is like a smoking gun.
"To me it is, very clear. And, it states clearly that you are just not allowed on that because of the high level of violence occurring at that time between cartel members and the government of Mexico."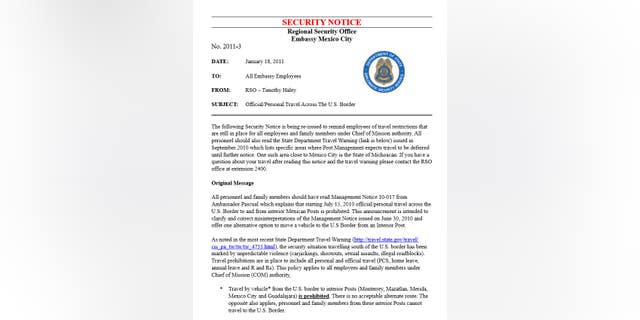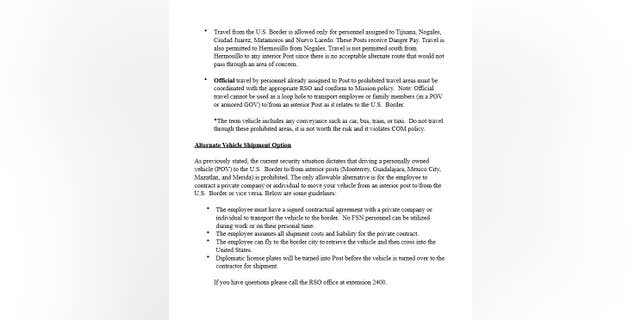 Avila also points to ballistics, as well as an Inspector General report, that show at least one weapon recovered at the scene was purchased in Dallas. Avila told Fox he believes two weapons came from Texas.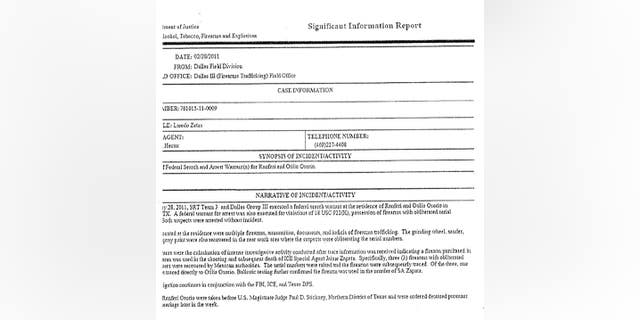 A SKY News investigation by correspondent Nick Martin reported one weapon was bought and sold by Otilio Osorio, who was given a seven-year jail sentence for illegal weapons dealing. The SKY News team uncovered surveillance video, and reported the "ATF had been monitoring Osorio and his brother Ranferi for many months before the gun was sold but took no action to arrest the men."
John Dodson, the ATF whistleblower who helped expose the gun-walking operation known as Fast and Furious, reviewed Avila's case, as well as government records, telling Fox the evidence does point to a link.
"The connection is the strategy. The model of watch and observe versus the old (model) of enforce and disrupt," Dodson said, adding that the strategy was deployed across the southern border. "The USG (U.S. government) is supposed to serve the citizenry. They owe the people an honest, open, and forthcoming account."
Six years after Fast and Furious was exposed, Dodson testified to the House Government Oversight Committee in June, that several firearms "...were recovered at crime scenes in Mexico."
Avila believes his case is connected to the 2010 murder of Border Patrol agent Brian Terry.
"It goes to show weapons so widely disbursed, to the cartel members. The U.S. government had no idea where weapons were. The only reason they found out was because they showed up at these murder scenes."
Avila has a pending civil suit against the government. The ATF declined to comment while the trial is ongoing.
A U.S. federal law enforcement source said there is no link between the Osorio and Barba investigation and Fast and Furious, adding "…the (OIG) report found that with respect to the two firearms used in the assault, the ATF did not have sufficient prior knowledge of either of those transactions to seize or interdict the weapons. The report specifically stated that 'It did not identify instances where [ATF] agents witnessed the unlawful transfer of firearms and failed to seize them."