New details emerge on anti-Trump dossier as House GOP seeks Fusion GPS boss testimony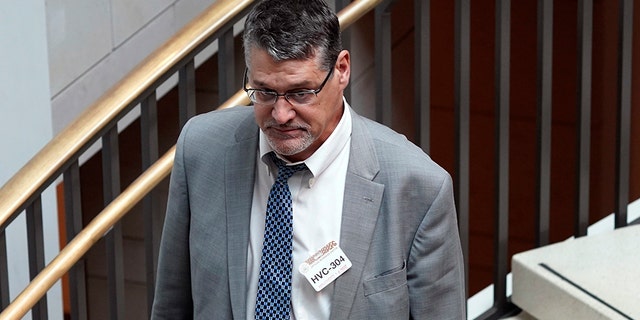 House Republicans still want Glenn Simpson, the co-founder of the firm behind the anti-Trump dossier, to comply with their subpoena to appear on Capitol Hill despite his plans to invoke Fifth Amendment protections, a GOP House Judiciary Committee aide told Fox News on Friday.
The tension with the Fusion GPS co-founder comes as new details emerge about just how widely distributed the unverified and politically funded dossier was back in 2016. A Fox News review of congressional testimony, British court records, emails and other documents indicate that at least five sources worked through other government agencies or fed the dossier to the FBI directly.
Simpson made clear this week that he does not intend to answer congressional questions.
In a letter to House Judiciary Committee Chairman Bob Goodlatte, R-Va., Simpson lawyer Joshua Levy wrote that his client will invoke his First and Fifth Amendment privileges to avoid testifying before the committee next week.
Writing to Goodlatte, Levy accused Republicans on the panel of trying to "discredit and otherwise damage witnesses to Russia's interference in the 2016 election, all as part of an effort to protect a president..."
Levy added that the committee "has abdicated and indeed perverted its constitutional and traditional role" and shown "abundant bad faith" toward Simpson.
But critics point to apparent inconsistencies in Simpson's testimony. During his November 2017 transcribed interview before the House Permanent Select Committee on Intelligence, Simpson was asked about his contact with the FBI. He said he worked through Justice Department official Bruce Ohr "sometime after Thanksgiving." However, Simpson's testimony contradicts Ohr emails that show contact months earlier, in August 2016.
In a Washington Post opinion piece, former Obama-era State Department official Jonathan Winer acknowledged he had regular contact with ex-British spy Christopher Steele, the author of the controversial anti-Trump dossier.
Winer said that Steele alerted him in the summer of 2016 about "disturbing information regarding possible ties between Donald Trump, his campaign and senior Russian officials." The two met in Washington in September 2016 to discuss what is now known as the "dossier."
After he reviewed the documents, Winer said, he shared a summary with Victoria Nuland, the former assistant secretary of state for European and Eurasian affairs.
In February, Nuland confirmed to CBS News' "Face the Nation" that the Steele dossier came to the attention of the State Department in July 2016.
"He [Steele] passed two to four pages of short points of what he was finding, and our immediate reaction to that was, 'This is not in our purview,'" Nuland said. "'This needs to go to the FBI, if there is any concern here that one candidate or the election as a whole might be influenced by the Russian Federation. That's something for the FBI to investigate.'"
Nuland went further, saying that "our reaction when we saw this [was] ... we can't evaluate this. And frankly, if every member of the campaign who the Russians tried to approach and tried to influence had gone to the FBI as well in real time, we might not be in the mess we're in today."
Another person caught up in the dossier handoff is David J. Kramer, a former State Department official and associate of the late Sen. John McCain, R-Ariz. In November 2016, he traveled to Surrey, England, to meet with and be briefed by Steele on the dossier. According to British court records reviewed by Fox, Steele told the British court that an arrangement was made so that Fusion GPS's Simpson would provide hard copies of the dossier to McCain via Kramer.
In January 2017 the late Senator's office posted to their website: "Late last year, I received sensitive information that has since been made public. Upon examination of the contents, and unable to make a judgment about their accuracy, I delivered the information to the Director of the FBI. That has been the extent of my contact with the FBI or any other government agency regarding this issue."
Earlier this year, in an interview with Fox News' Bret Baier, former FBI Director James Comey seemed vague about the dossier, when he learned about it as well as its political origins.
"Sometime in the fall (2016), I don't remember exactly when," Comey said, "I remember they briefed me on it, explained that it came from a reliable source I remember being given a copy of it I don't know if it was September (sic) October some period in that time."
Other information about Russian hacking was also provided to the FBI in 2016 by lawyer Michael Sussmann, whose firm, Perkins Coie, commissioned Simpson's firm for the dossier. The FBI's former general counsel, James Baker, recently confirmed that revelation during a closed-door deposition on Capitol Hill, say sources close to the congressional investigation.
A spokesman for Sussmann said in a recent statement: "Prior to joining Perkins Coie, Michael Sussmann served as a cybercrime prosecutor in the Criminal Division of the Department of Justice during both Republican and Democratic administrations. As a result, Sussmann is regularly retained by clients with complex cybersecurity matters.
"When Sussmann met with Mr. Baker on behalf of a client, the meeting was not connected to the firm's representation of the Hillary Clinton Campaign, the DNC or any Political Law Group client."
Senate Oversight Committee Chairman Ron Johnson, R-Wis., sent a letter to FBI Director Christopher Wray on Friday requesting all documents about Sussmann's contact with the FBI, as well as the memos that document allegations Deputy Attorney General Rod Rosenstein considered secretly taping the president. Rosenstein and the House Judiciary panel failed to agree on terms for his Capitol Hill appearance this week.
Fox News asked Sussmann's spokesperson for additional comment in light of the Senate letter, but there was no immediate response.