New audio shows Clinton Foundation head accused Clintons of 'paranoia'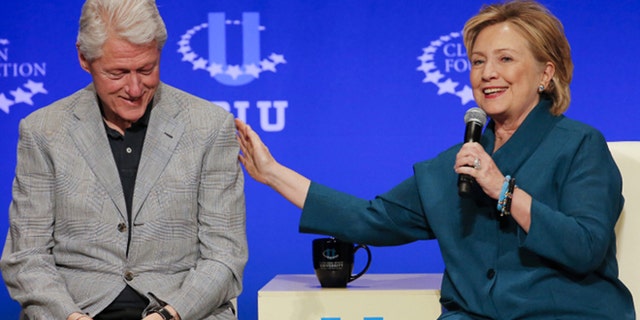 NEWYou can now listen to Fox News articles!
Clinton Foundation head Donna Shalala privately expressed concerns about Bill and Hillary Clinton's mental state in the mid-1990s, saying they had become "paranoid" and fixated on "right-wing conspiracies," according to previously unpublished audio recordings obtained by the Washington Free Beacon.
In 1994, four years before Hillary Clinton said a "vast right-wing conspiracy" was trying to take down her husband's presidency, top aide Shalala said this theory was already embraced by the Clintons.
"They've become paranoid. Paranoia. Thinking people are out to get them, this right-wing conspiracy stuff," said Shalala, who was the head of Health and Human Services during the August 1994 interview.
Shalala was recently appointed president of the Clinton Foundation.
The tapes are part of a series of interviews with Hillary Clinton and top aides, conducted by the late Pulitzer Prize winning reporter Haynes Johnson and obtained by the Free Beacon from the Wisconsin Historical Society on the University of Wisconsin campus.
Some segments of the interviews are transcribed in Johnson's 1996 book The System, written with David Broder, which gives a meticulously reported account of the 1990s health care debate. However, many of the quotes in the book are not attributed to the aides by name.
Click for more from the Washington Free Beacon