Nevada GOP Calls on Reid to Explain Handling of Ex-Aide's Sham Marriage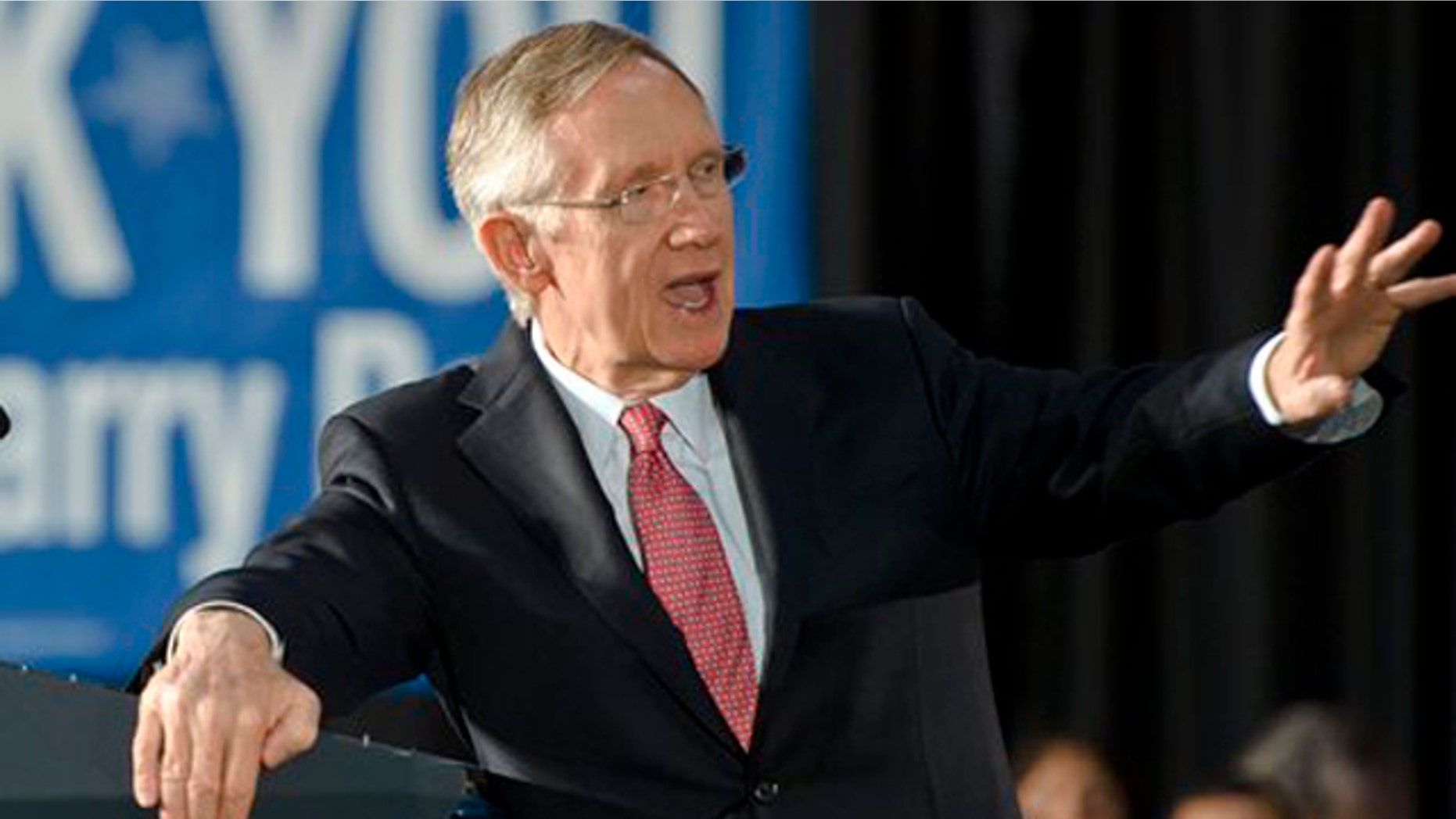 The Nevada Republican Party called on Senate Majority Leader Harry Reid Tuesday to personally explain how somebody who confessed to a sham marriage with a Lebanese national later deported ended up on his staff -- and precisely when he found out about her past.
The challenge came after FoxNews.com reported Monday evening that Diana Tejada, the senator's former Hispanic press secretary, had confessed to taking money for "some of her expenses" in exchange for fraudulently marrying Bassam Mahmoud Tarhini in 2003 so he could obtain permanent U.S. residency.
According to court documents, Tejada owned up to the deal in November 2008, just one month after she took the job in Reid's office. But she continued working for Reid.
Reid spokesman Jim Manley said Monday that she was let go following an "internal investigation," while maintaining that the office was not aware of the case sooner.
But Nevada Republican Party spokesman Jahan Wilcox urged Reid to come forward with more details.
"Senator Harry Reid, not his spokesman, needs to explain to Nevadans when he first found out someone on his staff cut a deal to marry a Lebanese national so he could fraudulently gain American citizenship, and when that staffer was dismissed from his office," Wilcox said in a written statement. "With the election one week away, Nevadans deserve to know why members of Reid's staff are deliberately trying to circumvent current immigration laws to help foreign nationals sneak into our country."
Reid's campaign did not respond to a request for comment Tuesday after the story attracted widespread attention. Manley said Tuesday that Reid's Senate office also had "no comment" on the Nevada Republican Party's statement.
It's unclear whether somebody intentionally neglected to tell the Senate majority leader that a member of his staff was involved in a sham marriage. Immigration watchdog groups said Tuesday that Reid should have known, saying the incident raises questions about security at the highest levels of government.
Bob Dane, spokesman for the Federation for American Immigration Reform, said it's possible Reid never learned about Tejada's past -- but that somebody dropped the ball in not telling him.
"Reid's office should have been notified from the start given that Tejada was involved in an immigration-related marriage scam while she was simultaneously working as a spokesperson for the U.S. Senate's leading architect on immigration reform," he said. "Those, of course, may have been the very reasons why Reid's office was not notified."
Roy Beck, executive director of Numbers USA, echoed that point.
"I would sure think that political figures ought to know whether they have staff people that are being investigated for this kind of thing," he said.
The top level of management inside the Department of Homeland Security was aware that Tejada worked for Reid, multiple sources confirmed, and following protocol, the majority leader should have been informed of the investigation through those channels.
Tejada, according to sources with knowledge of one meeting with federal agents, expressed concern about her job at the time and said she was worried about Reid's reaction to her sham marriage. The federal agents told her she had an obligation to tell Reid, and sources said they believed she would inform her boss.
But in July 2009, when an ICE agent testifying at Tarhini's preliminary deportation hearing was asked specifically about Tejada's employer, the agent did not say it was the U.S. Senate. She instead said she was employed with "a Hispanic center."
Tejada used to work as a spokeswoman for the National Council of La Raza but by July 2009 was in Reid's office. She was never charged, but Tarhini pleaded guilty in November 2009 to a fraudulent marriage to evade immigration laws and was deported this past March.
Tarhini had been the subject of an Oklahoma City Joint Terror Task Force investigation. Following his arrest in 2009, he was interviewed by FBI agents who sources say asked about his ties to extremists groups. Some sources said they determined he did not have ties to any terror group, but other sources close to the case said that could not be ruled out.
William Gheen, president of Americans for Legal Immigration PAC, said Tejada's employment with Reid raises questions about what other "security risks" exist in the office. If Reid did not know, "then there needs to be an immediate investigation to find out why security can be that lax around our most important political leaders," he said.
Manley told FoxNews.com Tejada's actions were "clearly wrong." But he dismissed the attention being paid to the incident as purely political.
"But the bottom line remains that this story was a desperation measure by partisan Republicans, who have stooped to slinging mud about junior staffers to score points in the waning days of her campaign," he said.
Fox News' Jana Winter contributed to this report.