Democracy 2020 Digest: Nevada Dems scrambling to avoid repeat of Iowa caucus debacle
LAS VEGAS -- On the eve of the Nevada presidential caucuses, the state Democratic Party abandoned plans to use a Google application to report the results of its caucuses Saturday.
Instead, the state party on Friday said it will rely on traditional reporting by phone amid fears of tech problems that led to a reporting debacle earlier this month in the Iowa caucuses.
Nevada Democratic Party executive director Alana Mounce explained the reporting process in a memo sent to the presidential campaigns.
"After their precinct caucuses conclude, the precinct chairs will call a hotline to securely report their results to a trained operator, will submit via text a photo of their caucus reporting sheet to state party staff through an established MMS reporting hub, and then they will return their caucus reporting sheet and other materials to their Site Lead," the memo read.
The memo was first reported by The New York Times.
The Democratic National Committee (DNC) expressed confidence in the plan in a statement Friday.
"Nevada Democrats have learned important lessons from Iowa, and we're confident they're implementing these best practices into their preparations," said Xochitl Hinojosa, a DNC spokeswoman. "We've deployed staff to help them across the board, from technical assistance to volunteer recruitment."
Nevada Democrats were originally going to use an app made by the same developer that created the app used in Iowa that led to widespread chaos and the three-day delay in reporting complete results. But Nevada Democrats scrapped that plan after the debacle in Iowa.
CLICK HERE TO GET THE FOX NEWS APP
The state party then turned to an off-the-shelf Google Forms app loaded onto iPads that they would distribute to caucus precinct officials and volunteers.
The Google Forms app will still be used to count the raw vote totals and delegates won by the candidates - along with a paper backup. But the party decided on Friday to scrap using the Google Forms app to transmit the data to the party's headquarters.
The caucus precinct chairs will now report the results by dialing a hotline and providing a secret passcode. Then the chairs are required to text a photo of their reporting sheet to Nevada Democratic Party officials -- and finally hand in a physical copy of the reporting sheet.
Sen. Elizabeth Warren expressed concerns.
Speaking to reporters on Friday while campaigning in Las Vegas, the presidential candidate from Massachusetts said "I think everyone is concerned, and wants to see things go well tomorrow. And I very much hope that there aren't any technical glitches that everyone can get out and caucus and get their caucus votes counted."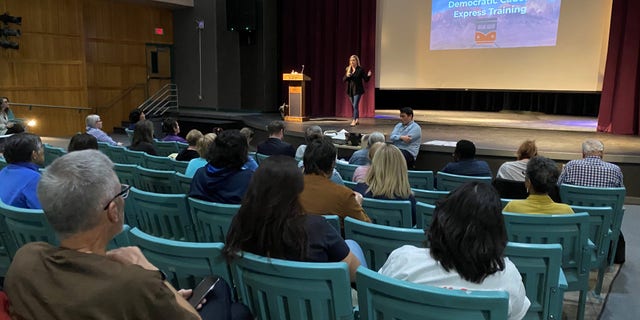 The state party -- with the assistance of the DNC -- has been holding training sessions all week for volunteers.
At a training session on Friday at Silverado High School in Las Vegas, caucus volunteer Tom Harrison of nearby Henderson told Fox News he showed up because "I'd just like to get as much training as I can because I think the spotlight's going to be a little hot on Friday."
Another volunteer -- Wendy Linow of Henderson - was confident that Iowa meltdown "is not going to happen here."
Other volunteers Fox News spoke with - who asked to remain anonymous - said that the state partywas asking caucus site leaders to sign non-disclosure forms that would prohibit them from speaking with reporters and others in the media.
One of the volunteers shared that a state party official mentioned that that it was a standard practice for them to request that volunteers sign non-disclosure agreements because of their access to strategic data.
Buttigieg predicts 'fantastic' caucus finish
A confident Pete Buttigieg predicted on Friday that "I think we're going to have a lot to celebrate tomorrow."
The former South Bend, Indiana mayor – speaking to supporters at a campaign field office in the northeast part of Las Vegas – emphasized that "I think tomorrow's going to be a fantastic day."
The one time longest of long-shots for the nomination holds the slightest of edges over Sen. Bernie Sanders of Vermont as the results from this month's Iowa caucuses remain contested. And Buttigieg finished a close second to Sanders in last week's New Hampshire primary.
Buttigieg told volunteers who are canvassing and door-knocking for his campaign that "people are still making up their minds. Everything depends on making sure that we reach them. Not everybody's been following this thing for a whole year. Some folks are just tuning in."
Biden, in Las Vegas, says 'this looks like America'
After disappointing fourth and fifth place finishes in the predominantly white states of Iowa and New Hampshire, former Vice President Joe Biden and his campaign made no secret that they were looking forward to moving on to the more diverse electorates in Nevada, South Carolina, and the March 3 Super Tuesday states.
The former vice president hammered that point during a campaign event in Las Vegas on the eve of the Nevada caucuses.
"Look, this campaign is really just getting started. We're finally in a place where there are folks who represent the country, who look like the country. There are good folks in Iowa and New Hampshire, but this looks like America," Biden stressed.
The one-time front-runner in the Democratic presidential nomination race spoke to a labor crowd at a precinct captain training session at the International Alliance of Theatrical Stage Employees Las Vegas headquarters.
Biden told emphasized to the union workers that "you are the key to the growth of this country, and I promise you, I promise you, you will not regret having supported me."
Fox News' Jacqui Heinrich, Andres del Aguila, Tara Prindiville, and Madeleine Rivera contributed to this report.