Nervous about Venezuela's instability, China rethinks financial links to country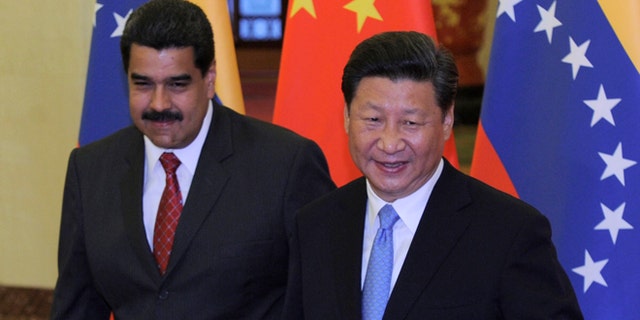 NEWYou can now listen to Fox News articles!
Back in the 1990s it seemed like an ideal relationship.
Venezuela was an oil-rich nation in the Americas whose socialist president, Hugo Chávez, held former Chinese communist leader Mao Zedong in high regard.
The chance for lucrative deals and influence in an important region of the Western hemisphere was irresistible to China. And the opportunity to end-run United States money and prestige proved enticing to both Chávez and his hand-picked successor, Nicolás Maduro.
In the years since, China has loaned Venezuela some $60 billion.
But now, with the bottom having fallen out of oil prices and Venezuela on the verge of political and social collapse and rising crime rates and a movement afoot to recall Maduro, China is getting jittery about the relationship that once held so much promise.
Chinese government officials are nervous about Venezuela's ability to repay the loans and the security of its residents working there in Chinese-owned companies, reports the Wall Street Journal.
"There were a lot of reasons why China rushed into its relationship with Venezuela, but now it's about: 'How do we get out of this mess?'" R. Evan Ellis, a professor who closely tracks China's relations in the region at the U.S. Army War College, told the Journal.
And so, dozens of representatives from Chinese state companies attended emergency meetings earlier this year with China's envoy in Caracas to discuss the country's deteriorating situation, the Journal reported, citing unnamed Chinese officials who were at the meetings.
"The consensus was that no new money was going to be invested," the Journal quoted one of the officials as saying. "There was a clear message from up top: Let them fall."
Venezuela's dollar reserves are at a 13-year-low of $11.8 billion, and August talks in Caracas were expected to produce new loans from China. Instead, they commit to provide a few thousand vans and trucks to help ease shortages, Maduro's government announced. But no loans.
Many Chinese projects that had been launched in Venezuela have been halted.
China has summoned leaders of the movement in opposition to Maduro to meetings in Beijing. Economists and oil industry experts also have gone there at the invitation of China's Communist Party.
Among the topics at those meetings have been the establishment of a transitional government in Venezuela and rescuing the ailing economy, according to the Journal.
Venezuela's economy fell 6 percent last year and is expected to drop by another 10 percent in 2016. It has one of the world's highest inflation rates, and Venezuelans are struggling to find even the most basic items, including food and medicine.
It is also extremely dangerous, with Caracas having this year been ranked as having the most murders of any city in the world, according to the Mexican think tank Citizens Council for Public Security and Criminal Justice.
The group reported that Caracas had nearly 4,000 homicides in 2015 – a rate of 120 per 100,000 residents. Venezuela, in general, has the world's third-highest murder rate after Honduras and El Salvador, according to the United Nations Office on Drugs and Crime. Chinese expatriates who are merchants in Venezuela have become vulnerable to kidnapping and extortion, and many have fled to neighboring Colombia and Panama as a result.
Venezuelan government officials did not respond to WSJ requests for comment.
At a recent with meeting with visiting Chinese business executives, Maduro said: "We value very much this extraordinary relationship with the People's Republic of China."
For its part, China's Foreign Ministry told the paper that it is not having doubts about its alliance with Venezuela.
Its loans "have brought about practical benefits for both sides," the ministry told the Journal in a written statement, adding that it regularly stresses personal safety to its workers in Venezuela.
Whatever China decides to do as far as Venezuela, the effect likely will ripple across Latin America and Africa.
Diego Moya-Ocampos, an analyst with the risk consultancy HIS, told the Journal that China is "now reassessing political and nonpayment risk" with other countries "so they do not become so vulnerable like they did in Venezuela."