Napolitano says Self-Serve Machines Could Give Weary Travelers Hope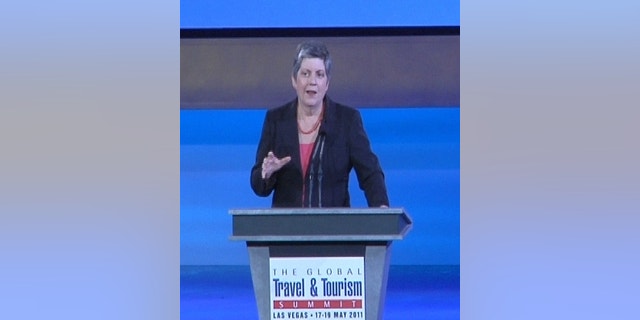 NEWYou can now listen to Fox News articles!
LAS VEGAS -- For international travelers frustrated by lengthy airport security screenings and customs declarations, Homeland Security Chief Janet Napolitano says she has just the fix.
"(Trusted traveler) programs like Global Entry make a significant difference," Napolitano said during a speech to travel industry leaders in Las Vegas Thursday. "The average time at a kiosk is less than one minute."
The programs work by allowing pre-approved, "low risk" travelers to deal with machines instead of people. Global Entry, for example, is a kiosk that scans a passport, verifies the traveler's identify with a fingerprint, asks the person to make a customs declaration and then prints out a receipt allowing the traveler to jump to baggage claim. Travelers pay a fee for access to the self-service kiosks, which are currently at about 20 airports.
Napolitano said programs like these help spur economic growth, while cutting frustrating wait times. "By providing the greatest possible security as efficiently and cost-effectively as possible, we think we can best facilitate the flow of legal travel, trade, and tourism."
The Department of Homeland Security has failed in the past with similar programs aimed at replacing humans with machines. The Computer Assisted Passenger Prescreening System (CAPPS II) that would have gathered information on travelers from public and private databases and assigned a color-coded risk level for each traveler was blocked by Congress in 2004.
As far as addressing other concerns regarding slow lines at airport security check-ins, Napolitano spoke about two programs that are currently in the works. One-Stop aims to reduce wait time for those traveling with checked bags, and Express Connection designates custom lanes for travelers who have close-connecting flights.
"I think we've all shared that experience when you land here and your connecting flight is there and you don't have much time to run," said Napolitano.
Napolitano said the U.S. currently has trusted traveler programs in place with Mexico, Canada, and the Netherlands and are in numerous discussions with several other countries regarding potential partnerships. According to the Customs, Border and Protection website, such programs have reached one million members.