Nancy Pelosi 'punted' on NFL anthem question, critics say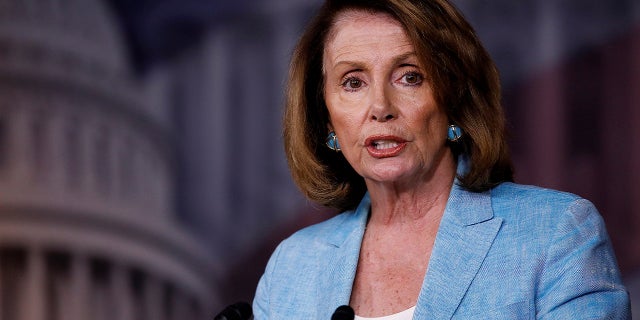 NEWYou can now listen to Fox News articles!
House Minority Leader Nancy Pelosi faced questions last week about where she stands, or kneels, regarding the NFL's recently announced policy on national anthem protests.
Though she claimed to side with the players, her answers didn't sit well with many political observers.
"She punted," writes Becket Adams in the Washington Examiner, describing Pelosi's response to CNN's Chris Cuomo as a "professional-strength nonanswer."
Pelosi spoke with Cuomo as part of a "town hall" telecast Thursday. The host began by describing the policy recently announced by NFL Commissioner Roger Goodell.
NFL ADOPTS POLICY TO FINE TEAMS IF PLAYERS AND PERSONNEL DON'T STAND FOR NATIONAL ANTHEM
"When the anthem comes on, you stand," Cuomo said. "If you do not want to stand, stay in the locker room. If you come out on to the field, you kneel or you in other ways protest, you will be fined."
He then asked Pelosi: "Are you OK with this rule change by the NFL?"
The California Democrat responded: "I would be more OK with it if they consulted with the players. I don't think the players agreed to this. This is the owners. And by the way, it's the owners who would be fined," she said, to audience applause.
"I would be more OK with it if they consulted with the players. I don't think the players agreed to this. This is the owners. And by the way, it's the owners who would be fined."
"I love the national anthem. … I'm from Baltimore. That's where it was written, during the War of 1812. So I'm very possessive of it. Some people say maybe we should change the national anthem. No," she said, to audience laughter.
She finished by saying she not only loves the flag, but also the First Amendment.
But to many on social media and other outlets, the reponse seemed wishy-washy at best.
"This is Democrats at their worst. Uhg. You either believe people have the right to voice their opinions or you don't," Hollywood producer Judd Apatow tweeted.
In a Washington Post essay, titled "Nancy Pelosi's refusal to condemn NFL decision shows why Democrats struggle with black millennials," Eugene Scott, who writes for the Fix, questions whether the Democratic Party has black voters' "best interests in mind."
Scott writes that Adrianne Shropshire, executive director of BlackPAC, told the Fix that rhetoric like Pelosi's explains why, in her view, most blacks in 2016 voted against President Donald Trump rather than for the Democratic Party.
"Democrats need to develop a message that incorporates the critical economic security issues along with a message that acknowledges the impact of the rise in racism in the country on younger voters and have actual solutions on how they plan to deal with that," she said. "But any message that fails to incorporate those two things will land on deaf ears."
Meanwhile, Jacob Weindling, writing for Paste Magazine, defends Pelosi's response, arguing that the minority leader needs to be careful with her words, because they could be used against her.
"If Nancy Pelosi had said something like, 'It was horrible of the NFL to violate their employees' First Amendment rights, and we all need to understand this isn't about protesting the military or the anthem,' that reasonable clip would still appear in every GOP commercial across the country," Weindling writes.
He calls Pelosi's wavering on the issue "actually a very smart move."
"They would play the edited video with sinister overtones, and say something to the effect of '[Congressional candidate] is a Nancy Pelosi liberal who wants to go to Washington to help make it easier to protest the men and women in uniform of this great country.'"
Overall, the Examiner's Adams writes, it seems the Democratic Party's leadership may simply have not yet decided "where to come down on the matter."