N.Y. Rep Resigns After Claim He Sent Shirtless Photo to Woman on Craigslist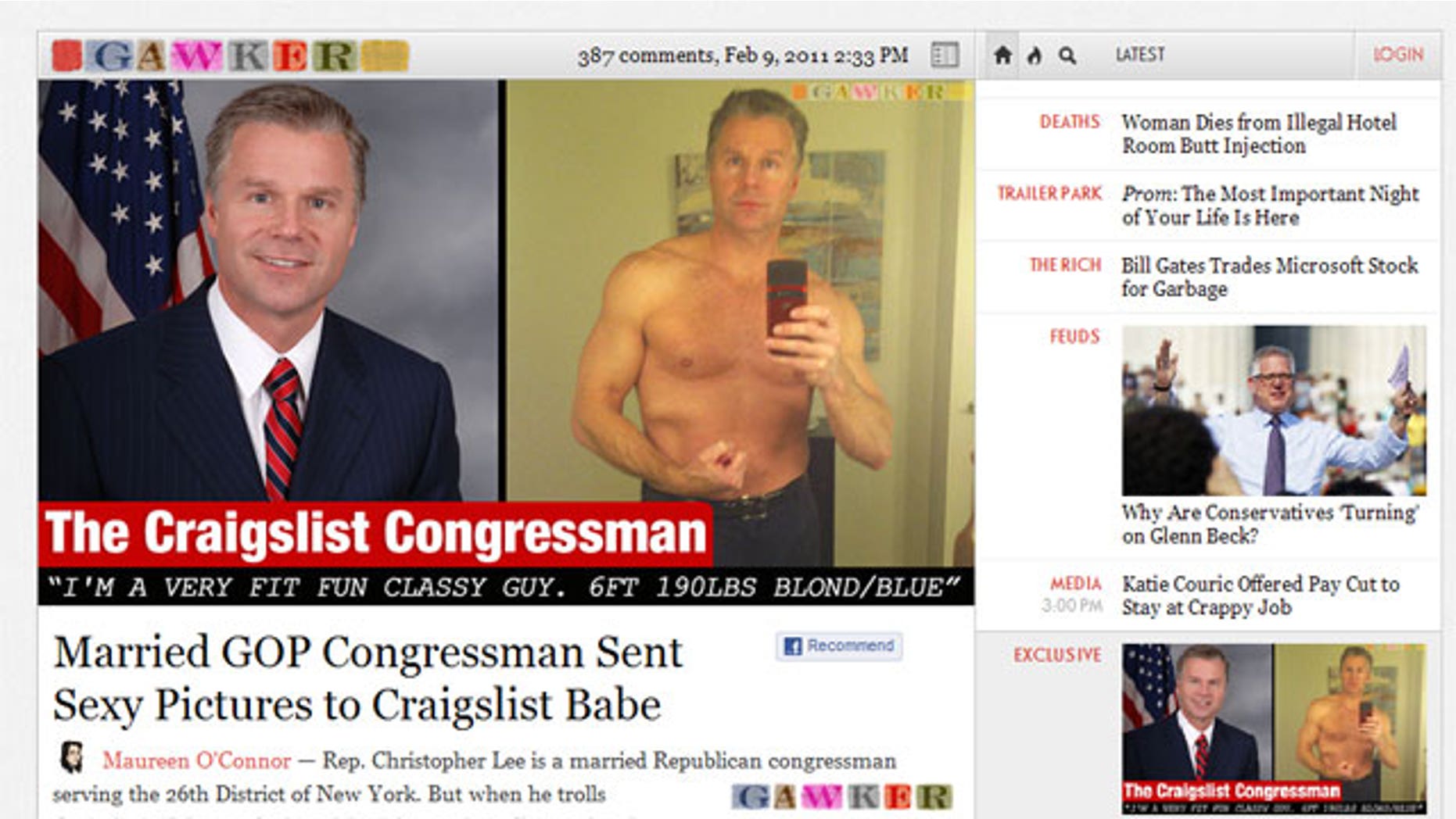 Rep. Christopher Lee resigned from office Wednesday just hours after a report claimed the married Republican congressman sent a shirtless photo of himself to a woman on Craigslist.
The New York congressman formally submitted a resignation letter to House Speaker John Boehner.
"It has been a tremendous honor to serve the people of Western New York. I regret the harm that my actions have caused my family, my staff and my constituents. I deeply and sincerely apologize to them all. I have made profound mistakes and I promise to work as hard as I can to seek their forgiveness," he said in a statement.
"The challenges we face in Western New York and across the country are too serious for me to allow this distraction to continue, and so I am announcing that I have resigned my seat in Congress effective immediately."
Boehner told Fox News that he did not have any conversation with Lee pressuring him to resign.
Under New York law, a special election must be held between 30 and 40 days after the governor issues a proclamation. But state law does not specify how soon such a proclamation must be issued.
Rep. Marlin Stuzman, R-Ind., who succeeded Rep. Mark Souder after he admitted to having an affair with a member of his staff, expressed support for Lee's decision.
"It's unfortunate. He did the right thing," he said. "This is one of the things my wife and I talked about during the campaign. If someone is willing to lead a secret life away from their spouse, how can the general public trust you?"
Before his resignation, Lee, asked by Fox News about the report as he was walking to his car, said he was not willing to talk about the issue, adding "I have to work this out with my wife."
Lee's resignation came after a report surfaced on the website Gawker claiming an anonymous 34-year-old woman was contacted by Lee after she placed an ad in the "Women for Men" personals section on Craigslist.
According to the report, he used a Gmail account, which was later deleted, to contact the woman, claiming to be a divorced lobbyist. Lee is married with one son. The article said Lee at first sent a normal picture of himself and then sent a "PG-13 muscle picture" -- the picture published by Gawker showed a shirtless man posing in a mirror.
"Thanks...so do you always send shirtless pics to women from cl?" the response e-mail said, according to the correspondence published online.
"Sorry. Its all I had," the sender replied.
Lee told Fox News he had not read the Gawker story and would not confirm whether he was the man in the photograph. Lee's office also said there would be "no comment from our office at this time."
A Lee spokesperson earlier told Gawker that the congressman believed he'd been a victim of hackers, noting that Lee sent a message to his staff about a security breach on Jan. 21 -- though the published e-mails were dated a week earlier.
Lee's last speech on the House floor came on Jan. 19 when he railed against the health care law.
"We will vote to repeal last year's massive health care law and we will vote to begin replacing this massive new government entitlement with commonsense reforms," he said.
Fox News' Chad Pergram contributed to this report.