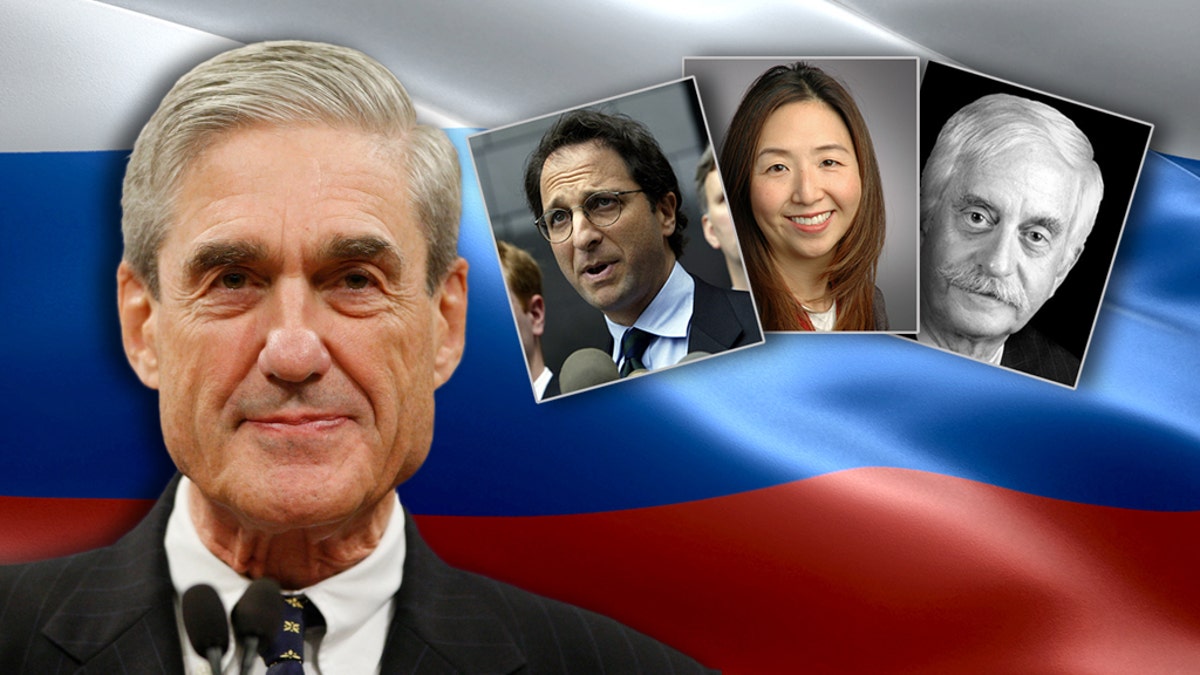 The long and winding special counsel Russia investigation that President Trump has routinely decried as a "witch hunt" hit the one-year mark on Thursday – giving Trump's legal team an opening to renew criticism of the probe's focus and its investigators.
"Congratulations America, we are now into the second year of the greatest Witch Hunt in American History...and there is still No Collusion and No Obstruction," Trump tweeted Thursday.
Legal team member Rudy Giuliani told Fox News on Wednesday that Mueller already has assured them the president can't be indicted.
And he said earlier this week that the president's lawyers would use the 'anniversary' to double down on calls to wrap up the investigation. Expect more vocal reminders from the president's team Thursday that the past year has yielded no collusion-related charges.
"This case is essentially over. They're just in denial," Giuliani told Fox News' John Roberts.
Trump himself already has started to ramp up accusations of alleged political bias on the Mueller team itself, composed of largely registered Democrats or Democratic donors. This could be a recurring theme if the case continues to drag on.
"The 13 Angry Democrats in charge of the Russian Witch Hunt are starting to find out that there is a Court System in place that actually protects people from injustice…and just wait 'till the Courts get to see your unrevealed Conflicts of Interest!" Trump tweeted last week.
Mueller's team is composed of 17 attorneys, 13 of which are Democrats. At least nine have donated to Democratic candidates and causes. Mueller, however, is said to be a life-long Republican and served as FBI director under former Republican President George W. Bush.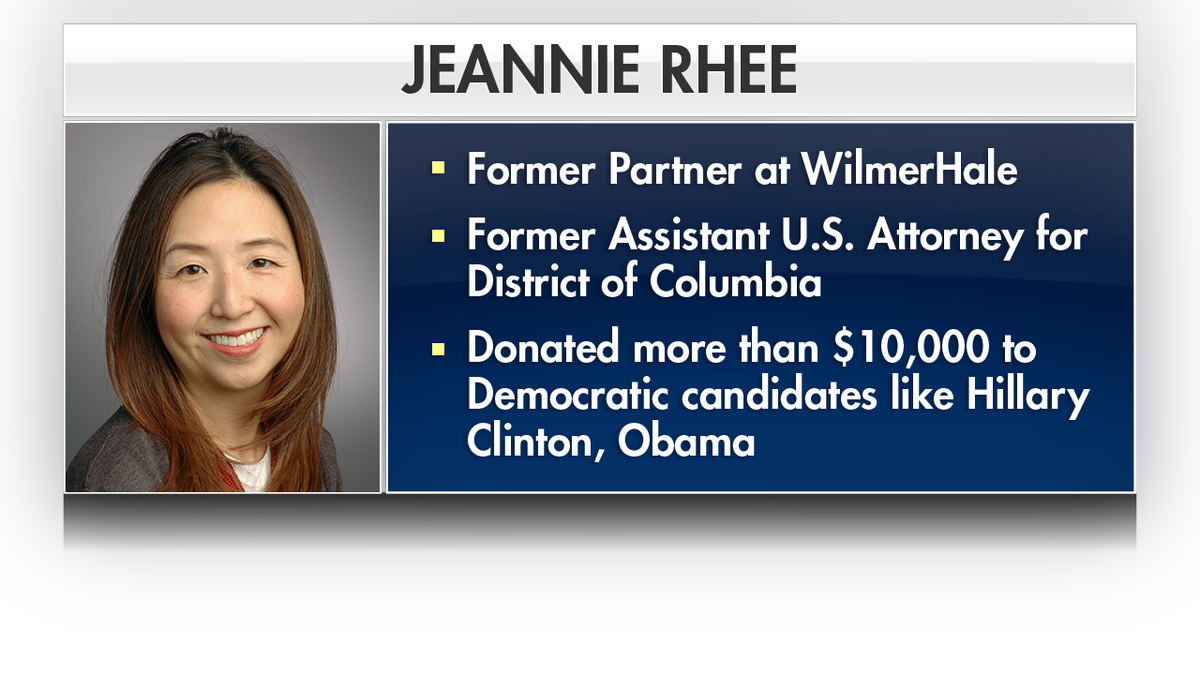 Among the team members is Jeannie Rhee, a former partner at WilmerHale—the high-profile law firm where Mueller worked prior to taking on the special counsel role—and former assistant U.S. attorney for the District of Columbia. She is a registered Democrat and donated a total of $5,400 to Hillary Clinton in 2015 and 2016. Rhee also donated a combined $4,800 to former President Barack Obama in 2008, and the same amount again in 2011. Rhee has contributed smaller amounts of money to the Democratic National Committee and multiple Democrats running for Congress.
Rhee also represented Obama Deputy National Security Adviser Ben Rhodes during the House Select Committee on Benghazi's investigation of the 2012 Benghazi terrorist attack, as well as the Clinton Foundation in 2015 against a racketeering lawsuit brought by conservative legal activist group Freedom Watch. And Rhee represented Clinton in a lawsuit seeking access to her private emails.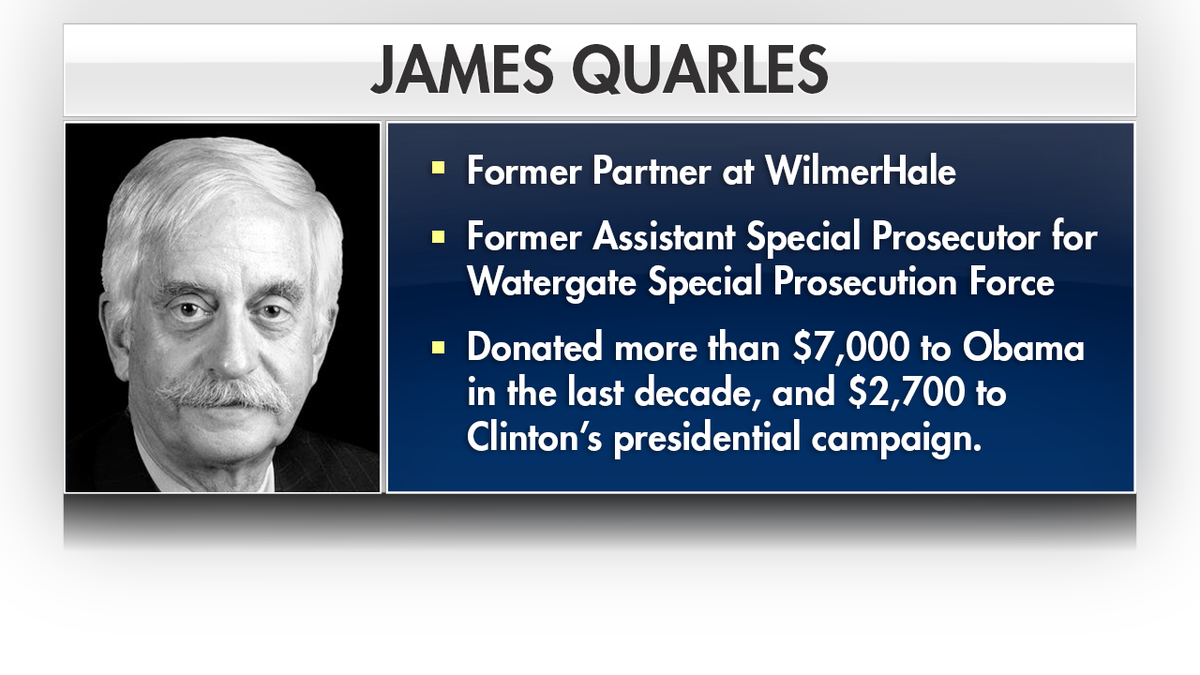 Another attorney on Mueller's team is James Quarles, who served as former assistant special prosecutor for the Watergate Special Prosecution Force and also was a former partner at WilmerHale. He is a registered Democrat and has donated significant sums to Democratic candidates: $2,700 to Clinton's presidential campaign in 2016, and more than $7,000 to Obama over the last decade. Quarles did, however, donate $2,500 to former Rep. Jason Chaffetz, R-Utah, in 2015.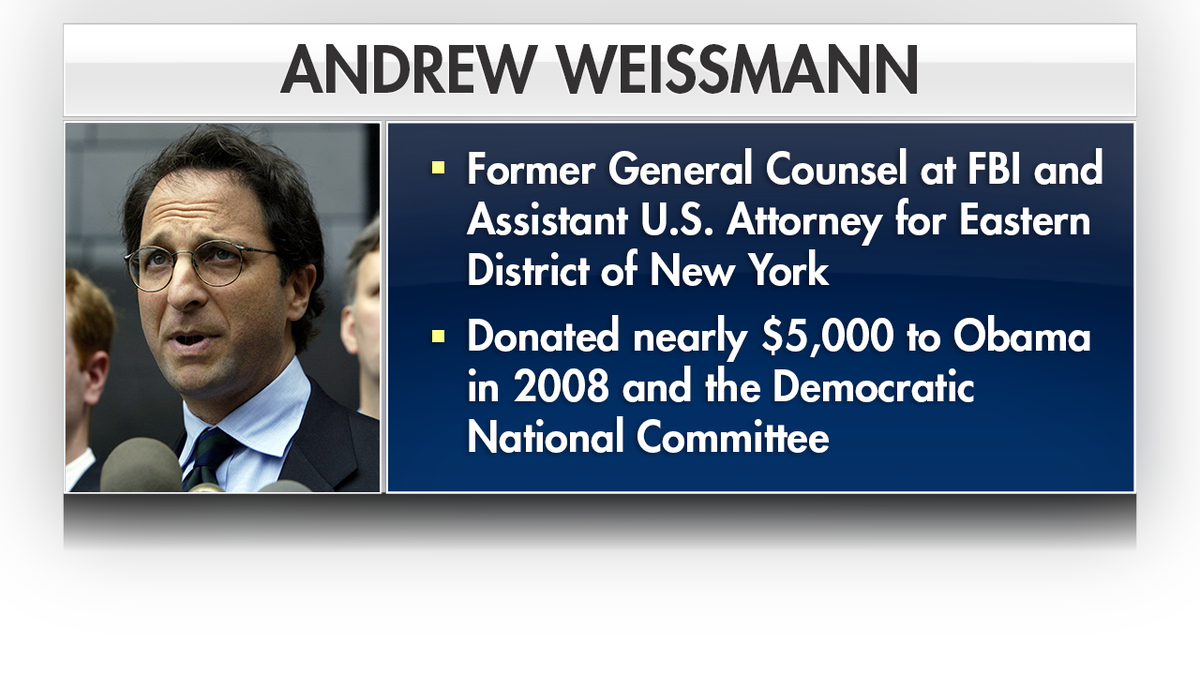 Then there's Andrew Weissmann, former general counsel at the FBI and former assistant U.S. attorney for the Eastern District of New York. He is a registered Democrat and donated a combined $2,300 to Obama's campaign in 2008. In 2006, Weissmann contributed at least $2,000 to the DNC.
Another attorney, on detail from the Southern District of New York, is Andrew Goldstein, a registered Democrat who donated a combined $3,300 to Obama's campaigns in 2008 and 2012.
The Special Counsel's Office told Fox News last year that they had no comment on allegations of potential bias on the team.
Justice Department policies and federal law prohibit discriminating based on political affiliation when it comes to hiring for nonpolitical positions.
In the lead-up to the one-year mark, Trump on Tuesday blasted what he estimated to be a $10 million "Russian Witch Hunt," boasting that despite the drawn-out investigation, his approval numbers are improving.
Giuliani also said in a recent interview with Bloomberg that it's time to end the investigation, and warned they are prepared for battle: "We don't want to signal our action if this doesn't work—we are going to hope they listen to us—but obviously we have a Plan B and C."
He did not specify what those plans might be.
Other attorneys on Mueller's team -- like Elizabeth Prelogar, Brandon Van Grack, Rush Atkinson, Kyle Freeny, and Greg Andres -- are registered Democrats and have contributed smaller sums of money to Democratic candidates.
Whether Mueller is sitting on any damaging information about the president remains to be seen. In claiming there would not be an indictment, Giuliani made clear Mueller is bound by a 1999 Justice Department memo under the Clinton administration.
The next big question is whether Trump will agree to an interview with Mueller.
Giuliani told Fox News this week that the president's legal team hoped to make a decision about a Mueller-Trump interview by the May 17 anniversary -- but has not received a response from the special counsel on various requests for information.
While Trump insists there has been "no collusion," Mueller's team has secured numerous indictments and received several guilty pleas from people involved in Trump's 2016 presidential campaign -- though none of those charges dealt with collusion.
WHO'S BEEN CHARGED BY MUELLER IN THE RUSSIA PROBE SO FAR?
Former Trump national security adviser Michael Flynn was charged and pled guilty to making false statements to the FBI about his communications with the Russian ambassador; former Trump campaign chairman Paul Manafort was indicted on 32 counts in February, and also charged in a 12-count indictment in October; and former Trump campaign foreign policy adviser George Papadopoulos pleaded guilty to making false statements to the FBI.
Mueller's team has also charged 13 Russian nationals for allegedly interfering in the election.
Fox News' John Roberts contributed to this report.