Mueller reportedly working with top Trump foe, could end-run presidential pardon
Special Counsel Robert Mueller reportedly is working with a top Trump foe — New York's Democratic Attorney General Eric Schneiderman — in a development that could signal an attempt to get around the president's pardon powers.
As reported by Politico, Mueller and Schneiderman have been in communication in recent weeks and have shared evidence with one another. The joint effort is significant for two reasons: Trump and Schneiderman are political enemies, and the prospect of a state-level probe creates a scenario where Trump's pardon power would be blunted.
New York's attorney general has long been fiercely critical of Trump. He has repeatedly sued or threatened to sue the current administration, and led the charge in the fraud case against Trump University.
Just last year, Schneiderman won a $25 million settlement in the Trump University case.
The president, for his part, repeatedly has called Schneiderman a "lightweight," dating back to 2013.
Aside from the bad blood between the two men, the implications of state-level involvement are important.
Politico reported that Mueller and Schneiderman are specifically looking at former Trump campaign manager Paul Manafort's financial transactions. Manafort has denied wrongdoing, and Politico reported that no decision has been made on whether to pursue charges.
But if they pursued a state-level count, Politico notes this could give the special counsel's team leverage over Manafort to seek cooperation -- since Trump cannot pardon for state crimes.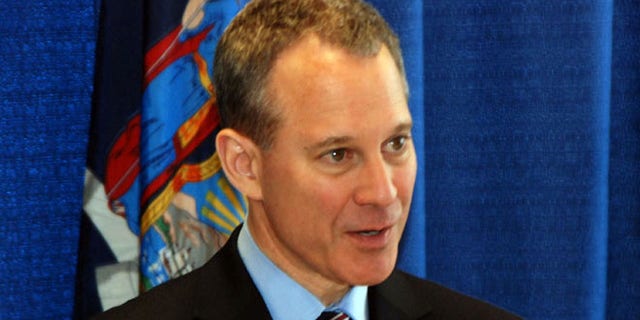 Article II, Section 2 of the United States Constitution gives the president power to "grant reprieves and pardons for offenses against the United States, except in cases of impeachment."
And as the Justice Department explains, "An offense that violates a state law is not an offense against the United States."
Trump last week announced the first pardon of his presidency, for former Arizona Sheriff Joe Arpaio. It's not clear how seriously clemency is being weighed for the Russia investigation, considering nobody has been charged in connection with the case.
The president repeatedly has described the investigation as a "witch hunt."
Both the special counsel's office and the New York attorney general's office declined requests for comment from Fox News.
Mueller also has been criticized for hiring a team of attorneys with a history of political donations to Democratic candidates.
Schneiderman's office reportedly is looking into Trump's business transactions as well, which could be shared with the special counsel's team.