Mother-daughter duo running for office, hope to inspire more Republican women candidates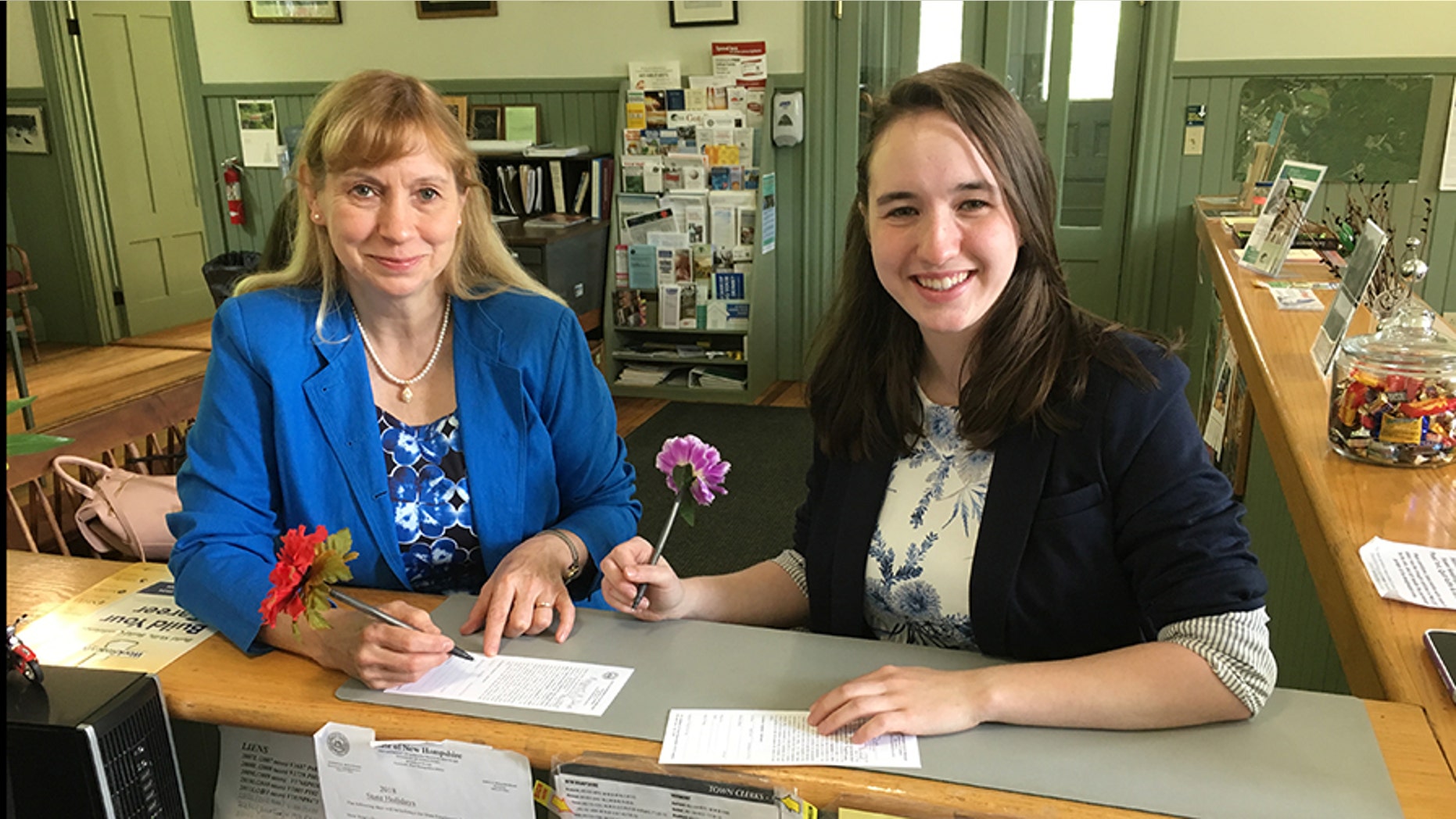 PLAINFIELD, N.H. – Virginia Drye says she's frustrated – that people like her aren't represented in her state's legislature.
"I'm 19. I'm a Republican and a woman," the Plainfield, N.H., resident told Fox News. "There's no representation of that in my district."
So Drye's taking action.
She filed her candidacy on Wednesday for state representative. And the bid to boost Republican women's representation in Concord is a family affair – her mother Margaret is running in an overlapping district for the New Hampshire House as well.
Mother-daughter duos in the legislature are rare. If they both win, Margaret and Virginia Drye will be the first mother and daughter serving at the State House at the same time in 16 years.
According to the elder Drye, the duo is trying to "remedy" the sparse number of Republican women in the legislature "by leading by example."
"If you look at the demographics of the [State] House, it is substantially aged and it is substantially male and a good portion of the folks are retired. It's nice to have a representation of the rest of the state at the State House making laws for us," said Margaret Drye, who's also running as a Republican.
In the Granite State and nationally, Republican women are underrepresented.
While New Hampshire earlier this decade became the first state ever to have an all-female congressional delegation (it currently has an all-female and all-Democratic delegation), it's a far different story in the state legislature.
'I've wanted to run for representative since I was 12.'
There are 118 women serving in the 400-member state House of Representatives, according to the latest count from the House speaker's office. Seventy-nine are Democrats and just 39 are Republicans. There are seven women serving in the 24-member state Senate -- four Democrats and three Republicans.
Margaret is trying to increase the number of Republican women campaigning for office by running the Vesta Roy Excellence in Public Service Series, a decade-old state program that encourages Republican women in elected or appointed governmental and political positions, as well as volunteer and staff positions at all levels.
"Slowly but surely we are building a large group of alumni from the program who are trained and ready to run for politics," Margaret Drye explained.
The program was named after the late Republican lawmaker Vesta Roy, the first woman to serve as both state Senate president and as acting governor of New Hampshire.
Drye said she made the Vesta Roy classes easier to attend for working women or women with families, adding "we had an exciting class. A lot of them are running for representative."
One of those taking the classes was her daughter Virginia.
"I've wanted to run for representative since I was 12," Virginia explained. "My friends are not surprised that I'm running. They're not surprised at all, because I am political compared to most of my friends and they're really supportive of that."
Also supportive is her older sister Annie.
"I am actually not surprised that my sister is running. She is the most passionate person I know about politics, how the Constitution works, how the government's supposed to work," she said. "And I'm sure some of that is from working with my mom on campaigns in the past. I'm proud of them."
New Hampshire GOP chairwoman Jeanie Forrester said the Dryer duo "are both fantastic candidates and I think they are an inspiration to any Republican woman who would want to run for office."
Forrester, a former state senator who unsuccessfully ran for governor in 2016, added that "it's about having the right kind of candidate run for office and those two certainly embody that."
Margaret, an emergency medical technician for four decades, said the state's opioid crisis is a key issue for her campaign. She's also emphasizing regulatory reform, and supports the drive by Republican Gov. Chris Sununu to reduce the state's regulation.
The drug epidemic is also a key issue for her daughter. Virginia, who was home schooled, is a strong proponent of school choice efforts as well.
It's no sure bet either Drye will make it to the legislature. The districts they're hoping to represent tend to slightly favor Democrats -- and the seats are currently held by Democrats. The state Democratic Party has sought to latch New Hampshire Republicans as a whole to President Trump, and recently blasted the governor's school voucher efforts as "outrageous."
Margaret and Virginia won't know until the end of the filing period on June 15 if the incumbent lawmakers in their districts are running for re-election.
Regardless, the mother-daughter duo are undaunted and both joked that they can save money by "sharing campaign signs."