Moment of silence for fallen cops marred by jeering at DNC convention
A hard-won moment of silence for fallen police officers Thursday night at the Democratic National Convention was marred by chants from the crowd of "black lives matter!" in an ugly moment that angered law enforcement representatives and underscored the anti-cop climate that has gripped the nation.
After the mothers of black men who had been killed in racially charged incidents were welcomed onto the stage earlier in the week, Philadelphia's Fraternal Order of Police chapter pressed the DNC to honor fallen cops. Dallas County Sheriff Lupe Valdez was invited to speak about the five cops killed in her city July 7, and said she and her fellow officers took the job to "serve and protect, not to hate and discriminate."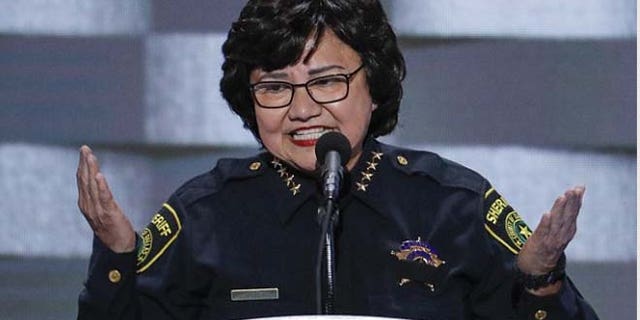 When Valdez asked the crowd to join her in a moment of silence for cops killed in the line of duty, jeers erupted from the crowd.
"Please help me to honor ALL of America's fallen officers with a moment of silence," as the anti-police group's namesake slogan echoed through the Wells Fargo Center.
Valdez ignored the jeers and introduced family members of fallen police officers, including the mother of Moses Walker, a 19-year veteran of the Philadelphia Police Department who was gunned down in 2012 hold a moment of silence.
"Moses didn't live long enough to give all of the gifts he had to give," Wayne Walker told the thousands of delegates. "While we're here, we must do the good we can. Absolutely we have to believe that we're stronger together."
Jennifer Loudon, widow of fallen Chicago police officer Thor Soderberg, also addressed the throng and drew cheers when she said police risk their lives to protect citizens.
"I know that in light of recent events, some of us have lost faith," she said.
While many in the crowd appeared moved by the presentation, the jeers did not sit well with law enforcement advocates.
"The comments that were made at the convention last night speak for themselves and I think any intelligent person is going to recognize them for what they are," said Rich Roberts, spokesman for the International Union of Police Associations.
The Philadelphia chapter of Fraternal Order of Police had earlier blasted the DNC for hosting onstage the mothers of black men killed in racially charged incidents, including Michael Brown, who was killed in 2014 in a confrontation with a Ferguson, Mo., police officer who was later cleared by a Department of Justice investigation, and Trayvon Martin, the unarmed teen who was killed by a neighborhood watch volunteer.
The mothers of Eric Garner, who died while being arrested on Staten Island for selling cigarettes, and Sandra Bland, who hanged herself in a Waller County, Texas, jail after being pulled over for a traffic violation also addressed the convention Tuesday as a group called "Mothers of the Movement."
The group aims to raise awareness about police brutality and gun violence.
Prior to Thursday night's events, FOP Chapter President John McNesby praised the decision by the Clinton campaign and convention organizers to add family members of fallen officers to the speaking lineup.
"We want fairness to both sides," McNesby told the Philadelphia Daily News. "It seemed like we got the door slammed in our faces. I guess they listened, had a change of thought, change of heart."
McNesby did not immediately respond to a request for comment following the marred moment of silence. However, one retired Philadelphia police officer, who told FoxNews.com he has resumed carrying his gun in light of the growing anti-police climate, said he was disgusted.
"I don't know what is wrong with people," he said. "I just don't understand it. They say they want unity, and then you get this."
Even as the convention wound down, one San Diego police officer was killed and another wounded by a gunman stopped for a traffic violation. In addition to the five Dallas police officers killed July 7 by a sniper as they guarded Black Lives Matter protesters, three Baton Rouge law enforcement officers were targeted and killed by a gunman on July 16.
Statistics show the number of police officers killed in the line of duty had been on a downward trajectory since 1970. But this year, cop deaths are up more than 50 percent, and the victims in Dallas, Baton Rouge and other cases were targeted for assassination rather than killed in the process of confronting dangerous criminals.
According to the National Law Enforcement Officers Memorial Fund, the number of officers fatally shot is already up 56 percent compared with last year.