Moderate Dems Line Up in Opposition to Pelosi's Bid for Minority Leader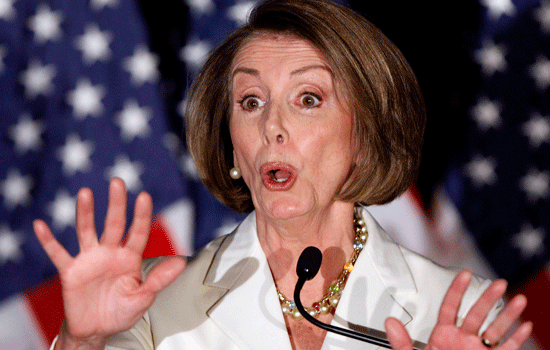 In the wake of Speaker Nancy Pelosi's stunning announcement on Friday that she will seek to remain as leader of the diminished House Democrats, moderate members of the party are beginning to line up in opposition.
Rep. Joe Donnelly, D-Ind., said he was "disappointed that Speaker Pelosi is going to seek the position of Minority Leader."
North Carolina Rep. Larry Kissell's office said he hopes Pelosi "will change her mind and step aside."
Rep. Dan Boren of Oklahoma told Fox News that voters sent a message Tuesday that they want the Democratic Party to move in a new direction.
"They want someone to lead the party who is going to be bipartisan," he said. "This is very disappointing for a lot of us in the center."
Rep. Heath Shuler, of North Carolina, has said he might challenge Pelosi because the party needs a more moderate leader.
They were among the many House Democrats whom Republicans criticized for their loyalty to the California liberal, who was a forceful though generally well-liked speaker.
But even some longtime supporters of Pelosi said she needed to step aside as the party leader.
"I voted for everything she asked me to vote for," said Rep. Albio Sires, D-N.J. "You know, sometimes in this business it's difficult to know when to move on."
"With all the losses that we had with governors and all the redistricting that's going to be done, we don't need the target," Sires said, referring to the once-a-decade House redistricting process about to begin nationwide.
Several Democratic lawmakers in conservative districts had vowed to oppose Pelosi as speaker, but some of them lost their re-election bids all the same, making her bid to stay on as leader all the more likely.
Pelosi, the first woman to lead the House of Representatives, said Friday that many colleagues urged her to seek the post of minority leader in the new Congress that convenes in January.
That will be the Democrats' top post, because Republicans, who grabbed more than 60 Democratic-held seats Tuesday, will elect the next speaker. It will be John Boehner of Ohio, who will swap titles with Pelosi if she succeeds in her bid.
Republicans piled up the biggest gains in the House in over 70 years, while the Democrats will preside over the lower chamber for the shortest period since the 1950s.
But that hasn't deterred Pelosi.
"We have no intention of allowing our great achievements to be rolled back," Pelosi, 70, said in a letter to her colleagues.
During her four years as Speaker, Pelosi used all her political muscle to enact contentious measures such as Obama's health care overhaul.
In a statement, White House spokesman Bill Burton said the president appreciates the work of Pelosi and the Democratic leadership team "who have been great partners in moving the country forward" and he looks forward to working with them.
A number of liberal Democrats, including three from California, have voiced their support for Pelosi. Rep. George Miller told the San Francisco Chronicle that Pelosi has been "attacked and vilified by the right wing because of her effectiveness."
Rep. Barbara Lee said Pelosi is the best person to lead Democrats "through this very challenging period."
And Rep. Anna Eshoo said Democrats need Pelosi "now more than ever."
Allies said Pelosi would not make the bid unless she felt she had the votes. Some cautioned, however, that House members vote by secret ballot when electing the leaders of their respective parties at the start of each new Congress. Pelosi's caucus is more heavily liberal now that many moderate Democrats lost on Tuesday.
Pelosi's bid presumably will keep her atop the Democratic caucus, which will number about 190 members next year. But it would mark a big drop from being speaker, which carries tremendous power to influence legislation and is second only to the vice president in the line of presidential succession.
Fox News' Molly Henneberg and The Associated Press contributed to this report.