Mitt Romney taunts NBA star Russell Westbrook at Thunder-Jazz playoff game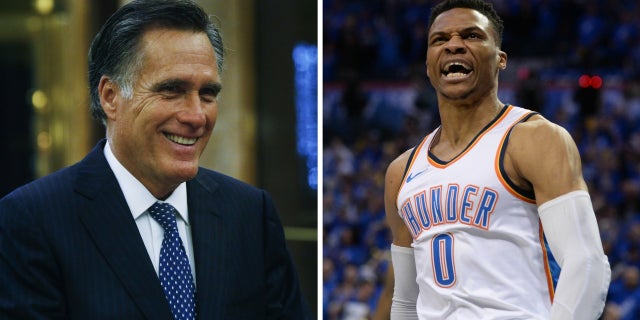 U.S. Senate candidate Mitt Romney and the Utah Jazz faithful put the heat on Oklahoma City Thunder star Russell Westbrook Monday night during a pivotal playoff matchup.
Romney, 71, who is running for U.S. Senate in Utah to succeed the retiring Orrin Hatch, was spotted at the game in Salt Lake City donning his own customized Jazz jersey.
MIKE POMPEO RECOMMENDED BY SENATE PANEL FOR SECRETARY OF STATE, BARELY AVOIDING COMMITTEE REBUKE
Romney sat right behind the scorer's table during Jazz's Game 4 win, but wasn't totally recognized until reigning MVP Westbrook, 29, was called for his fourth foul in the first half, USA Today reported.
As Westbrook walked off the court, the former Republican presidential nominee taunted him -- standing and cheering while waving four fingers at the NBA star to remind him that he picked up his fourth foul.
'REAL INDIAN' RUNNING AGAINST SEN. ELIZABETH WARREN SUES AFTER CITY TELLS HIM TO STOP CALLING HER 'FAKE INDIAN'
Westbrook may have bigger things to worry about than taunting from Romney. With the loss, the Thunder are down three games to one in the first-round series against the Jazz and will be eliminated with another loss.
The Jazz have enjoyed recent success following their 2016-2017 season where they won their first playoff series. However, their hopes of making a run were quickly dashed when they lost to the eventual NBA-champion Golden State Warriors.
Before that, the Jazz has not had a playoff appearance since 2011.
Despite Romney's support for the Jazz, social media users pointed out that the politician was spotted at Boston Celtics games when he was the governor of Massachusetts.