Missouri's Gov. Greitens faces second felony charge after allegedly stealing charity donor list for 2016 campaign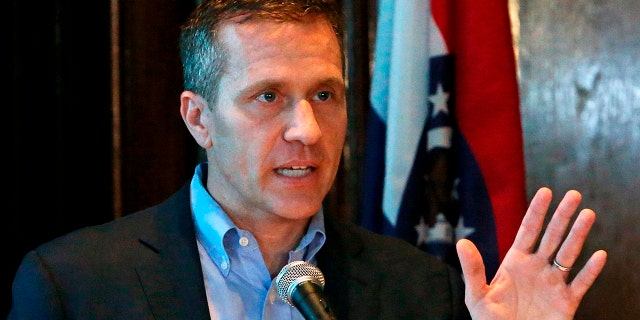 NEWYou can now listen to Fox News articles!
Calls for Missouri Gov. Eric Greitens to resign continue to grow after prosecutors announced a new charge accusing the Republican leader of using a charity donor list for his 2016 political campaign.
He is also accused of taking and transmitting an inappropriate photo of a woman, with whom he'd had an affair, without her consent.
St. Louis prosecutors announced the new felony charge on Friday, accusing Greitens of tampering with computer data. He allegedly obtained the donor list from The Mission Continues, a charity he founded, and used it to raise funds for his campaign.
The Associated Press said Greitens raised nearly $2 million from donors on the list. Although he initially denied the allegations, Greitens agreed to pay a $100 fine in April of last year for failing to report that his gubernatorial campaign had, in fact, received the charity's donor list.
An investigation into the former Navy SEAL officer's charity began when Missouri Attorney General Josh Hawley's office learned that a Greitens employee who previously worked at the charity had shared the donor list in January 2015 with Michael Hafner (he had worked for Greitens' gubernatorial exploratory committee), and Danny Laub, Greitens' first campaign manager.
MISSOURI GOV GREITENS' EX-LOVER SAID ILLICIT PHOTO MAY HAVE BEEN 'A DREAM,' DOCUMENTS SAY
Greitens is also facing a felony charge for invasion of privacy over allegations that he took a photo of a partially nude woman without her consent. The woman, with whom he'd had an affair, alleges that he threatened to release the photo if she disclosed the relationship.
Greitens has been facing increasing pressure to resign — including from fellow Republicans — since a special House investigative committee's report this month that detailed allegations from the woman with whom he had the affair. She testified that Greitens restrained, slapped, grabbed, shoved and threatened her during a series of sexual encounters that at times left her crying and afraid.
Greitens has denied committing any crimes and vowed to remain in office despite confirming the affair, calling the investigations into him a "political witch hunt."
He will appear in court on May 14 for the case involving the invasion-of-privacy charge.
The Associated Press contributed to this report.