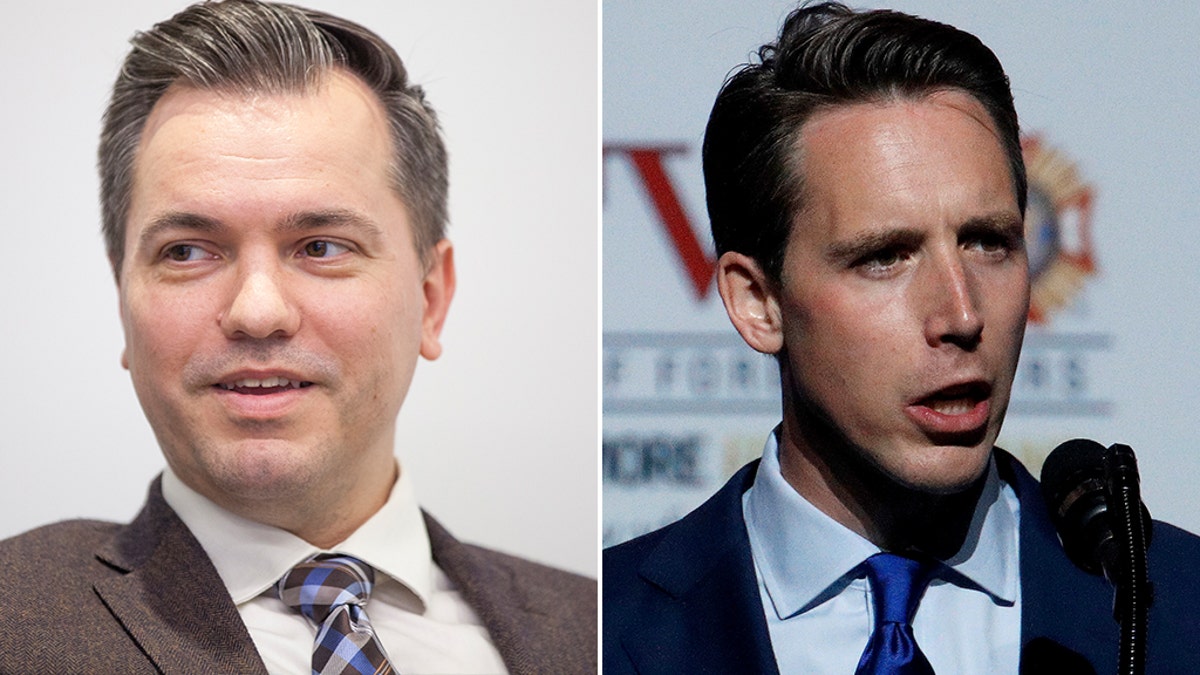 Underdog Republican Senate candidate Austin Petersen warned President Trump on Tuesday against going all-in for primary rival Josh Hawley in Missouri, as the president prepared to stump and fundraise for the front-running candidate.
Trump visited Kansas City Tuesday to speak to the Veterans of Foreign Wars convention, and was attending a private fundraiser later for Hawley, the state attorney general.
During the VFW speech, Trump declared "We need Josh badly."
Hawley is the favorite to win the nomination on Aug. 7 and go up against incumbent Democratic Sen. Claire McCaskill, in one of the most closely watched races of the midterm season.
But Petersen, a longtime libertarian, chafed at the Trump appearance, saying in a statement, "The last time POTUS played in a Senate race in a red state, Alabama elected a Democrat."
MCCASKILL CAMPAIGN HIT WITH REPORT ON HUSBAND'S SUBSIDY WINDFALL
This was a reference to Trump's support for Luther Strange in Alabama, now represented by Democratic Sen. Doug Jones. But Trump has backed other eventual GOP primary winners this year. With Trump endorsing Hawley last month and stumping for him Tuesday, Petersen faces an even steeper climb in his bid for the nomination.
In an email to Fox News, Petersen curiously referenced the scandal surrounding ex-Gov. Eric Greitens in suggesting Hawley didn't adequately defend the governor amid sexual misconduct and other allegations that led to his resignation.
"Hawley threw our duly elected governor under the bus before due process could be afforded. If Hawley is the next senator from Missouri, Mr. President, I have just one bit of advice... watch your back," he said.
Fox News' Power Rankings list Missouri's Senate race as a toss-up in November.