Missouri Gov. Greitens' ex-lover said illicit photo may have been 'a dream,' documents say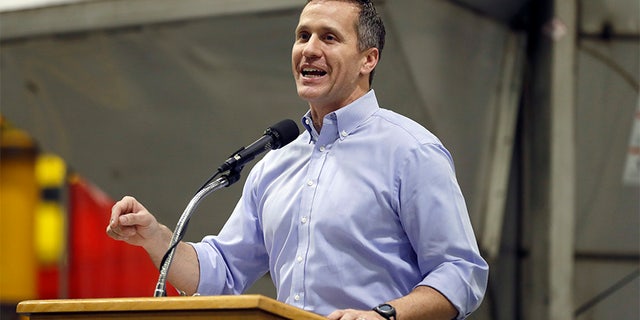 Attorneys for Missouri Gov. Eric Greitens have accused prosecutors of withholding exculpatory testimony from a woman who has accused Greitens of invading her privacy by taking a nonconsensual photo of her while she was partially nude.
In a court filing dated Sunday, Greitens' attorneys said the woman -- with whom Greitens has admitted to having an affair -- told prosecutors she couldn't say whether she saw Greitens with a camera or phone on the day he allegedly took the photo.
"I don't know if it's because I'm remembering it through a dream or I — I'm not sure, but yes, I feel like I saw it after it happened, but I haven't spoken about it because of that," said the woman, identified only as "K.S.", according to the filing.
Greitens' attorneys also claimed that "the prosecution admits it does not have any photograph that forms the basis of the charges. Nor has the prosecution provided any evidence that K.S. ever saw such a photograph. Nor has evidence of any transmission been provided."
The filing also claimed that the woman's deposition was recorded, but Grietens' attorneys were told by prosecutors that the tape "does not exist due to a claimed malfunction."
A spokeswoman for St. Louis Circuit attorney Kim Gardner told The Associated Press on Monday that Greitens' attorneys had "cherry-picked bits and pieces" of the woman's nine-hour deposition "to attack her credibility."
The filing was labeled as a motion to compel city prosecutors to turn over any previously undisclosed testimony or evidence that may be beneficial to Greitens' criminal defense.
Gardner spokeswoman Susan Ryan called the motion "frivolous" and said prosecutors have complied with all evidence-sharing rules.
Ryan said, "There is nothing substantially new about the victim's testimony in the deposition." She said Greitens' defense team was "playing political games" and attempting "to try this case in the media."
Greitens' defense team has been urging a special Missouri House committee to delay its own investigatory report — planned to be released this week — until after Greitens' trial in May.
Greitens acknowledged in January that he had an extramarital affair in 2015 as he was preparing to run for governor. That came as St. Louis television station KMOV aired a report in which the woman describes a March 21, 2015, encounter with Greitens during a conversation that her husband secretly recorded.
In that recorded conversation, the woman said Greitens invited her into the basement of his St. Louis home, where he tied her hands to some exercise rings, blindfolded her and partially undid her clothing. She said she saw a flash through the blindfold and Greitens said to her, "You're never going to mention my name, otherwise there will be pictures of me everywhere." The woman said Greitens told her later in the day that he had erased the photo.
Greitens has denied blackmailing the woman but has not directly answered questions about whether he took a photo.
A St. Louis grand jury indicted Greitens in February for allegedly taking the photo and transmitting it in a way that it could be accessed by a computer.
Prosecutors previously acknowledged that they didn't have the photo.
The court filing showed that the woman also acknowledged she sent partially nude images of herself to Greitens in June 2015 and had willingly continued to see him for months after the March 2015 encounter. Greitens' attorneys said that was an indication she didn't feel like her privacy had been violated.
A phone message for the woman's attorney was not immediately returned Monday.
The Associated Press contributed to this report.