Missouri Gov. Greitens accused of violence, sexual assault, blackmail: What to know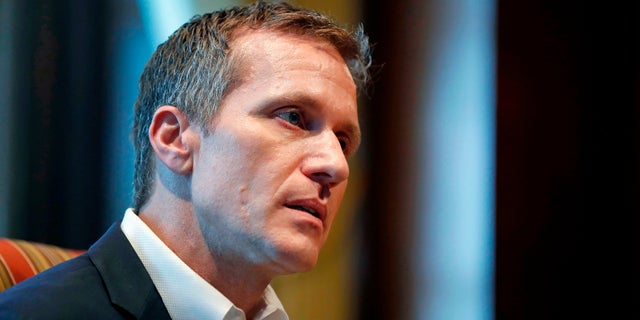 NEWYou can now listen to Fox News articles!
Gov. Eric Greitens said he will resign this week following a report that an affair he had was at times violent and non-consensual and allegations of misuse of a charity donor list.
"The time has come, though, to tend to those who have been wounded and to care for those who need us most," Greitens, a Republican, said on May 29. "So for the moment, let us walk off the battlefield with our heads held high."
Greitens' last day in office will be June 1. His resignation allows him to avoid the potentially dubious distinction of becoming the first Missouri governor ever impeached.
Earlier in May, prosecutors dropped the felony invasion-of-privacy charges against Greitens but said they planned to re-file the case. After he resigned, St. Louis Circuit Attorney Kim Gardner said her office is dropping another charge of computer data tampering, related to allegations that he misused a charity donor list.
Missouri lawmakers on both sides of the aisle had been asking Greitens to step down ever since the sexual misconduct scandal surfaced. He's been accused of taking and transmitting a non-consensual -- partially nude -- photo of a woman with whom he was having the affair.
Here's a look at the allegations and what the Republican governor has said about it.
Why was Greitens on trial?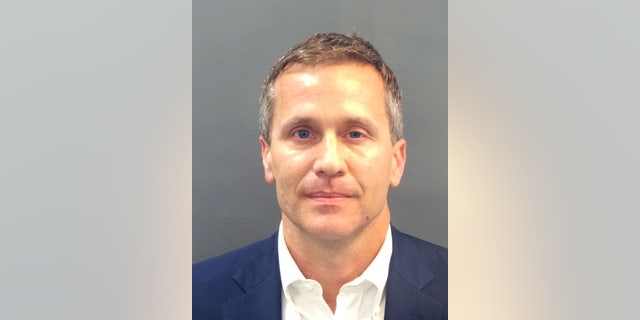 Greitens was indicted in February on a felony invasion-of-privacy charge. He was booked at the St. Louis Justice Center before he was released on his own recognizance, according to a circuit attorney spokeswoman.
The charges came after a man secretly recorded his wife admitting to having an extramarital affair with Greitens in March 2015. In the recording, she alleged that Greitens took a photo of her when she was partially nude without her permission and threatened to release photos of her if she told anyone about the affair, KMOV-TV reported.
The couple, not publicly identified, have since divorced.
Greitens admitted to the affair in February in a joint statement with his wife, Sheena. He said he'd made a "deeply personal mistake" before he was elected, and that the family had "dealt with this together honestly and privately."
However, his attorney told KMOV-TV that "there was no blackmail."
In a Facebook post, Greitens slammed the "reckless liberal prosecutor who uses her office to score political points." He said that while he'd "made a personal mistake" before becoming governor, he "did not commit a crime."
If convicted, Greitens could have face up to four years in prison. He has declined to directly answer questions about whether he took the photo.
What was in the accuser's testimony?
WARNING: GRAPHIC DETAILS BELOW
A Missouri House investigative committee was assembled shortly after Greitens was indicted on the felony charge.
After speaking to the accuser and other witnesses, it released a report – signed by five Republicans and two Democrats – that included a sensitive-content warning. The lawmakers said they found the woman to be an "overall credible witness."
The meeting
The woman said she met Greitens in 2013 when he became a client at the hair salon where she worked, according to the report. She said that she developed a "crush" on Greitens, but when she saw him in the salon in March 2015, he "moved his hand up her leg 'all the way up to [her] crotch' without her consent."
'Sexy workout'
Later that month, she said Greitens asked her to come to his house when his wife was out of town. She said he did not want to be seen in public with her because he was running for office.
At his house, she testified that Greitens told her he thought she hadn't "been treated good in so long" and wanted her to exercise. She said "for whatever reason, I trusted him."
Greitens then gave her men's pajama pants and a man's white T-shirt with a slit at the top and instructed her to change into them, she said. After she changed, she claimed he told her he was going to teach her "how to do a proper pull-up." She said she thought "this is going to be some sort of sexy workout."
"I still really thought he was perfect," the woman testified, adding that Greitens knew she had not cheated on her husband in the past, and she didn't want to "do anything physical" with him. "So I think I was just confused, kind of shocked. And I was curious enough – he likes me this much that he has something planned for our workout?"
The photo
When the two got to the basement, the woman alleged, Greitens taped her hands to the pull-up rings and blindfolded her. She said the items he used were already on a workout bench nearby.
He then spit water into her mouth, telling her she needed to be hydrated, she testified. She said it was his way of trying to kiss her, but she did not want to be kissed.
Greitens began to kiss her, and he tore off the white shirt, she testified. During this time, he was also "pull[ing] down [her] pants," but she did not give consent, she said.
"[T]hen I hear him kind of, like, step back – take a step back and I hear – I can hear like a, like a cell phone – like a picture, and I can see a flash through the blindfold," she added.
Greitens said: "You're not going to mention my name. Don't even mention my name to anybody at all, because if you do, I'm going to take these pictures, and I'm going to put them everywhere I can. They are going to be everywhere, and then everyone will know what a little whore you are," she testified.
She alleged he spanked her after she didn't respond.
"I was definitely fearful. I was so embarrassed and ashamed, because I really felt like a whore because I had let him get me in this position before we've even kissed. I felt really used," she said.
A photo has not been obtained by lawmakers on the committee nor by the prosecutor in the criminal case.
The aftermath
As she was trying to leave, Greitens gave her a hug and laid her on the floor while she wept, the woman testified. On the floor, the woman testified, she performed oral sex on Greitens because she "felt that she had no other choice if she were going to get out of the basement," according to the report.
She said Greitens didn't prevent her from leaving after that, but she forgot her keys at the house. When she went back to get them, she said she confronted Greitens about the picture.
"You have to understand, I'm running for office, and people will get me and I have to have some sort of thing to protect myself," she claimed he told her.
The woman testified that Greitens told her he had deleted the photo, but that she didn't believe him.
How has Greitens responded?
Greitens has called the accusations a "political witch hunt."
He did not testify before the House committee and said the report was "one-sided tabloid, trash gossip that was produced in a secret room."
He also highlighted a comment the woman made during a deposition in his criminal case in which she was asked if she saw what she believed to be a phone used to take the photo. A court filing from Greitens' attorneys quoted her as saying, "I haven't talked about it because I don't know if it's because I'm remembering it through a dream or I – I'm not sure, but yes, I feel like I saw it after that happened."
Additionally, Sheena claimed in a letter to the Missouri lawmakers investigating the allegations that she was stalked by the accuser's ex-husband, The Washington Examiner reported.
"When I didn't respond to his anonymous emails, he sent me a letter," Sheena said. "When a letter to me didn't produce the desired response, he contacted my parents. When letters didn't satisfy him, he made his accusations public on Twitter. And finally, when targeting our family on social media didn't fulfill his agenda, he secretly recorded his wife admitting to the affair and began shopping the audio tape to news outlets."
How have lawmakers responded?
House Speaker Todd Richardson called the woman's testimony "beyond disturbing" and defended the integrity of the investigation. He said, "Let me be very clear about this: This is not a witch hunt, and the committee had no political agenda."
Lawmakers on both sides of the aisle have called on Greitens to resign. They include the state's Republican Attorney Gen. Josh Hawley, who is also a U.S. Senate candidate.
"The conduct the report details is certainly impeachable, in my judgment, and the House is well within its rights to proceed on that front," Hawley said in a statement. "But the people of Missouri should not be put through that ordeal. Governor Greitens should resign immediately."
Sen. Claire McCaskill, D-Mo., said she read the House investigators report and believes it "is clearly time to put the interests of the people of Missouri first" in calling for Greitens to resign.
"This is a sad chapter in our history that should never have come to pass," Missouri Rep. Ann Wagner, a Republican, said on social media. "The transcripts paint the picture of a vulnerable woman and a man who preyed on that vulnerability. I am disgusted, disheartened and I believe Governor Greitens is unfit to lead our state."
State Rep. Jean Evans also called on Greitens to resign, saying, "Violence against women is always wrong."
State Senate Majority Leader Mike Kehoe is the highest-ranking member of the legislature to call on Greitens to resign. He said the governor has lost the "moral authority and the ability to lead," KMBC-TV reported.
What is Greitens' background?
A onetime Navy SEAL, Greitens assumed office in January 2017. He beat Democrat and former Attorney General Chris Koster.
Hawley is also investigating The Mission Continues, a veterans charity founded by Greitens, as it relates to the state's consumer protection and charitable registration and reporting laws. That probe came after media reports alleged Greitens' campaign had obtained and used a charity donor list in 2015 as it ramped up fundraising for his gubernatorial bid.
Greitens married Sheena in August 2011, and the pair have two children. He was married once before, but it ended in divorce in 2003, according to The Kansas City Star.
Fox News' Samuel Chamberlain and The Associated Press contributed to this report.