Missouri Democratic state senator apologizes for hoping Trump is assassinated
Amid calls for her resignation, a Democratic state senator in Missouri on Sunday said she made a mistake for posting on Facebook Thursday that she hopes President Donald Trump is assassinated.
State Sen. Maria Chappelle-Nadal — who has said she isn't resigning over the post — apologized at a press conference streamed live on the Facebook page of the Clayton Times, a St. Louis County newspaper.
"President Trump, I apologize to you and your family," Chappelle-Nadal said at the Wellspring Church in Ferguson, Missouri. "I also apologize to all the people in Missouri. And I also apologize to my colleagues in the Missouri legislature for the mistake that I made."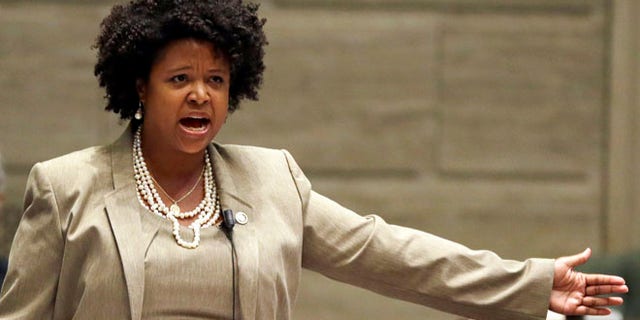 Chappelle-Nadal eventually deleted the post about Trump, but a screenshot was saved and shared on Twitter.
The U.S. Secret Service's St. Louis field office is investigating the original post.
"The message that that has been sent to me by our God is that I'm here to serve as a teacher, as a translator but most of all as a servant," she said. "I am a servant of God and I am a servant of the people that I represent. And I failed them both recently."
"I made a mistake. And I'm owning up to it," she added. "And I'm not ever going to make a mistake like again. I have learned my lesson. My judge and my jury is my Lord Jesus Christ."
Top Missouri Democrats had called for her resignation, including Missouri Party Chair Stephen Webber, Sen. Claire McCaskill, and Missouri Gov. Eric Greitens.
Greitens said on Friday: "If she will not resign, the Senate can vote to remove her. I believe they should."