Mississippi governor to appoint Cindy Hyde-Smith to Thad Cochran's seat, report says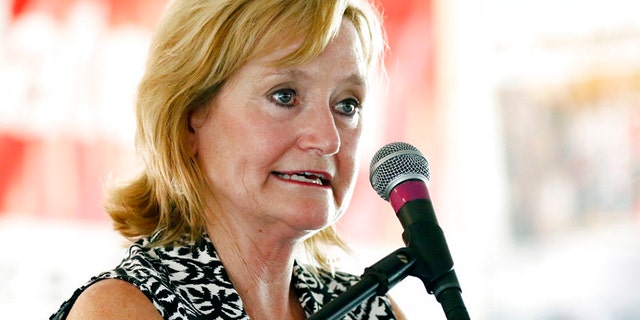 Mississippi's Gov. Phil Bryant will reportedly appoint the state's first female member of Congress by picking the state's agriculture commissioner to fill the vacancy to be left by Sen. Thad Cochran's upcoming retirement.
The Associated Press reported Tuesday that Cindy Hyde-Smith, who has served as the state's agriculture commissioner since 2011, will step into the veteran Republican's seat. That announcement could come as soon as Wednesday.
Should Hyde-Smith be appointed, she will hold the seat for the special election on Nov. 6, when she would be backed by the GOP establishment against both Democrats and a challenger from the right in the form of grassroots-backed state Sen Chris McDaniel.
McDaniel was going to challenge incumbent Sen. Roger Wicker, but last week announced his intention to run for Cochran's seat instead.
"By announcing early, we are asking Mississippi Republicans to unite around my candidacy and avoid another contentious contest among GOP members that would only improve the Democrats' chances of winning the open seat," McDaniel said in a statement Wednesday. "If we unite the party and consolidate our resources, we can guarantee Donald Trump will have a fighter who will stand with him."
Cochran resigned from the Senate last week amid health challenges after serving for 40 years. His seat would not have been up for re-election. His current term began after the 2014 midterm election cycle, and would expire in 2020.
The Associated Press reports that Hyde-Smith could be able to call on support from agricultural interests, which are strong in Mississippi.
But with McDaniel challenging from the right, the situation is making establishment figures nervous about a repeat of last year's Alabama special election, in which the populist Judge Roy Moore nudged out establishment-backed Luther Strange, only to lose to Democrat Doug Jones in the general election.
Sources told Fox News last week that the GOP establishment was pushing for McDaniel to compete against Wicker instead, rather than for Cochran's seat, as some members are fearful that it could lead to a Democratic victory.
CONSERVATIVE MCDANIEL SWITCHES RACES IN MISSISSIPPI'S DOUBLE-BARRELED SENATE CONTEST
But McDaniel used a statement last week to blast Senate Majority Leader Mitch McConnell, R-Ky.,for trying to pick the state's next senator
"Mitch McConnell wants to hand-pick our next Senator. I understand why," he said in a statement. "It's because they know that I won't be answering to them [GOP establishment], I'll be answering to the voters of Mississippi and putting Mississippi first."
Fox News' Brooke Singman and The Associated Press contributed to this report.