Mississippi GOP Sen. Thad Cochran resigning April 1 amid health challenge
Republican Sen. Thad Cochran announced Monday he will resign from his post on April 1, amid health challenges, after serving 40 years in the U.S. Senate.
Cochran, R-Miss., who sits as the chairman of the influential Senate Appropriations Committee, said he would "formally retire" following the completion of the 2018 appropriations cycle.
"I regret my health has become an ongoing challenge," Cochran said in a statement. "I intent to fulfill my responsibilities and commitments to the people of Mississippi and the Senate through the completion of the 2018 appropriations cycle, after which I will formally retire from the U.S. Senate."
Cochran was first elected to the Senate in 1978, becoming the first Republican in more than 100 years to win a statewide election in Mississippi. He is the tenth-longest serving senator in U.S. history. Prior to joining the Senate, Cochran served three terms in the House of Representatives.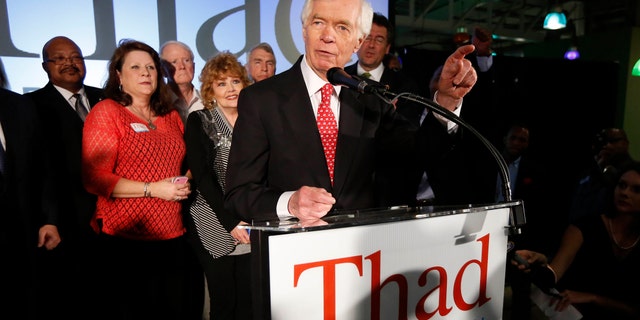 Cochran spent weeks recuperating from a "urological issue" in Mississippi in September of last year.
Fox News, at the time, learned Cochran was being treated for prostate issues, but a source underscored that his condition was not serious or cancerous.
"It has been a great honor to serve the people of Mississippi and our country. I've done my best to make decision in the best interests of our nation, and my beloved state. My top concern has always been my constituents in Mississippi," Cochran said Monday. "My hope is by making this announcement now, a smooth transition can be ensured so their voice will continue to be heard in Washington D.C."
Cochran added: "My efforts, and those of my staff, to assist them will continue and transfer to my successor."
Senate Majority Leader Mitch McConnell, R-Ky., praised Cochran's work in the Senate.
"Thad's well-earned reputation as a 'quiet persuader' has endeared him to all his colleagues. Whatever the issue at hand, his allies and adversaries have always admired his unfailingly even keel, sober expertise, and respectful demeanor," McConnell said in a statement, sending the Senate's "warmest wishes for his retirement."
Cochran's resignation leaves both Mississippi Senate seats in play for the 2018 Midterm elections. The state's primary election will be held on June 5. Incumbent Republican Sen. Roger Wicker is seeking re-election.
Fox News' Mike Emanuel and Chad Pergram contributed to this report.