Mike Pence says US will soon unveil 'toughest' sanctions on North Korea ever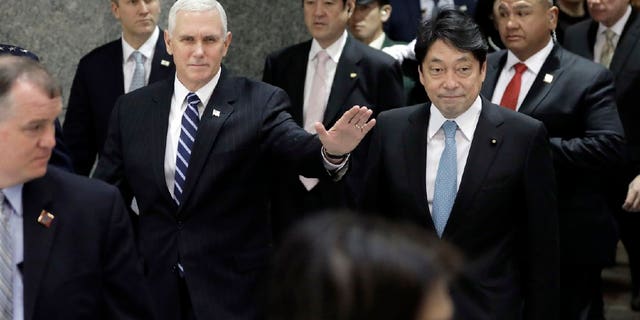 NEWYou can now listen to Fox News articles!
TOKYO — Vice President Mike Pence said the U.S. is preparing to announce the "toughest and most aggressive" economic sanctions against North Korea in the coming days, boosting pressure on the bellicose government during the Winter Olympics.
Pence, who is set to lead the U.S. delegation to the opening ceremonies Friday, made the announcement in Japan Wednesday, following meetings with Prime Minister Shinzo Abe.
"The United States of America will soon unveil the toughest and most aggressive round of economic sanctions on North Korea ever — and we will continue to isolate North Korea until it abandons its nuclear and ballistic missile programs once and for all," Pence said.
U.S. officials declined to detail the expected sanctions beyond Pence's comments, citing concerns that any additional information could be used by those trying to skirt the new measures. They are expected to be implemented before the conclusion of the games.
Read more at WashingtonExaminer.com