Midterm Election: The Obama Factor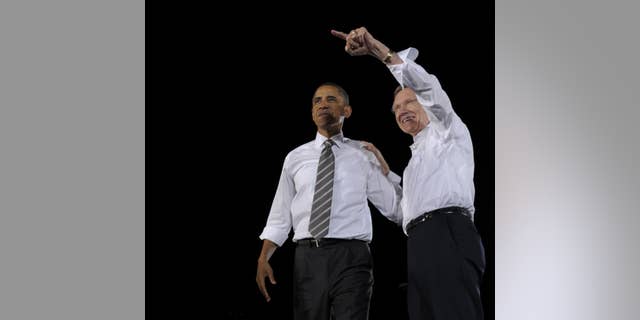 Whether by choice or candidate decree, President Obama didn't put in a lot of face time with midterm candidates and his track record with those he did support fell short of his goals.
Journalist Mark Knoller, unofficial White House record-keeper, tweeted Wednesday, "Of the 18 candidates for whom Pres. Obama specifically did fundraisers or rallies: 6 won, 7 lost and 5 races still too close to call."
The shepherd of the Senate Democrats, Majority Leader Harry Reid of Nevada who the President campaigned for extensively, will keep his job following a tough race against Tea Party-backed Republican Sharron Angle.
There were also a string of failures for the party.
Albeit of lesser significance, the president made a personal pitch for Democratic House incumbent Dina Titus of Nevada. In a radio interview on election day, Obama called her "a terrific young congresswoman." Titus lost by a sliver of votes to Republican Joe Heck.
It was no secret the White House was not enamored of Democratic Congressman Joe Sestak's run for Senate in Pennsylvania, but Sestak stayed the course so the President decided to go all in. He supported Sestak's bid as recently as Saturday in Philadelphia. It didn't work. Sestak lost to Republican Pat Toomey by about 4.5%.
President Obama, Vice President Joe Biden and even first lady Michelle Obama also invested heavily in Ted Strickland's bid for re-election as Ohio's Governor, which ended in failure. The president made no fewer than a dozen visits to Ohio, but that wasn't enough to stop Republican and former Congressman John Kasich, from beating Strickland by a narrow margin.
Democratic State Treasurer Alexi Giannoulias attached himself firmly to the White House as he ran for President Obama's old Senate seat and he got his fair share of support in return. In the end, Giannoulias lost to House Republican Mark Kirk by some 80,000 votes.
President Obama likes to say he was not on the ballot this election, but some Democrats sought to ensure there was no confusion on that front.
Case in point, West Virginia Governor Joe Manchin, who tried to distance himself from the president's health care law, as well as his anti-pollution 'cap and trade' push, which didn't go over well in coal-friendly West Virginia. Manchin handily beat Republican businessman John Raese for the Senate seat held by the late Robert Byrd.
A closely-watched race in which the president has expended a lot of political capital is the run for Senate in Colorado. Democratic Senator Michael Bennet's re-election bid was among the too-close-to-call races until late in the morning Wednesday, when he took the lead.
Incumbent Patty Murray of Washington is still awaiting her fate after strident pre-election support from the president, Vice President Biden and the first lady.
In a rare move, Mr. Obama recently made a very public show of support for a lesser-known Democrat, Congressman Tom Perriello of Virginia. That effort did not prove fruitful. Perriello fell in his push for re-election to Republican State Senator Robert Hurt.
The mixed bag may make it difficult to analyze trends. However, whether or not the president's absence or presence on the trail for a particular candidate has had an effect, polls have consistently shown the issue which has driven voters to the ballot box is the economy. For that, the public always turns to the man at the helm.