Michigan Welcomes Betty Ford Home For The Final Time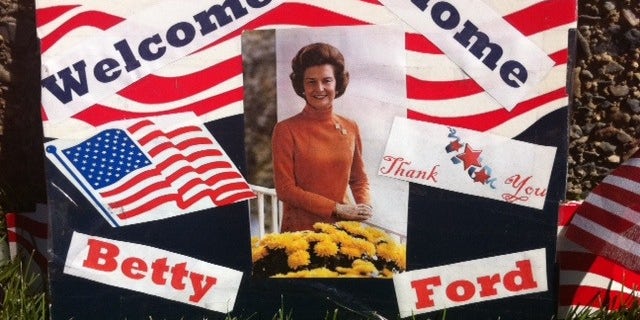 NEWYou can now listen to Fox News articles!
Family and close friends of former First Lady Betty Ford paid their final respects this afternoon at a funeral service in Ford's hometown of Grand Rapids, Michigan.
Ford, 93, who died last Friday, had a long history in Grand Rapids. She grew up here, met her husband, former President Gerald Ford here and got married here. Later today, she will be buried next to her husband on what would've been his 98th birthday.
Friday's funeral service in Grand Rapids took place at Grace Episcopal Church, the same church where Betty and Gerald Ford married in October 1948. The following month Gerald Ford was elected to his first term as a US Congressman from Michigan.
Those attending today's private service included the Ford family, many long time friends, former President Bill Clinton, former Vice President Dick Cheney and his wife, Lynne Cheney and former First Lady Barbara Bush.
Lynne Cheney delivered one of two eulogies at the service. She remembered Betty Ford as a dedicated wife and mother of four, who was fiercely devoted to her family but also to helping others who struggled with illness and addiction. "When Americans remember Betty Ford, many will always think first of how she dealt with illness. How she brought things out in the open where they could be fought and won with courage," Cheney said. She later recalled what Betty Ford herself once said about her own treatment, "'I'm (Ford) not out to rescue anyone who doesn't want to be rescued. I'm grateful for Gerry and my family coming to my rescue. But accepting help is sometimes a lot tougher than giving help.'"
One of Ford's three sons, Steve Ford, also spoke at Friday's service, sharing a very personal memory of his mother. "Nineteen years ago when I went through my own alcoholism, my mother was the first one there for me to comfort me. I said Mom I know you walked through these shoes, I think I'm an alcoholic. My mother didn't want to believe I was an alcoholic, she said you're not an alcoholic. I said Mom, stop! You can't be in denial, you are like, Betty Ford. You are the poster child for this thing," Ford said, as a soft laughter broke out throughout the sanctuary.
Since Thursday evening, close to 3,500 people have visited the Gerald Ford Presidential Museum to view Mrs. Ford's casket, which was covered in pastel colored roses. Betty and Gerald Ford's four children took turns greeting people at the Museum to thank them for coming. Steve Ford said simply, "she was a great mother."
Dee Blackmore, who lives near Grand Rapids, came to the Museum with her daughter to sign the condolence book. Blackmore became emotional when describing her memories of the former First Lady. "There was not a disrespectful bone in her body. She brought breast cancer to light. She was for women...and she was a remarkable person in her early childhood and her dancing, her faithfulness as a wife, raising the children in Washington which can't be easy. And then standing beside her husband with the controversy of pardoning Nixon, which was the right thing to do, maybe not politically, but the right thing to do. She was just a remarkable woman that we can all be proud of."
Cindy Mead and her husband Tim, on vacation from Maryland, showed up at the Ford Presidential Museum hoping for a tour. Instead they found out the Museum was closed due to Mrs. Ford's passing and took the opportunity to sign their names in a condolence book in the Museum's lobby.
Cindy Mead said she has fond memories of Betty Ford after having the chance to meet her at a ribbon cutting ceremony for a mammography center in the mid-1980's in California. Mead described Ford as "very gracious, a lovely woman. I really appreciate how she talked about her difficulties and overcame them and helped other people to overcome them."