Michigan lawmaker says she won't quit over affair revelations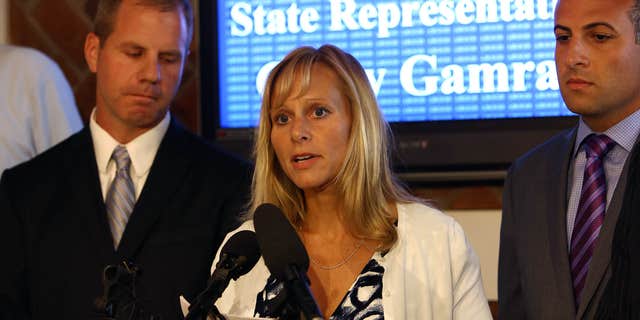 NEWYou can now listen to Fox News articles!
EAST LANSING, Mich. – An embattled but apologetic Michigan lawmaker who had an extramarital affair with another married legislator said Friday she will not resign from office and denied any role in a bizarre, fictional email sent to deflect attention from their relationship.
Republican Rep. Cindy Gamrat of Plainwell tearfully broke her silence a week after the scandal broke.
"I am sincerely sorry that I have disappointed so many by my actions," Gamrat said during a news conference at an East Lansing law firm representing her. Her husband, Joe, stood at her side.
Gamrat said she made "poor decisions" in her personal life and takes "full responsibility" for hurting her husband and three children but did nothing wrong in her official capacity as a lawmaker.
"I believe an open and honest investigation will vindicate me," she said, while leaving the door open to stepping down later. "I intend to continue to represent my district to the best of my ability, and I look forward to re-engaging with my constituents in the days ahead."
Gamrat and GOP Rep. Todd Courser of Lapeer in Michigan's "Thumb" region are subjects of a House investigation into whether they misused public resources to hide their relationship and fired an aide who refused to help.
The 42-year-old Gamrat, a social conservative and tea party activist, took office in January.
Courser, 43, a fellow freshman tea party representative who like Gamrat bases legislation on Christian beliefs, said this week he orchestrated a false, sexually explicit email to Republicans and reporters in May claiming he was caught having sex with a male prostitute to make the affair less believable if it got out.
He apologized in an audio statement but said he would not resign, saying he devised the email under intense pressure after a "blackmailer" sent anonymous text messages demanding that he resign or the relationship would be exposed. He has posted the texts on Facebook; Gamrat said she has given state authorities texts she received.
Gamrat said she did not write or assist in sending the email and did not know of it until a reporter notified her.
In an unusual arrangement, Courser and Gamrat combined operations and shared three staffers despite having districts on opposite sides of the state.
One of the aides, Ben Graham, refused to send the phony email after Courser told him to take a sick day to do it, according to secret recordings and text messages he gave The Detroit News. Graham and another staffer, Keith Allard, received healthy pay raises in June but were fired in early July. The third aide, Josh Cline, quit in mid-April and plans to hold a Monday press conference to tell the "inside story" of working for the pair of legislators.
Gamrat said she shared staff with Courser to "eliminate redundancy and save taxpayer dollars." Allard, she said, got a salary increase to compensate for an increased workload because of a reduction in employees.
"Under no circumstances was anyone on my staff terminated because of a personal indiscretion on my part," Gamrat said.
She said Allard was let go because of "poor work performance." He declined to comment Friday.
Republican Sen. Tonya Schuitmaker of Lawton, whose southwestern Michigan district includes Gamrat's seat, said she and Courser should resign and stop providing fodder for late-night talk shows.
"They've already broken the public trust," Schuitmaker said in a statement. "It is an even bigger injustice to the taxpayers to stay in office and potentially force the House to go through the expulsion process. That will take up so much time and energy that should be spent figuring out how to fix the roads and solve all of the other problems still facing the state."