Michelle Obama rebukes Holder, Clinton over calls for political warfare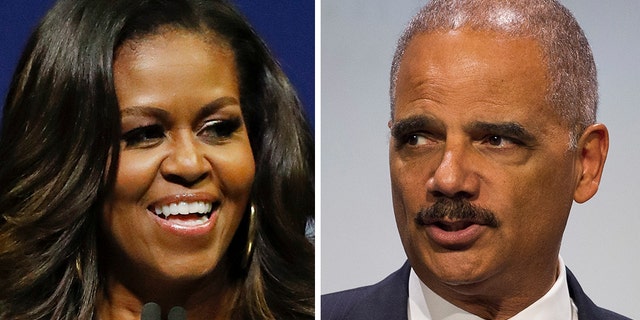 Former first lady Michelle Obama on Thursday openly challenged calls from Hillary Clinton and Eric Holder for Democrats to eschew civility in favor of confrontational politics, saying she "absolutely" stands by her famous slogan, "when they go low, we go high."
"Fear is not ... a proper motivator," Obama said during an interview on NBC's "Today." "Hope wins out, and if you think about how you want your kids to be raised, how you want them to think about life and their opportunities, do you want them afraid of their neighbors? Do you want them angry? Do you want them vengeful?"
"Which motto do you want them to live by? And I have to think about that as a mother," she added.
Obama, who was on the show to promote a new project called the Global Girls Alliance, was responding to a question about comments by former Attorney General Holder and former Secretary of State Clinton, both of whom served in her husband's Cabinet.
Holder was captured on video speaking Sunday at a campaign event for local Georgia Democratic candidates. In the clip, he tried to turn Michelle Obama's political appeal on its head.
"It is time for us, as Democrats, to be as tough as they are, to be as dedicated as they are, to be as committed as they are," Holder said over the weekend. "Michelle always says -- I love her; she and my wife are like, really tight, which always scares me and Barack -- but Michelle always says, 'When they go low, we go high.' No. When they go low, we kick 'em."
The ex-AG later tweeted that he was not "advocating violence" but merely saying Democrats need to be "tough":
Holder's comments came shortly after Clinton told CNN in an interview, in the wake of Brett Kavanaugh's chaotic Supreme Court confirmation process: "You cannot be civil with a political party that wants to destroy what you stand for."
The 2016 Democratic presidential nominee added: "That's why I believe, if we are fortunate enough to win back the House and/or the Senate, that's when civility can start again. But until then, the only thing Republicans seem to recognize and respect is strength."
Michelle Obama seemed to reject both their comments on Thursday. Obama's remarks were just the latest – and most high-profile – admonition from top Democrats of Holder and Clinton.
Sen. Heidi Heitkamp, D-N.D., a vulnerable red-state Democrat seeking re-election this year, blasted the two on Wednesday – calling Holder and Clinton's comments unproductive and simply "ridiculous."
"That's ridiculous," Heitkamp said on CNN." "I mean, I can't imagine how you get anything done if you don't bring civility back into politics, and that goes for both sides."
President Trump, meanwhile, called Holder's comments "disgusting," during a "Fox & Friends" interview.
And Kentucky Republican Sen. Rand Paul, who last year was attacked in his yard by a neighbor and also shot at while participating in a GOP congressional baseball practice, warned Democrats are potentially inciting violence.
"I fear that there's going to be an assassination," Paul told a Kentucky radio show on Tuesday. "I really worry that somebody is going to be killed, and that those who are ratcheting up the conversation ... they have to realize they bear some responsibility if this elevates to violence."
Fox News' Gregg Re and Judson Berger contributed to this report.