Miami congressman files bill to stop automatic welfare benefits for Cuban immigrants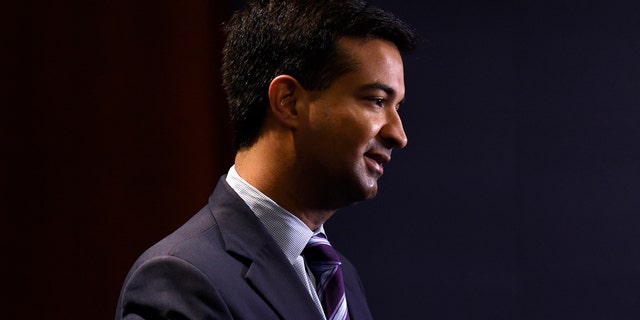 A Miami Congressman wants to stop granting Cubans who come to the U.S. automatic welfare benefits, citing what he says is a flagrant abuse of government funds.
Republican Rep. Carlos Curbelo, who is Cuban-American, said it's unfair that it takes years for migrants from other countries to obtain these benefits when Cubans begin receiving food stamps, Medicaid, disability insurance and other assistance soon after they step on U.S. soil.
Curbelo filed a bill called the Cuban Immigration Work Opportunity Act that would amend a current law that treats Cubans arriving in the U.S. as refugees or political asylum seekers.
But Curbelo argues that Cubans should be treated just like any other immigrant group that must wait for their refugee or asylum claim to be approved before being granted any benefits. If it passes, only Haitian immigrants would continue to gain automatic benefits under the Refugee Education Assistance Act of 1980.
"Cubans coming to the United States will have the same opportunity as immigrants from other nations like Colombia, Venezuela, Peru, Central America — from any country — to work and earn an honest living while contributing to our great nation," Curbelo said in a web video released Tuesday. "Like asylum seekers from all over the world, those Cubans seeking public assistance benefits will have to demonstrate that they left Cuba fleeing political persecution and are unable to return under the current totalitarian regime."
The three-page legislation filed by Curbelo doesn't touch the Cuban Adjustment Act, which is the 1966 law granting Cubans the privilege of applying for permanent residency after 366 days in the U.S., nor would it affect Cubans living in the U.S. before it is passed. It would, however, require the government to verify the residency of those Cubans receiving federal benefits in an effort to track down those getting assistance while still living in Cuba.
Under the bill, the Inspector General of the Social Security Administration would be required to submit a report to legislators outlining how the administration enforces the requirement that recipients of Supplemental Security Income, a program for poor seniors and the disabled, do not live outside the U.S. for more than 30 days.
"Our country deserves a more coherent and consistent policy when it comes to the treatment of refugees," Curbelo said, according to the Sun-Sentinel. "We should continue being a place of refuge for the oppressed while making sure that America's generosity is honored, not abused."
Curbelo's bill comes two months after the Sun-Sentinel newspaper released a series of stories detailing how some Cuban immigrants come to the U.S. to receive welfare benefits before quickly returning to the island. The newspaper also found that there are increasing numbers of older Cubans coming to the U.S. and immediately obtaining these benefits even though they never held jobs here.
"They come, they get the money, and they go to Cuba," Lydia Pérez, an 81-year old former housekeeper from the Dominican Republic, told the Sun-Sentinel. "I see people who have never worked here in the U.S. and have the same things, the same benefits I have, or more."
In Florida, the state with highest number of Cuban immigrants, more than 329,000 Cubans have arrived in Florida and were eligible for refugee aid since 2003 – making up nine out of 10 foreigners receiving refugee services in the state.
Curbelo's bill was also introduced a year to the day after President Barack Obama announced renewed diplomatic relations with Cuba, which ended five decades five decades of icy relations between Washington and Havana.
Like us on Facebook
Follow us on Twitter & Instagram