Mexico's Front-runner Wants to Shift Focus from Nabbing Kingpins to Reducing Drug Violence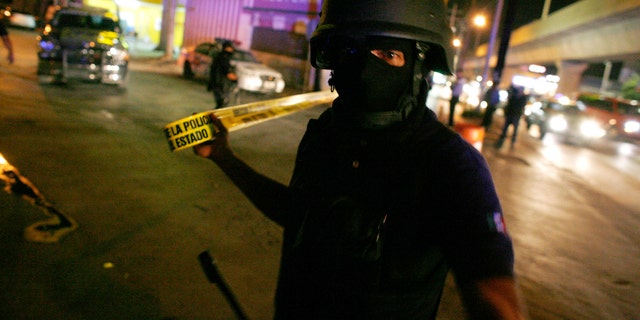 Shortly after sunrise last month in the border city of Nuevo Laredo, police found 14 butchered bodies in a van outside city hall, a salvo in a seesawing battle of horrors between Mexico's two most powerful drug cartels.
Soon after, nine people were hanged from a bridge in Nuevo Laredo. Fourteen heads were left in coolers outside city hall. Eighteen mutilated bodies were dumped by a scenic lake in western Mexico. The decapitated bodies of 49 people were dumped outside a small town 75 miles from the U.S. border.
The man who appears likely to become Mexico's next president says he can ease the waves of violence consuming the country by changing the focus of its six-year offensive against organized crime.
Mexico's current administration has targeted the top ranks of the country's drug cartels, deploying thousands of troops to capture crime kingpins and seize their drugs and weapons, often in close coordination with the U.S. It is not uncommon for President Felipe Calderon's administration to boast of its success in arresting many of the country's most-wanted men.
Enrique Pena Nieto, who has a double-digit lead five weeks before the July 1 election, says his top security priority will not be arresting the leaders of the organizations that move hundreds of millions of dollars of narcotics each year into the United States. Instead, he and his advisers say, they will focus the government's resources on reducing homicide, kidnapping and extortion — the crimes that do the most damage to the greatest number of Mexicans — by flooding police and troops into towns and cities with the highest rates of violent crime.
"This doesn't mean that we don't pay attention to other crimes, or that we don't fight drug trafficking, but the central theme at this time is diminishing violence in the country," Pena Nieto told The Associated Press in a recent interview.
Pena Nieto's campaign said drug cartels could still be attacked, particularly if they carry out murders, kidnappings and extortion, but arresting their leaders will no longer be the focus of government efforts.
"Each administration chooses its operational objectives, and the objective per se is not the extradition or capture of big bosses, or the burning of seized drugs," Pena Nieto's campaign coordinator, Luis Videgaray, told the AP.
Some observers say that a strategy to reduce violence above all else could mean that drug dealers who conduct their businesses discreetly will be quietly left alone.
"I think that it's very clear that he's moving in the direction of concentrating the resources that the federal state has (toward) fighting crime and violence that affect people in Mexico ... as opposed to concentrating the resources on combating drug trafficking," said Former Foreign Minister Jorge Castaneda. ""If you have scarce resources and you're focusing them on A, you're not focusing them on B."
Pena Nieto's Institutional Revolutionary Party, known by its Spanish initials as the PRI, ruled Mexico for 70 years until it lost the presidency in 2000, and high-ranking party figures and their relatives were often accused of striking deals with cartels in exchange for political protection. Violence was far lower, in large part because cartels maintained uncontested control of smuggling routes in many parts of the country.
Opponents have been quick to say that Pena Nieto will go back to the old PRI model of cutting a deal with cartels.
"They've shown themselves to be absolutely tolerant of organized crime," said Josefina Vazquez Mota told Spanish newspaper El Pais in a recent interview. Vazquez Mota is running on the presidential ticket for the National Action Party.
With Mexicans expressing strong support in polls for a militarized confrontation with crime, Pena Nieto is promising continuity in key aspects of Mexico's U.S.-backed drug war.
He has rejected legalization, called for more cooperation with Washington and praised Calderon's decision to confront the cartels shortly after taking office. On the campaign trail, Pena Nieto has been emphasizing his plans to maintain or increase the military presence in violence-torn cities like Monterrey and Veracruz. He has pledged an increase in the number of federal police officers from 36,000 to 50,000, and is also proposing a new semi-military police force composed of former soldiers and marines under civilian command that would be deployed to the towns and cities suffering from the highest violence and weakest policing.
But those pledges imply a subtle but potentially important change.
Pena Nieto's new approach "would not stop fighting the drug cartels but it would shift from targeting the heads of the cartels," campaign spokesman Diego Gomez said. "What Calderon has been doing is just targeting a few main cartels and splitting them up and what you have is chaos."
All three major Mexican presidential candidates have been criticized for vagueness of their proposals on conducting the war against crime, and many observers have remarked upon the absence of debate about the direction of the country's security policy.
Vazquez Mota has been vocally supportive of her party's current policy, pledging to expand the federal police to 150,000, a roughly four-fold increase over current numbers. Fellow backers of the current U.S. Mexican strategy argue that the attack on cartels is showing results, with crime groups weakened by Calderon's six-year offensive, and preliminary and unofficial statistics showing signs of violent crimes beginning to wane in some parts of the country.
Leftist Andres Manuel Lopez Obrador has placed more emphasis on withdrawing back the military from the streets, fighting corruption among government officials and reducing crime by reducing social inequality.
A change in approach would align Pena Nieto with a new strain of thinking in public-policy circles in Mexico and the United States that calls for making violence the overwhelming focus of law-enforcement activity in the drug war, deemphasizing narcotics trafficking and other crimes.
"I and other people have been advocating for a strategy that focuses on reduction in violence," said Eric Olson, who oversees studies of U.S.-Mexico security cooperation and research on organized crime and drug trafficking at the Mexico Institute of the Woodrow Wilson International Center for Scholars in Washington.
Olson acknowledged that the focus on violence could mean relenting in operations against cartels that use less violence than their rivals, but he called that a necessary and temporary letup in order to get a handle on Mexico's biggest problem, the violence that is terrorizing the population and undermining the legitimacy of the state.
"Crime will always exist. The question is can you make it less harmful and get it out of people's lives as much as possible," he said. "It's not a de facto negotiation with them. It's a question of what comes first."