Menendez trial outcome could shift balance of power in Senate
Jury selection gets under way next Tuesday in the bribery trial of New Jersey Democratic Sen. Bob Menendez. It sets in motion a swirl of speculation about a shift in the balance of Senate power less than a month after Republicans fell one vote short of repealing Obamacare, with the surprise "NO" vote of brain cancer-stricken Sen. John McCain.

Menendez is accused of using his Senate seat to help the financial interests of a friend, Dr. Salomon Melgen, who allegedly returned the favor with almost a million dollars in gifts and campaign contributions. Menendez has repeatedly said he's innocent. After his indictment on April 2, 2015, he told reporters, "these allegations are false, and I am confident they will be proven false, and I look forward to doing so in court."

On the same day, his high-powered attorney, Abbe Lowell, reminded reporters of the Department of Justice's track record in winning political bribery convictions.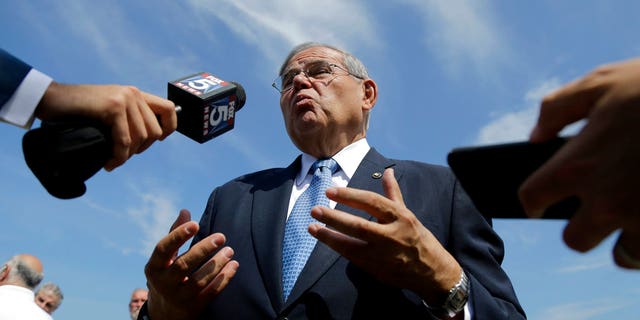 "As we have seen in so many cases, from former (Department of Housing and Urban Development) Secretary in 1999, to Sen. Ted Stevens in 2007, and two years ago in the case of Sen. John Edwards, prosecutors at the Justice Department often get it wrong," Lowell said. "These charges are the latest mistakes," he said.
JUDGE: DEMOCRAT BOB MENENDEZ MUST FACE CORRUPTION CHARGE IN COURT
But even if he is found guilty, a bribery conviction would not force Menendez out of the Senate.
He would have to voluntarily step down or be expelled by a two-third's majority in the Senate. Even if all Republicans voted for expulsion, they would still need 15 Democratic votes, an unlikely outcome given Democrats propensity to oppose virtually all of President Trump's agenda.

New Jersey's governor would be responsible for appointing Menendez's successor. But the gubernatorial election to replace Republican Chris Christie is only months away, and Menendez could agree to leave after New Jersey's next governor takes office.
"They're going to elect a new governor and the Democratic candidate is heavily favored in that race," says David Byler of Real Clear Politics.

Further bolstering Menendez's chances, since he was indicted, the Supreme Court unanimously threw out the bribery conviction of former Virginia Gov. Bob McDonnell, setting an even higher bar for future political bribery convictions.