Member of Obama's Gay Issues Panel Accuses Jesse Jackson of Discrimination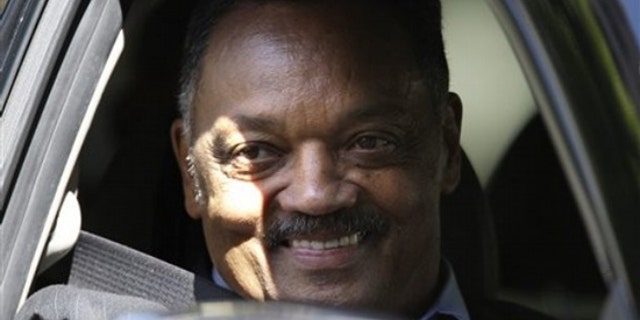 NEWYou can now listen to Fox News articles!
The Rev. Jesse Jackson is vehemently denying allegations from a member of President Obama's gay rights issues panel, who claims he was fired from the civil rights leader's Rainbow PUSH Coalition because he is openly gay.
Tommy Bennett, who worked for the organization for more than two years as the national director of community affairs, filed a complaint last year with Chicago's Commission on Human Relations accusing Jackson of discrimination, harassment and even asking him to perform oral sex on him.
The commission is currently investigating the allegations, which can take up to two years, a legal expert told FoxNews.com
But the complaint has drawn attention now since a local Chicago newspaper, the Windy City Times, published a story on it, prompting Jackson's organization to issue a sharp denial after filing a legal response last July.
"The Rainbow PUSH Coalition unequivocally denies Tommy Bennett's false claims of harassment, retaliation and discrimination," Jackson's Chicago-based organization said in a statement posted on its website.
Jackson is fully cooperating with the Chicago Commission on Human Relations and expects to be "fully exonerated," the statement reads.
The statement goes on to list Jackson's record of advocating for gay rights, including his support of gay marriage and the repeal of the military's ban on gays serving openly.
Bennett's "inflammatory allegations are an attempt to malign Rev. Jackson and the organization, and are hurtful and harmful to the progressive community."
But Bennett's attorney responded that his client stands by all his allegations.
"Knowing all of the potential repercussions, Mr. Bennett would not have filed his claim against Rev. Jackson if he was not interested in bringing justice to the situation," attorney Thomas Leverso said in a statement obtained by FoxNews.com.
"At this point, Rainbow PUSH can either dig-in its heels or stand on the side of civil rights and equal justice for all human beings by working with Mr. Bennett and the LGBT community," he said.
Bennett, who is a radio personality on the popular "Tom Joyner Morning Show," is seeking $450,000 in damages and a change to the organization's nondiscrimination policy to include sexual orientation and gender identity.
In his complaint, Bennett says when he assumed duties as Jackson's travel assistant, he was required to perform "humiliating" tasks for the former presidential candidate, including escorting women to his room and cleaning up after his tryst was done. Bennett says he believes he was forced to do these tasks because he is gay.
He also claimed that he was once summoned to take notes in Jackson's hotel room, where he found Jackson "dressed only in his underwear (briefs) and a v-neck t-shirt." Bennett claims that Jackson, whom he had given Cialis to earlier, was sexually aroused and breathing fast.
Jackson told him a story about his gay high school teacher who became a mentor and provided Jackson with a good grade, pocket change and oral sex. Bennett interpreted that as a sign that Jackson wanted oral sex from him, but he says he left the room.
In December 2009, Bennett said he received a letter informing him that he was being laid off "due to lack of funding." But Bennett claims several people were hired after his termination.