Medical marijuana to become legal in Kentucky after years of setback
The KY cannabis bill will head to Gov. Andy Beshear, who indicated that he plans on signing it
Medical marijuana advocates achieved a long-sought victory Thursday, when Kentucky lawmakers gave final passage to a measure to legalize access to medical cannabis for people suffering from a defined list of debilitating illnesses.
In the waning hours of this year's legislative session, the Republican-dominated House voted 66-33 to send the measure to Democratic Gov. Andy Beshear. The governor quickly responded that he was "thankful this progress has been made" and said he would sign the bill.
Supporters pushed the bill over the finish line after years of setbacks, when other versions to open Kentucky to legal medical cannabis died. Medical cannabis is legal in at least 37 states.
MEDICAL MARIJUANA PROPOSAL GAINS MOMENTUM IN KENTUCKY
"This is a truly historic day here in the commonwealth and one that many people deserve — especially the constituents who've approached me over the years to share their stories," Republican Sen. Stephen West, the Kentucky bill's lead sponsor, said in a triumphant statement after the House vote.
Kentuckians with qualified medical conditions will have to wait to gain access to medical cannabis under the bill. Senate Bill 47 specifies that the medical marijuana program won't take effect until the start of 2025, to allow time for state health officials to draft regulations to oversee the program.
The governor took executive action last year to relax the state's prohibition on medical cannabis, but he has said it's no substitute for outright legalization, which required legislative approval. Beshear's action allows Kentuckians suffering from a number of severe health conditions to legally possess small amounts of medical marijuana properly purchased in another state.
Under the bill headed to the governor's desk, medical cannabis could be prescribed for a list of conditions, including cancer, multiple sclerosis, chronic pain, epilepsy, chronic nausea and post-traumatic stress disorder. The bill would prohibit smokable cannabis products.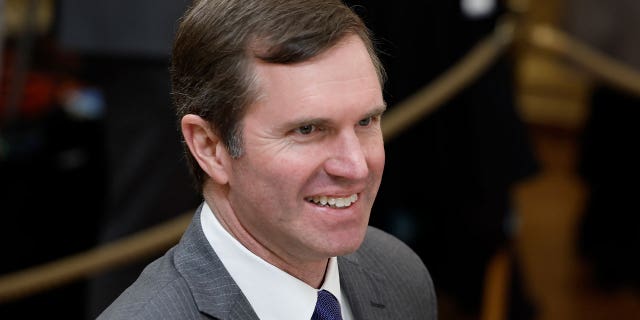 "We need your help to make us be safer, so we don't have to use all these pharmaceuticals and opioids," longtime medical marijuana advocate Eric Crawford told a House committee that advanced the bill earlier Thursday. "Help us not be criminals. Let's legalize this for sick people."
Crawford has talked about his use of medical marijuana as an alternative to opioids to deal with pain and muscle spasms from injuries he suffered in a vehicle crash decades ago.
"Cannabis helps me," he told lawmakers earlier in March. "I know what is best for me. I don't want to be high. I just want to feel better."
Under the bill, a person would have to be approved for a card allowing its use. A patient under 18 couldn't possess or acquire medical cannabis without assistance from a designated caregiver.
The bill gained a crucial breakthrough in mid-March when it was passed by the Senate, where some earlier versions had died in the past. Republicans have supermajorities in both legislative chambers.
1ST LEGAL SALES OF MISSISSIPPI MEDICAL MARIJUANA ARE MADE
The bill's opponents kept up their resistance even with the House poised to pass it.
Michael Johnson, representing The Family Foundation, told the House committee on Thursday that he's "truly sympathetic" for people suffering from chronic pain and other debilitating illnesses. But he claimed there's "insufficient scientific evidence that marijuana is safe and effective as a medication."
Johnson warned that the bill would allow people access to "raw plant material," which he said is "extremely likely to be smoked, regardless of what the packaging says."
Lawmakers opposing the bill raised similar arguments during the House debate.
"We sometimes give people what they want, not what they need. This is one of those moments," said Republican Rep. Shane Baker.
A leading supporter of the bill responded to opponents' claims that the bill is weak on enforcement.
CLICK HERE TO GET THE FOX NEWS APP
"You will lose your card if you get caught smoking it, and you will go to jail, as you ought to," said Republican Rep. Jason Nemes. "This is not a wink, wink, nod, nod medical program. This is a medical program."
The bill's leading proponents said they were open to revisions in next year's legislative session. That includes making it clear that school districts would be allowed to prohibit its employees, including school nurses, from administering medical marijuana products to students, they said.
"This is a long, complicated bill that's been hammered out over a five-year period," West told the House panel. "It's clear there are going to be technical changes in the future, next year I'm sure."
A few hours later, once the bill won final passage, supporters were in a celebratory mood.
"It took a lot of time, deliberation and debate spanning many years, but we did it," West said.