McCaul not ruling out challenging fellow Republican Cruz for Senate in 2018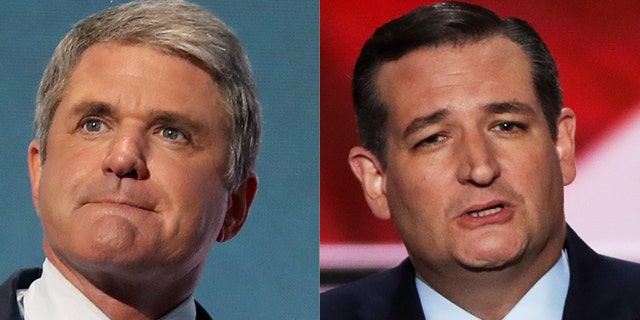 NEWYou can now listen to Fox News articles!
U.S. Rep. Mike McCaul gave his clearest indication on Tuesday that he might challenge fellow Republican Ted Cruz when the firebrand lawmaker's term in the Senate is up in 2018.
"I think he's spent a lot of time since Day One running for president," McCaul said in an interview with the Texas Tribune. "I think we deserve somebody in the Senate who is going to be representing the interests of the state of Texas."
It was reported in August that numerous influential Republicans in Texas who were working under the radar to build an intra-party challenge to Cruz believed McCaul, who has represented the state's 10th district since 2005, would be the ideal candidate.
"It's flattering. I've had a lot of people come up to me and ask me about this, and they're supportive as well," McCaul said. "This is not of my making. I have speculation of where it's coming from. There has been a lot of support out there."
McCaul added that at the moment he is not building a Senate campaign.
While Cruz, who took office in 2012, became force in Texas and national politics during his first term in the upper chamber of Congress thanks to his staunch conservatism, the senator's stature in Texas took a hit during his failed presidential run and his contentious speech at July's Republican National Convention in Cleveland in which he refused to endorse nominee Donald Trump.
Cruz tepidly endorsed Trump in late September, but his standing has suffered from hits he took on the campaign trail – including those questioning the amount of time he spent in the Senate as opposed to mounting a presidential run.
"I do think after this election cycle that he has come home, that he realizes ... you have to mind the store back home, and I do think he has traveled the state in an effort to get that back on track," McCaul said.
The congressman, who is the chairman of the House Homeland Security Committee, said that he is weighing his options when it comes to the future, and that he is also looking to bolster his foreign policy credentials in whatever role he takes on next.
He has been an advisor to the Trump campaign when it comes to national security and would welcome serving in a Trump administration should the Republican win the White House. If not, then chairman of the House Foreign Affairs Committee may be possible after his term on the Homeland Security Committee expires in 2019.
McCaul did not comment on the recent accusations of sexual assault that have been levied against Trump, but stated that his endorsement of the billionaire businessman remains firm.
"I'm not going to be associated with everything that comes out of his mouth," McCaul told the Tribune. "He's going to surround himself with very capable people."
"I think he's a leader, and I think we have not had leadership," he added. "I think we have not had this leadership; we've led from behind in the world."
Cruz could also face a challenge to his Senate seat from a popular Texas Democratic congressman.
Speaking to Fox News Latino in Philadelphia during the Democratic National Convention, Rep. Joaquín Castro neither confirmed nor denied that he planned to take on Cruz in two years.
"I've said before, I'll take a look at all opportunities that come up in 2018," the 41-year-old congressman said.
Castro's comments to FNL came only hours after an interview aired on "CBS This Morning," in which he hinted at his plans for the senate seat.
"I'll take a look at that and other opportunities," Castro told the network. "I've never been somebody that said, 'In two years, I've absolutely got to run for senate or governor,' but I will take a look at it."
Like us on Facebook
Follow us on Twitter & Instagram