McCaskill, Hawley easily win Missouri primaries to set up key Senate showdown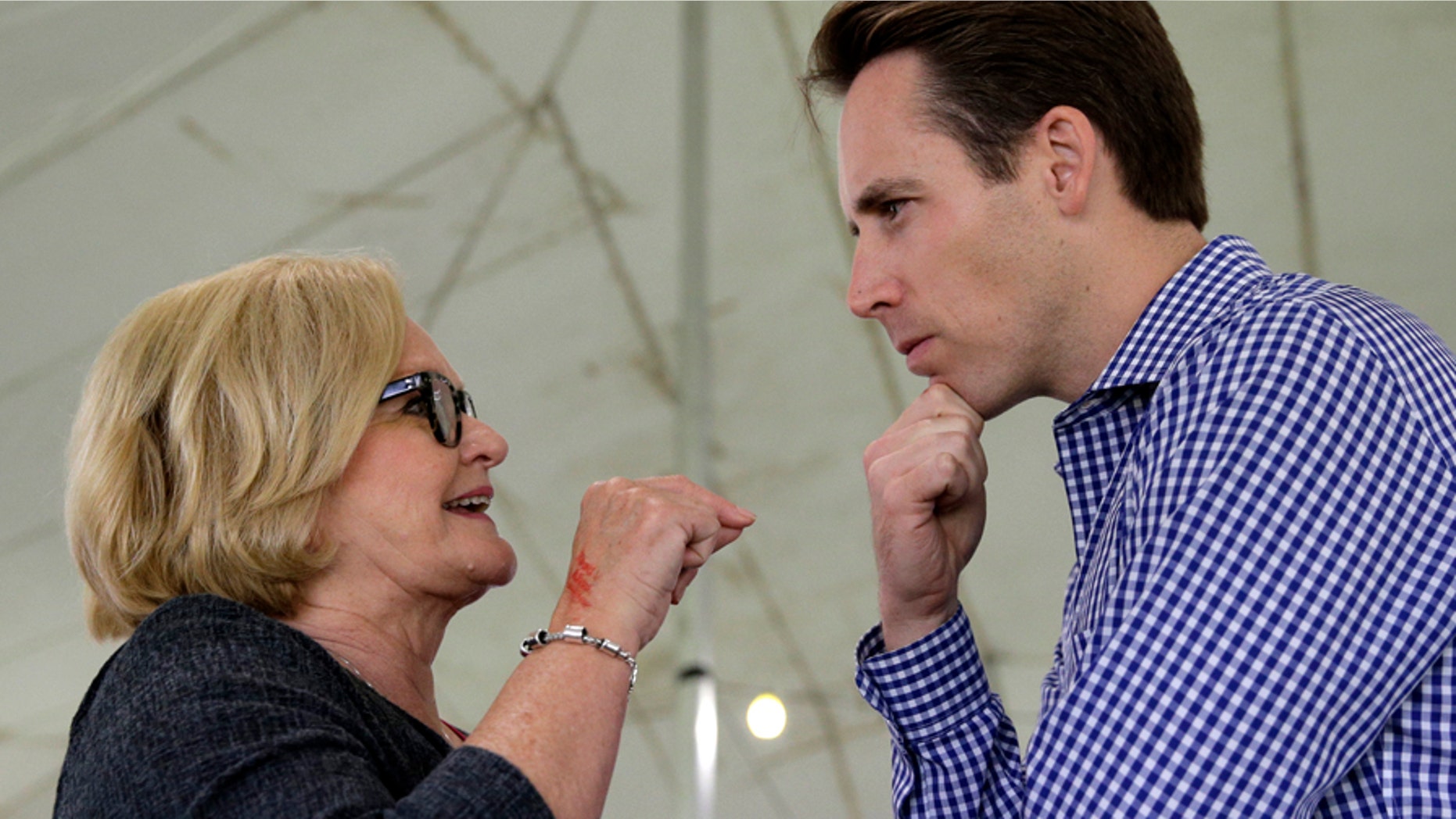 Missouri's Democratic Sen. Claire McCaskill and Republican Attorney General Josh Hawley were projected to easily defeat their primary opponents Tuesday night to set up a key race in the battle for control of the U.S. Senate this November.
McCaskill, who is seeking a third term, received 82 percent of the vote in defeating six other little-known Democrats. Hawley garnered 58 percent of the vote in defeating 10 other Republicans, including one-time Libertarian Party presidential candidate Austin Petersen.
After McCaskill won the primary, she promptly challenged Hawley to four town-hall style debates.
"It's on," McCaskill tweeted Tuesday in a plea for donations.
Republicans have placed Missouri high on their list of potential Senate pickups in what is expected to be a challenging midterm environment. President Trump won the state by 19 percentage points in the 2016 election and Republicans control every statewide elected office except the auditor's office and have supermajority control of the state House and Senate.
Hawley is throwing his support behind Trump, who has heaped praise on the candidate and attended multiple fundraisers for him. On Monday, he tweeted that Trump "asked me to take back this Senate seat for Missourians," and Hawley pledged that he would.
McCaskill often cites the town halls she'd held -- more than 50 since 2017 -- in rural areas of the state where support for the president is strong. She's campaigning on issues that could play to both Republicans and Democrats, including health care and high drug costs. She has clashed with the president on trade and some other issues, but she also touts areas of agreement with the administration and other Republicans.
Hawley has attempted to paint McCaskill as a liberal obstructionist -- citing her vote against Supreme Court Justice Neil Gorsuch as an example -- as well as an out-of-touch elitist. Ads by his campaign and outside groups slammed her for flying on a private plane to some stops on a recent tour of the state in her RV.
Democratic criticism of Hawley has centered on him joining a lawsuit as attorney general against ObamaCare. He has drawn criticism for campaigning against climbing political ladders, then entering the Senate race shortly after taking office as attorney general.
He's also faced pushback over allegations of corruption related to a top donor to his attorney general campaign. The Democratic Senate Majority PAC has run multiple ads accusing him of refusing to investigate, although the attorney general's office does not have initial jurisdiction in such cases.
Democrats also have tried to tie Hawley to the state's Republican former Gov. Eric Greitens, who resigned amid political and personal scandal as lawmakers considered impeaching him. Although Hawley publicly called for Greitens to step down, Democrats said he took too long to act and failed to do enough to investigate.
In Michigan, another Trump-voting state where Republicans hope to pick up a Senate seat, John James was projected to defeat Sandy Pensler and face three-term Democratic incumbent Debbie Stabenow in November.
James, an Iraq War veteran who Trump called "a potential Republican star" this week, is the first black Republican in more than 30 years to run for a major statewide office in Michigan.
Pensler, an Ivy-Leauge educated buyout specialist, entered the race with a financial advantage after loaning his campaign $5 million. But James made up the ground quickly, raising $3.9 million as of the end of June while securing endorsements from Right to Life, the Michigan Chamber of Commerce and the Senate Conservatives Fund.
Entering July, James had $1.3 million cash on hand compared to Pensler's $2.3 million. Stabenow, who had no primary challenger, had $9.6 million in the bank.
The Associated Press contributed to this report.